OH43D-125530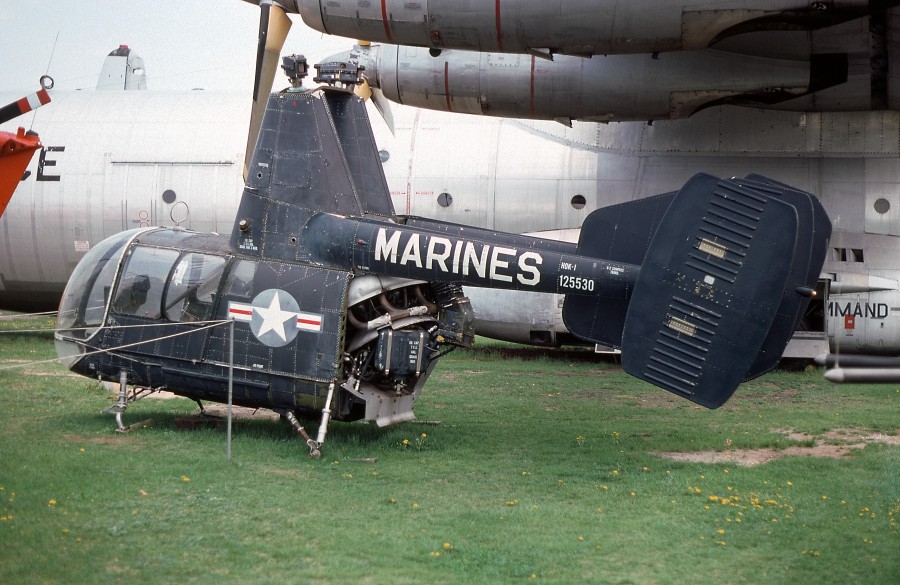 airframe 129801 with tailbooms of 125530 , taken in May 1975 (unknown photographer, coll. Johan Ragay)
Mr. Sean Carroll recall 's :
Storage following the tornado was in the small building you see on my web page. Behind the HOK-1 fuselage, in about 20' (about 6.1 meters) of storage area were the 125530 tail boom, the HH-43A Rotor Blades and all related Kaman items to my direct work on the HOK-1. All the plexi was stored up in the rafters.
There was another building that had a lot of Kaman parts. This building was further away and held the old tail boom to 129801 and the many misc. parts that were stripped off 125530 before the fuselage was crushed.
These buildings were torn down at some point and the Kaman stuff was moved to one location.

What had happened with HOK-1 BuNo 125530 is a sad story.
It did not crash, it was intentionally destroyed.
The aircraft was delivered to the then Bradley Air Museum (very early in the existence of the organization, probably early/mid 1960 's) without an engine but other than that the aircraft was mostly complete.
The aircraft was stored on State property at the airport and at some point the State declared the aircraft to be an eyesore and ordered the aircraft off State property. The museum had no place to put the aircraft so to comply with the State requirement the aircraft was flatten by a front loader and pushed into a swamp. Very painfull but not that uncommon of a thing to do way back when.
However, the airframe was completely stripped of every part and the parts were put in storage. When I found the crushed airframe I had it pulled out of the swamp and I went through the remains. True to what I was told, there was not a single item left to be taken from the airframe. The crushed airframe had no value (too much damage, too much mag-alloy) and was later disposed of.
Right around this same time, while helping my brother look for some other parts in Building 624, I noticed a lot of familiar items. I had found the many, many parts stripped off 125530.
It was at that point that, with the help of many others, we took out the tail section of 125530 from storage, reassembled it, transported it the mile to the display area and installed the "classic" tail feathers on HOK-1 BuNo 129801. The 129801 tail feathers were put into storage.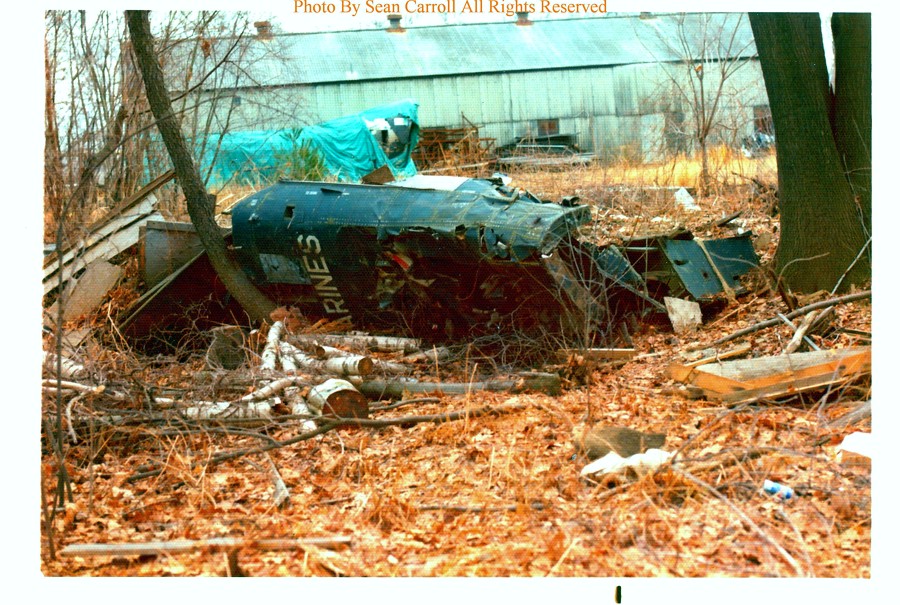 the remains of HOK 125530 , Bradley Fld, CT May 1975 - photo by Sean Carroll
last update 23/09/2016