3.3 Perrin AFB, TX - 3555th PTW - DET.33, CARC
H-43A 58-1828 was accepted at Kaman, Bloomfield, CT on 24 Mar 1959
and H-43A 58-1829 on 08 Apr 1959.
58-1828
58-1829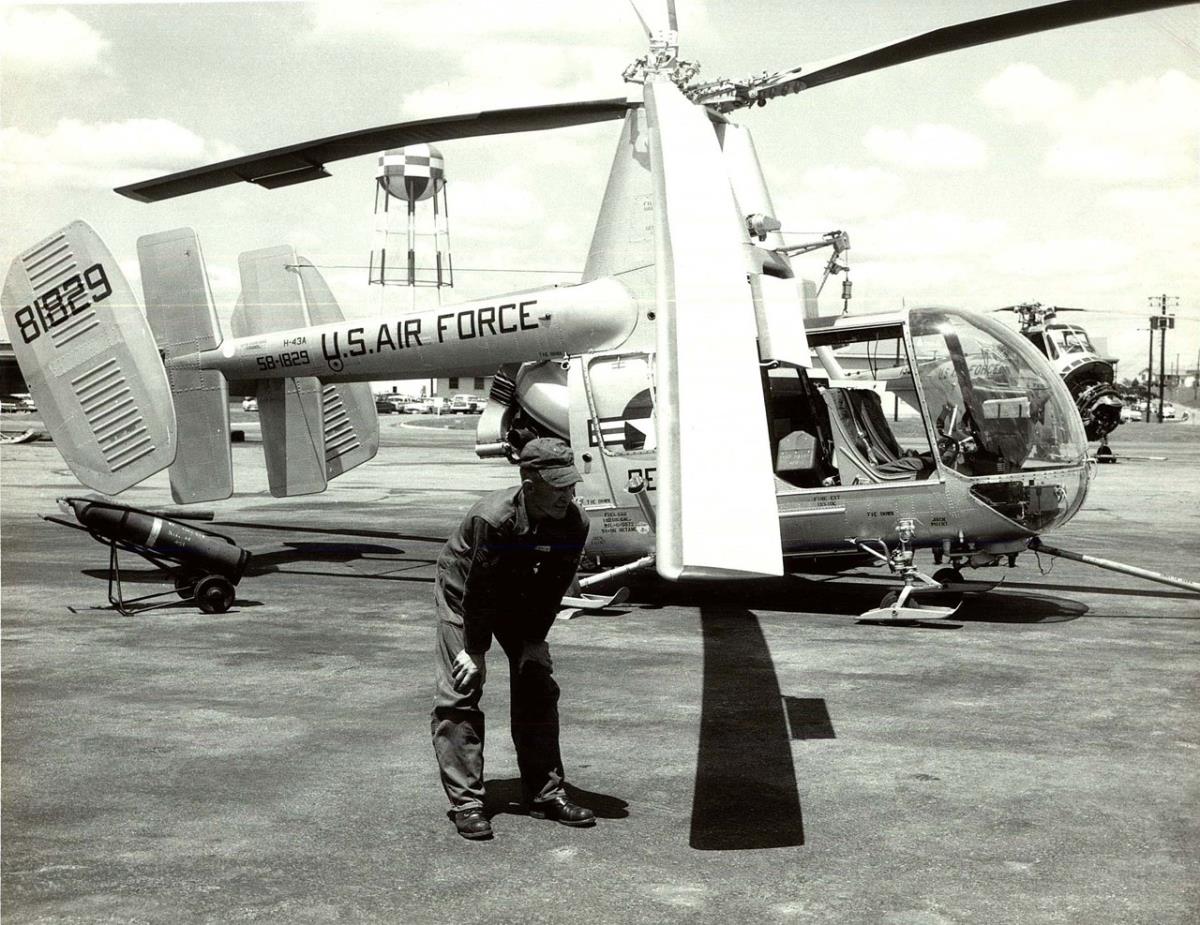 H-43A 58-1829 and Sgt. Ray E. Owen - Perrin AFB, TX ca. 1959-60 ; photo Jim Burns
3.3.1 History of Flight, 58-1829 at Bloomfield, CT – 16 April 1959
The aircraft took off from the Kaman Aircraft Company airport, Bloomfield, CT at 1100 EST, on 16 Apr 1959. The pilot, 1st Lt. James F. Okonek, was taking a factory transition course in the H-43A aircraft. He had completed 12 hours of the course prior to the flight. This flight was one hour in durantion, giving the pilot a total of 13 hours in the H-43A at the time of the accident.
Various maneuvers were practiced during the flight, including three successful landings. After take-off from the third landing, at an altitude of approximately 300 feet, with an indicated airspeed of approximately 45 knots, a simulated engine failure after take-off, with practice auto-rotation landing, was started. The nose of the aircraft was lowered to increase the airspeed to 55-60 knots.
While successful auto-rotation landings can be made in the H-43A at lower airspeeds, no special emphasis on using a lower speed had been made during the course.
After assuming the nose down attitude, the pilot became aware of a much higher sink rate than was desired. He applied power to stop the descent and initiated a flare. During the flare he assumed a nose high attitude and the aircraft touched down on the rear wheels and tail fins.
(source : USAF Accident Report)
3.3.2 Helicopter rescued person from Lake Texoma - 1960
SHERMAN, TX – A Perrin AFB helicopter plucked one Sherman youth from Lake Texoma and three others were picked up by boats Friday morning after their boat overturned.
US Engineer Joe Wilson said the four left Highport Resort and were going arround Preston Point to fish. Wison said the motor fell into the water, but still was fastened to the boat by a chain. When they tried to pull the motor from the water the boat capsized.
Staff Sgt George A. Payne, a Perrin Fireman, jumped into the water. Pilot of the Perrin helicopter was Capt James Okonek. Also on board was A1C Kenneth Parschal.
(source : Newspaper clipping, unknown name/date , sometime 1960 - collection Tom Brumfield)
3.3.3 Helicopter Team Plucks man From Tree Top - 1960
Perrin's helicopter rescue team was pressed into service last Sunday to pick a man from a tree-top. A flash flood near Broken Bow, OK, drove Mr. Jack Dean to the top of the tree from fast rising waters.
Spectators had attempted to rescue Dean, but due to rushing water and debris had been unable to get near him. When the call came from the Oklahoma Highway Department at 4:25 pm, Dean had been in the tree 7 hours.
Capt Robert F. Bennett piloting the helicopter, was assisted in the rescue by A1C Kenneth Parscal and A1C George A. Payne. Bennett hovered near the tree top while Payne and Parscal demonstrated the correct way to "don" the hoist. Then the man was lifted into the helicopter and taken to Broken Bow.
Perrin maintains constant vigil with law enforcement officers of Texas and Oklahoma for rescue work. When students are flying, the helicopter stays in the air. On weekends, or when there is no flying, designated helicopter people are on 30-minute standy.
(source : Newspaper clipping, unknown name/date , 1960 (possibly May 1960) - collection Tom Brumfield)
3.3.4 "Citation for a H-43A Pilot"
PERRIN AFB, TEX. -- 1st Lt. Tom W. Brumfield, Jr., attached to the Helicopter Section here, has been awarded a Citation for Outstanding Airmanship in recognition of the professional skill he showed when an F-102A crashed short of the runway. The aircraft was coming in at night for an emergency landing.
Lieutenant Brumfield took off in a H-43A with a crash rescue team and fire suppression kit when the emergency was declared. He intended to hover at the approach end of the runway, but saw the F-102 crash and burst into flames about a quarter of a mile away. Lieutenant Brumfield flew immediately to the scene, made his approach and let out the team which had the kit in operation within 90 seconds from the time the plane crashed and came to rest.
The lieutenant's citation said that, even though the F-102A pilot could not be saved, the aircraft exploded upon impact, "it in no way detracts from the professional skill exhibited by Lieutenant Brumfield."
(source : Kaman RotorTips , issue October 1961 , page 8 )
(The F-102A involved was 56-1049 of 3555th PTW , crash date 12 Apr 1961)
3.3.5 Rescue mission 30 Nov 1961 "Copter Waits as Flier Takes Lake Dip"
DENISON, TX – It wasn't an ideal day for a dip in Lake Texoma, but 2nd Lt. Henry M. Crook Jr., wound up in the Little Mineral Arm of the lake after he bailed out from his crippled F-102A Jet Thursday.
(add by Ragay : 30 Nov 1961 - F-102A 56-1075 - 3555th PTW)
And it was a fortunate coincidence for Lieutenant Crook that the rescue helicopter at Perrin AFB was on an orientation cruise in the vicinity at the time. The 'copter crew got word from base operations that the flyer was leaving his plane and was at the water, some 200 yards from shore and nine miles north of the base.
(3.3.5)
Lieutenant Crook had half his Mae West life preserver inflated by the time a line was dropped to the pilot from the helicopter. The flyer was dragged to shore and then Lt. Col. Reynold C. Craddock, new wing operations officer, and Sgt. Ray E. Owen, leaped into the shallow water and pulled the frigid flier aboard the helicopter. He was taken to the base hospital suffering from exposure and a slight cut on his head. The abandoned jet crashed near Walter Nitz home, north of Pottsboro.
(source : Newspaper clipping - collection Tom Brumfield)
3.3.6 "When Seconds Count!"
From Office of Information Perrin Air Force Base, Texas.
Ingenuity, resourcefulness and job "know-how" - all have been combined by the helicopter men at Perrin Air Force Base, Texas, in devising means of saving those precious seconds which could mean life or death to a rescuee.
Under the leadership of Major John A. Price, OIC, of the Helicopter Section, personnel have been encouraged to devise ways of stowing gear most efficiently in the unit's H-43As and to develop additional equipment to improve their rescue capabilities. The major also contributed many ideas and suggestions and worked with his personnel on several of the projects.
Saving time through preparedness in advance has been the keynote of Major Price's program and under his supervision crews practiced all emergency procedures over and over again to keep in top form and to insure that their actions under every foreseeable rescue condition would be "learned responses" that , come automatically.
"Under the conditions of an actual crash there is a tendency on the part of everyone to be in too much of a hurry and the result is that often ordinary precautions are sometimes forgotten," Major Price said. This constant practice gives the rescuemen confidence and assurance that they can handle any situation and such practice also makes their response to an emergency quick, yet sure, the major added.
At least once a week for the last three years the helicopter rescue crews at Perrin have practiced their procedures by working with a "hot" fire around a dummy fuselage built from old tail pipes and-angle iron. In this type drill they use a dummy as the pilot to be rescued.
When the first H-43A arrived at Perrin and was put into service about three years ago, all of the needed gear and equipment was dumped helter-skelter on top of the litters. But as time passed, different crew members devised ingenious pockets on the back of the pilots' seats and other belts with snap fasteners attached to the ceiling in which various tools, ladder, flares, etc. fit snugly. Crew members also figured out a way to install the litters so that one is set up at all times and still does not interfere with working through the open door. The second litter can be set up quickly.
"A place for everything and everything in its place," has been the by-word of the alert crew.
The first aid kit which was carried in the type helicopter used prior to the H-43A proved to be much too large for the compact interior of the latter aircraft. Major Price gave the Flight Surgeon's office at Perrin AFB the task of producing a smaller kit that would include all necessary elements.
The revised medical crash kit was adopted throughout the Air Training Command for use in the H-43A helicopters. It is small, compact and only weighs approximately 35 pounds.
A 25-watt transistorized amplifier has been installed on each helicopter which permits the pilot to talk to people on the ground. It is connected to the interphone system and can be keyed by the pilot's microphone switch. It promises to be most useful in disaster control and water rescues or any time it is necessary to communicate with people outside of the aircraft.
An URC -4 is also carried and in case the crash rescue technician must go into a wooded area, he can maintain contact with the helicopter.
In connection with the use of the Fire Suppression Kit the alert crewmen devised a better system for storing the fire hose. Previously the 150 feet of nylon hose was folded in a rack attached to the unit and it was necessary for the entire length to be stretched out before the foam could be forced through. By using a reel to roll the first half of the hose they cut the time in half for putting the FSK into action. Where it used to take 30 seconds it now takes 15 seconds - in fighting a fire, every extra second counts !
Another time-saver developed at Perrin is that crash helmets, fitted with earphones, are installed inside the firemen's asbestos hoods making it possible for the entire crew to hear all necessary details simultaneously.
And the pilot can communicate with the technicians via the interphone system.
Perrin helicopter crewmen worked diligently to provide a place for the numerous pieces of essential rescue equipment so that they were out of the way but readily accessible. Here is the location of rescue gear: 1. Disarming tool - behind pilot's seat. 2. Pyrotechnic guns, 3 flares, 3 signal cartridges, and 3 message delivery containers - rack for original first aid kit. 3. Rescue screwdrivers, keyhole saw spare blades and gear, seat pins for a/c - carried in bag mounted on inspection door, left side (a belt has been fabricated to hold the other crash entry items). 4. Twenty-five feet of 1/2-inch nylon rope - carried on right inspection door. 5. Two MK-5 drift night signals - in the rear, far left and far right corners of aircraft. 6. Splint kit - back of center passenger seat. 7. Sling - back of center passenger seat. 8. Hoist operator's retaining harness (gunner's belt) - left and rear of overhead circuit breaker panel. 9. First aid kit - attendant's seat. 10. Body bag - under attendant's seat. 11. One-man life raft - left hand outboard passenger seat. 12. Two Mae Wests - above center passenger seat. 13. Aldis Lamp - right rear corner of floor board in front of pilot seat. 14. Flashlight - on bicycle clip in left rear corner of floorboard in front of pilot seat.
(source : Kaman RotorTips , issue Feb 1962 pages 3-6,18 )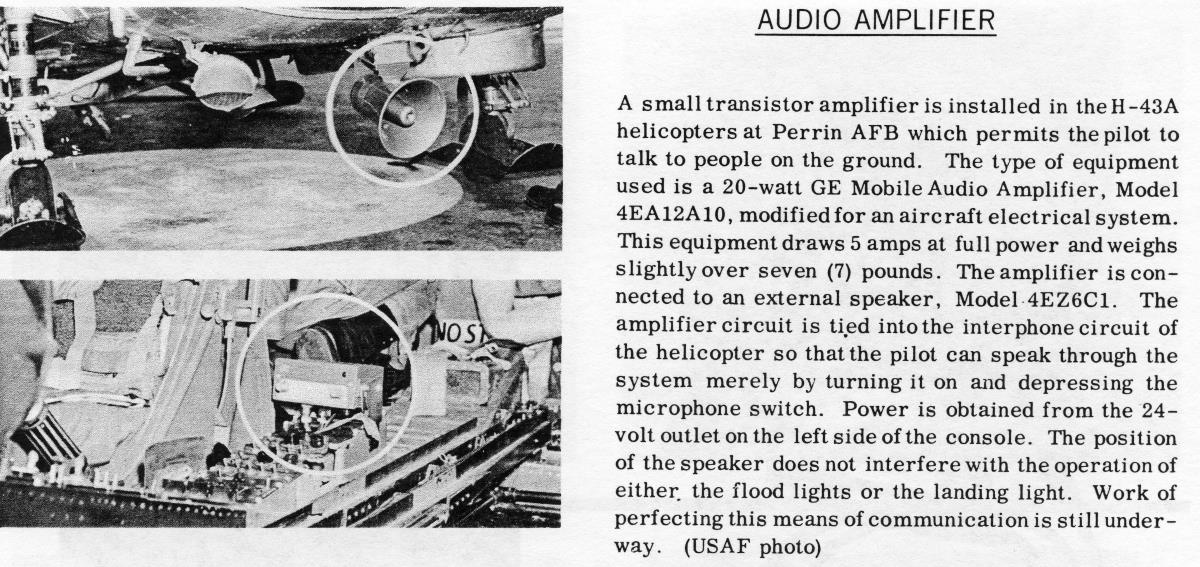 source : Kaman Rotor Tips, issue Feb62 , page 19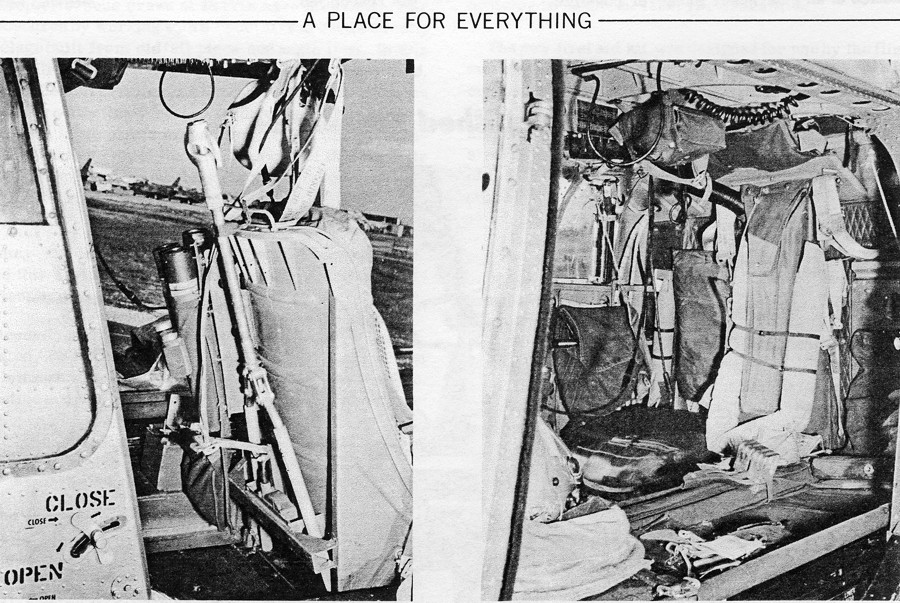 source : Kaman Rotor Tips, issue Feb62 , page 6
H-43A 58-1828 at Perrin AFB, TX 1960 , photo Tom Brumfield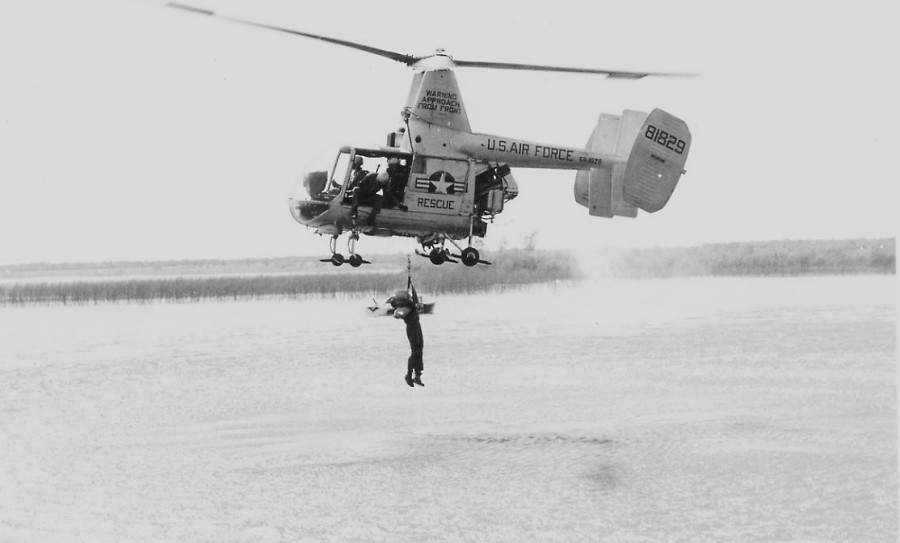 H-43A 58-1829 Lake Texoma near Perrin AFB, TX 1960 , photo Tom Brumfield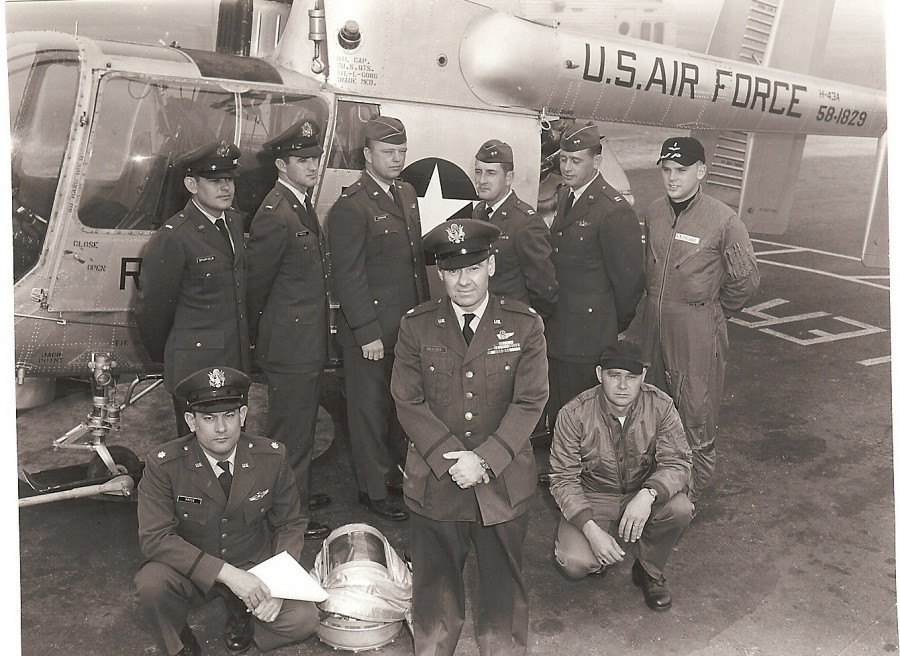 Photo taken at Perrin AFB, 1960-61 , collection Tom Brumfield (received from Jim Moore)
Standing L>R : Lt. Tom Brumfield, Lt. Ernie Neville, Lt. Johnson, Capt. Jim Okonek, Capt. Robert Bennett, Lt. Pease ; Front row: Major John Price, Major Paul Mercier, TSgt. Morphew
3.3.7 Retirement H-43A
H-43A 58-1828 and 58-1829 both arrived at the boneyard, Davis-Monthan AFB, AZ on 31 Jul 1962.
3.3.8 New Aircraft
Two H-43B aircraft were airlifted from Kaman to Perrin AFB, TX DET.33, CARC : 60-0281 and 60-0282 both on 05 Dec 1961.
last update 20/02/2019