Kaman HH-43 Huskie - based at Thule AB, Greenland 1962 - 1970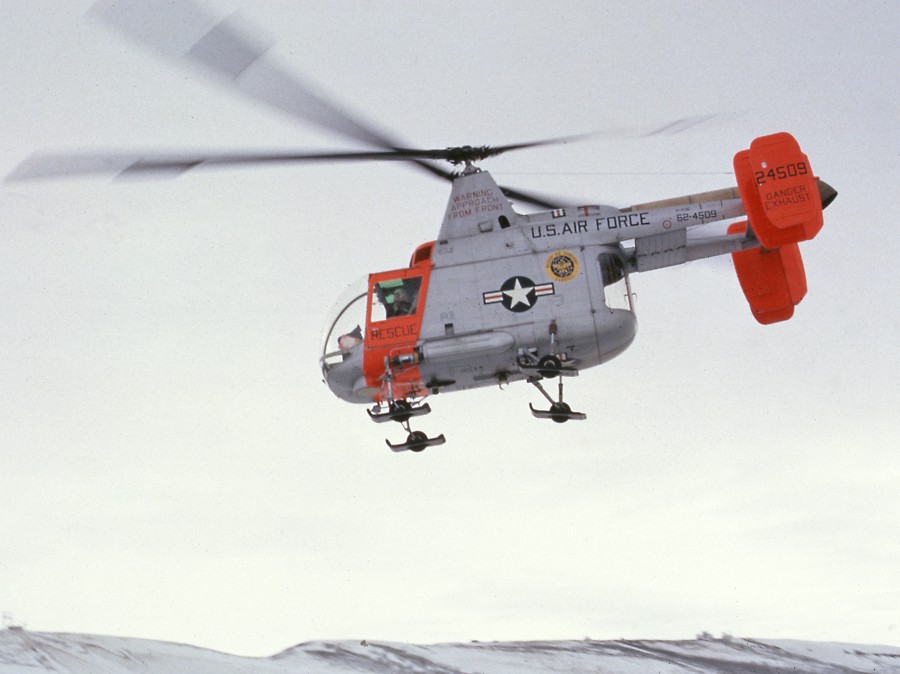 HH-43B 62-4509 Greenland 1965 , NARA/USAF photo K30184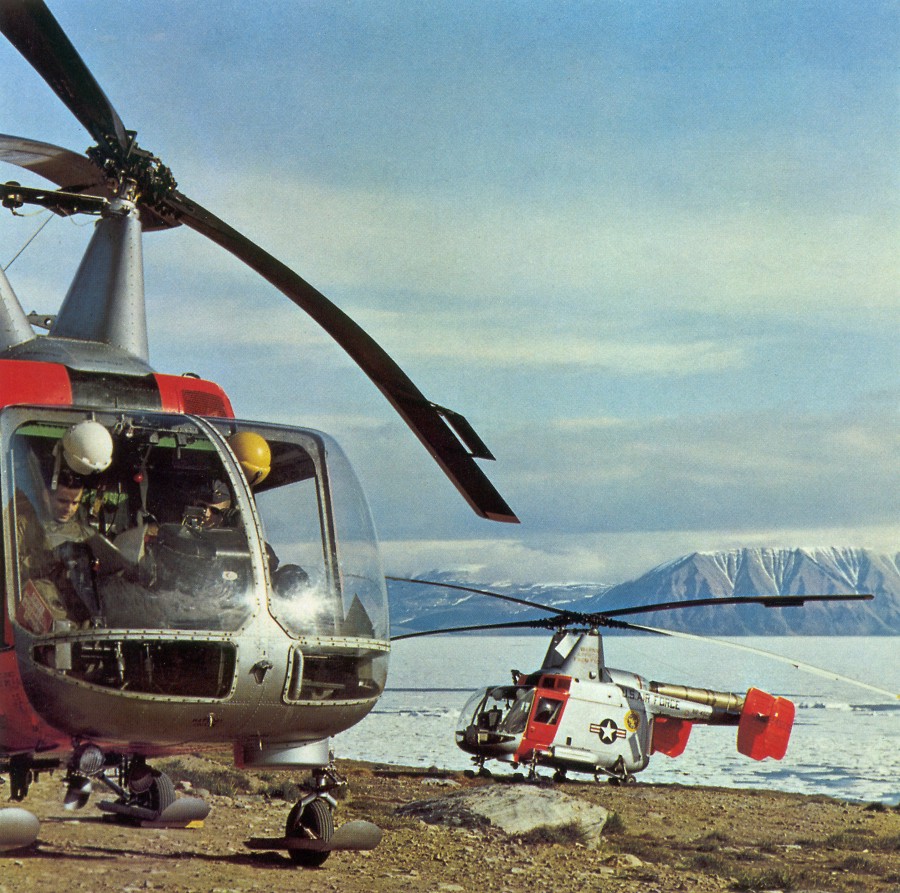 HH-43B Greenland ca.1965-66, collection Herzig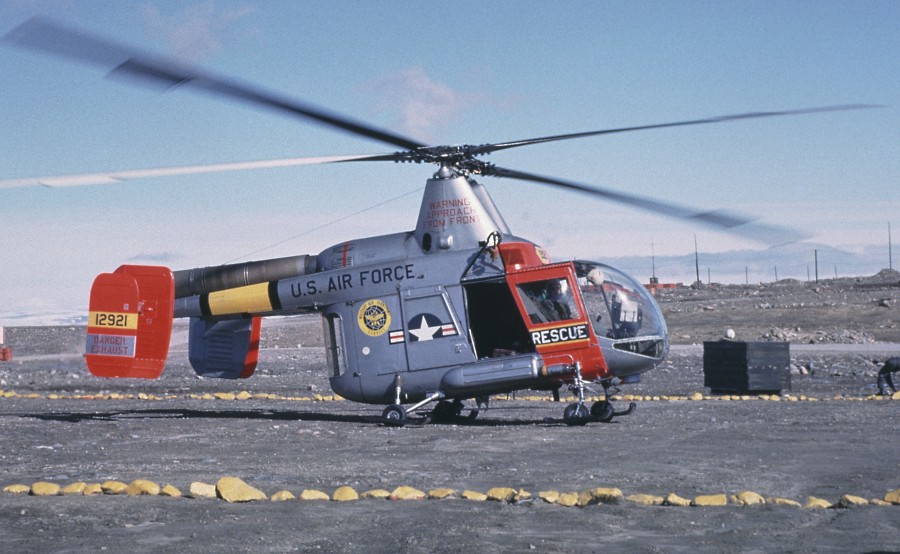 HH-43B 61-2921 Greenland Aug 1965 , collection Terry Panopalis
Preface
The following review is edited from stories and mission reports published in "Kaman Rotor Tips", bi-monthly magazine of the Kaman Corporation.
Organizational information was gained from several documents availabe from the USAF archive, the A.F. Historical Research Agency (AFHRA), Maxwell AFB, AL.
I would like to especially thank Mr. John Flournoy (Col , USAF Ret.), HH-43 pilot and Det.18 Commander during 1967 and 1968, for all his contributions, especially the unique photographs.
Johan D. Ragay
PRHA H-43 Historian
For organization of HH-43 units in Eastern Air Rescue Center (EARC) https://www.ragay.nl/easternarc-36.html
HH-43B Greenland July 1967 , photo by Capt. John Flournoy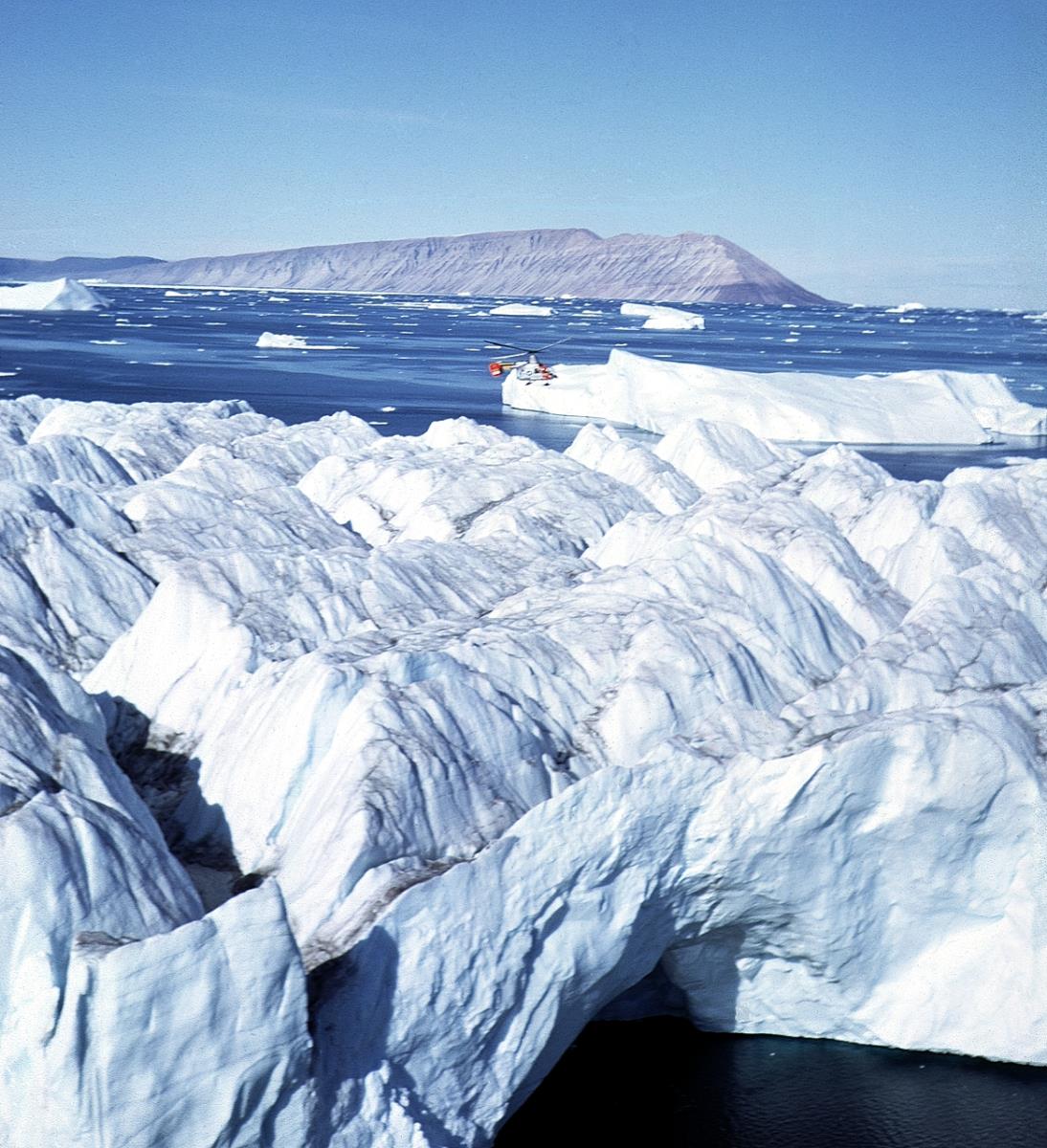 HH-43B Greenland Aug 1967 photo by John Flournoy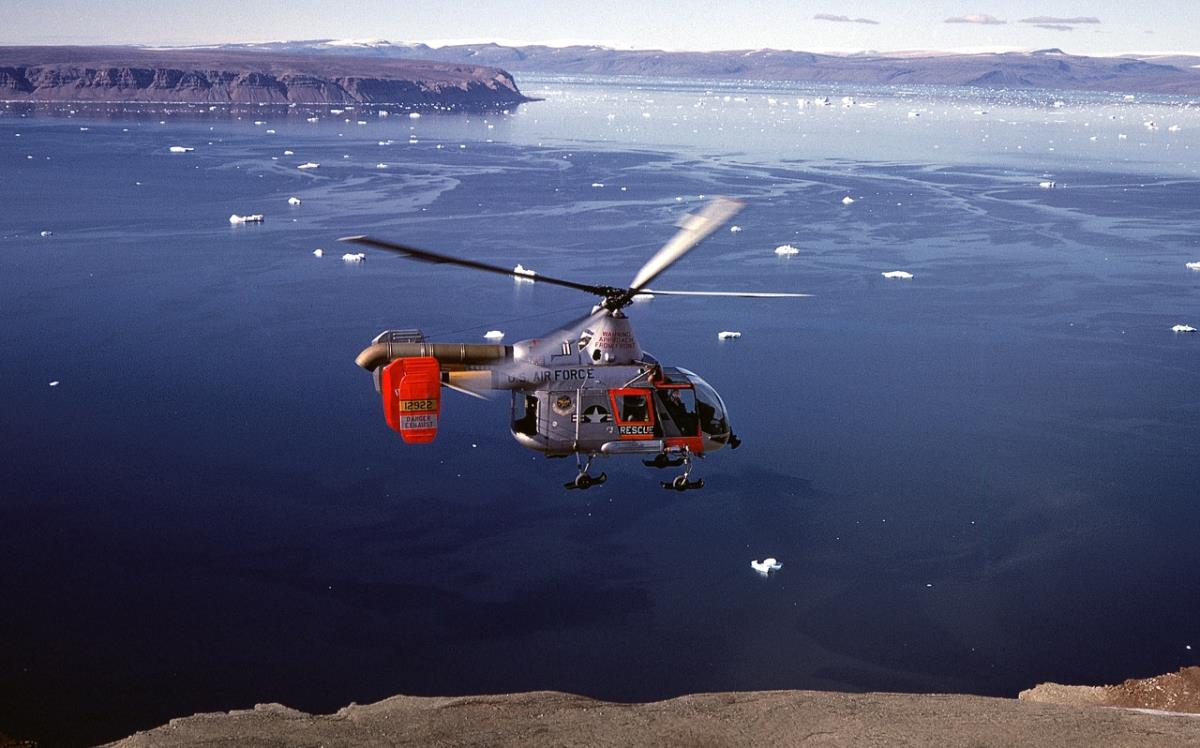 HH-43B 61-2922 Det.18, EARRC Aug 1967 photo by John Flournoy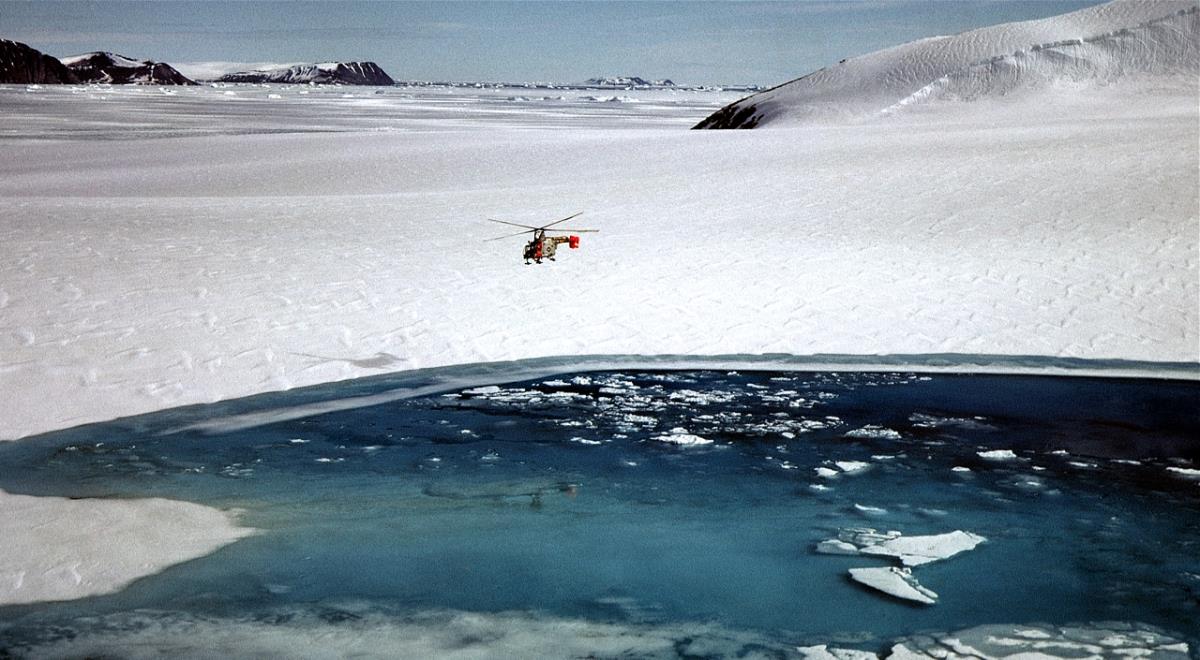 HH-43B 61-2922 Greenland Aug 1967 photo by John Flournoy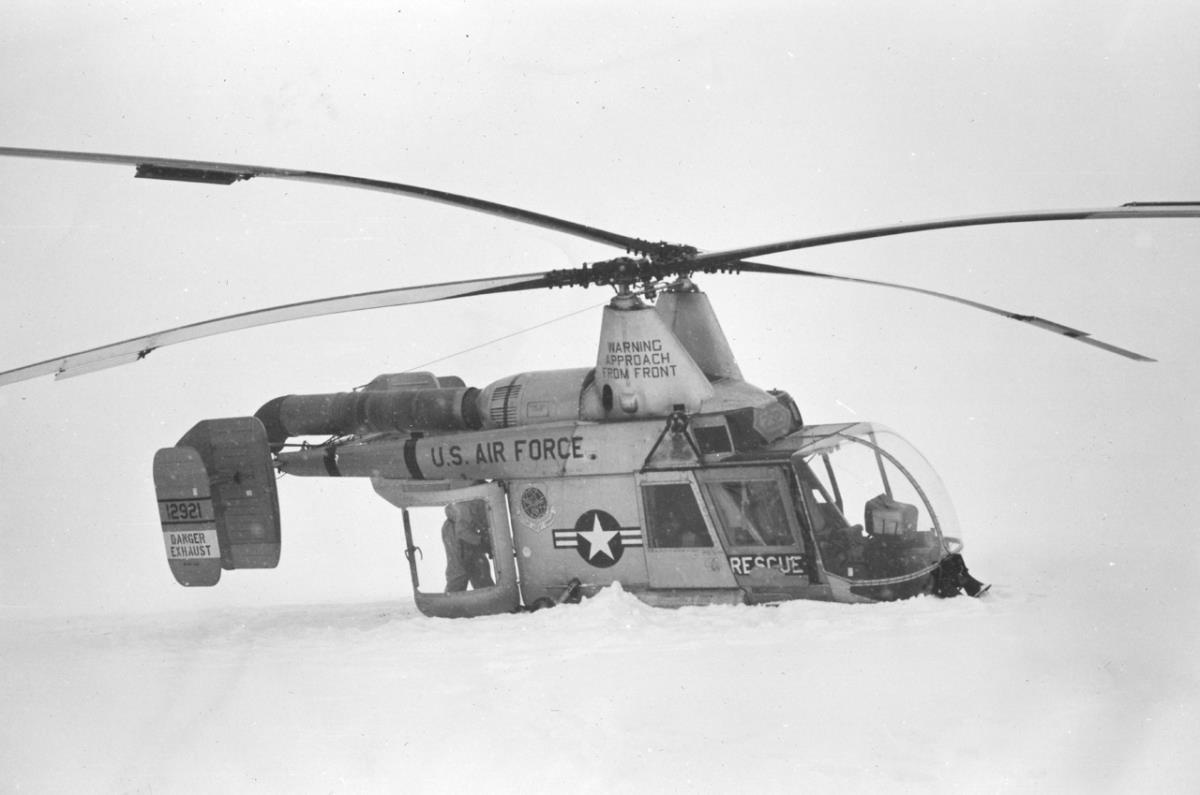 HH-43B 61-2921 after engine failure and autorotation into the snow 19 Sep 1967 - photo coll. John Flournoy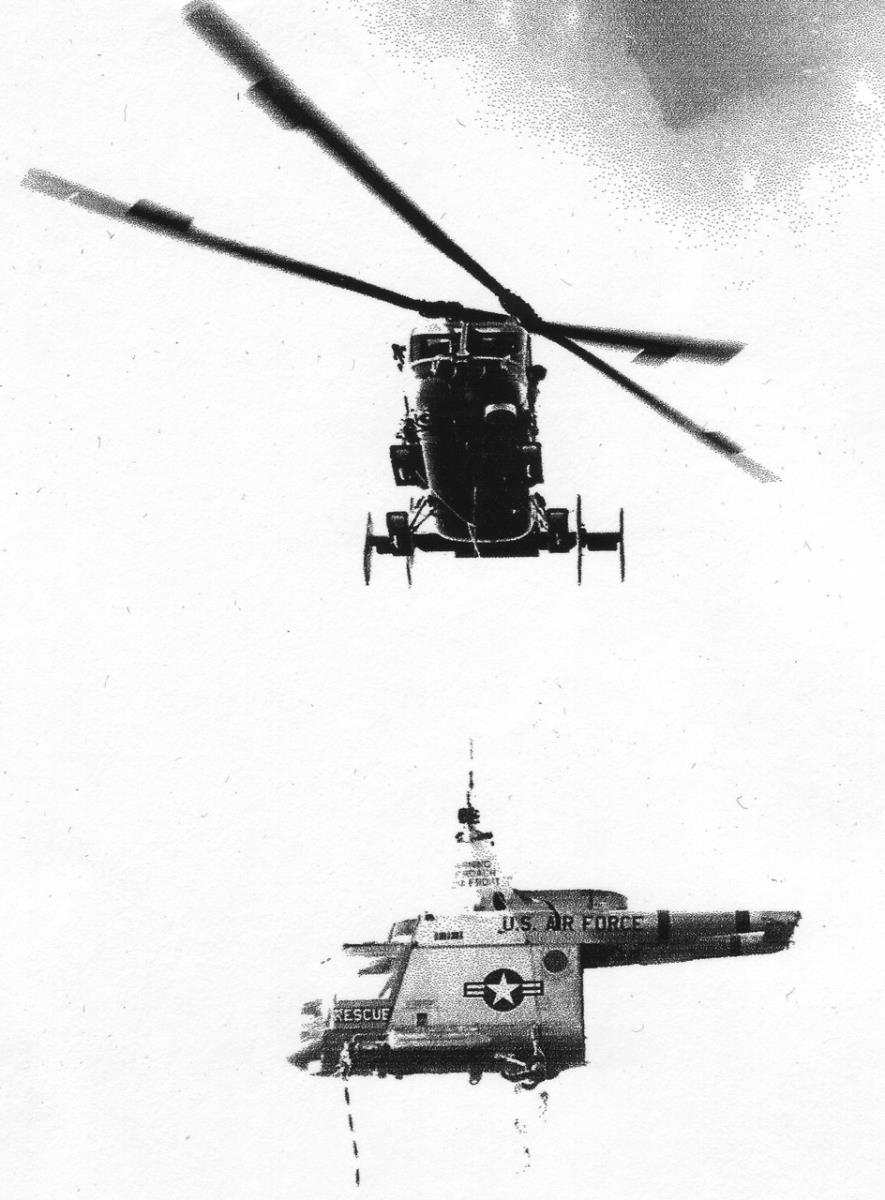 HH-43B 62-4509 and 61-2921 as sling load , 03Oct67 - coll. Flournoy
Source : www.researchgate.net
Qaanaaq in this map = Kanak , as mentioned in the following articles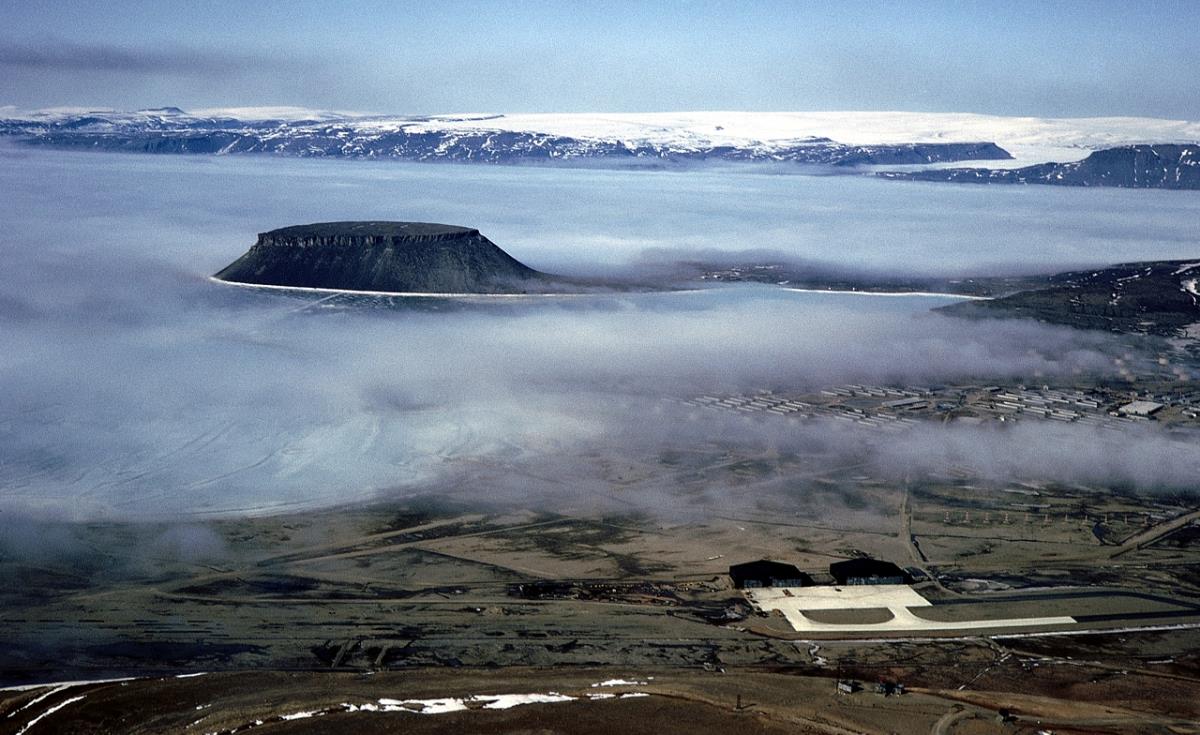 Dundas Mountain and a part of Thule Air Base, Greenland June 1967 photo by John Flournoy
Kaman HH-43B Huskie - based at Thule AB, Greenland 1961-1970
01. Organization
The Detachment was organized at Thule AB on 1 October 1961 and on request of ADC, the Detachment would be equipped with the HH-43 by March of 1962. The first two were delivered on 30 June 1962, direct from factory at Bloomfield, CT.
Det.1 of the 54th ARS became the first overseas unit to receive the HH-43B aircraft.
| | | |
| --- | --- | --- |
| UNIT HH-43 assignment | FROM | UNTIL |
| DET.1, 54 ARS | 01 Oct 1961 | 25 Jul 1965 |
| DET.18, EARC | 25 Jul 1965 | 08 Jan 1966 |
| DET.18, EARRC | 08 Jan 1966 | 01 Jan 1970 |
| DET.4, 39 ARRW | 01 Jan 1970 | May 1970 |
HH-43B

61-2921

from Kaman 30 Jun 1962 - xx May 1970 to Eglin AFB

HH-43B

61-2922

from Kaman 30 Jun 1962 - xx May 1970 to Eglin AFB

crash damage 14 Dec 1962 - 25 Feb 1964 crash-damage repair

HH-43B

62-4509

from ??? ca. Feb 1963 - xx May 1970 to Eglin AFB
02. Known Missions
03.01 1962
Source: Kaman RotorTips, issue Oct 1962, page 9 "Thule Huskie's in Action"
THULE AIR BASE, Greenland - Det. 1, 54th ARS has al­ready put the Huskie's to good use. Soon after the first helicopter was assembled, its crew joined in an hour and forty minute search for a missing Coast Guardsman later located by ground personnel. During this time the crew of the HH-43B, Capt. E. L. Neville, pilot; Capt. W. J. Murphy, co-pilot; Sgts. F. A. Grooms and R. H. Cain, rescue survival technicians; A2C R. S. Puro, medical technician and A2C W. H. Crosby, crew chief, had ample time to study the aircraft 's reaction to "heavy weather" - winds were gusting up to 50 knots during the entire search.
03.02 1962
Source: Kaman RotorTips, issue Dec 1962, page 18 "Huskie Happenings"
.... Det. 1, 54th ARS, Thule AFB, Greenland; dispatches HH-43B after receiving word that 24-foot boat owned by Danish Government washed ashore and damaged at spot 85 miles from base. Trip made in marginal weather over ice cap, fjord and rugged mountains. Helicopter lands on beach close to grounded vessel and eight persons flown to safety. HUSKIE crew consists of Capt. W. J. Murphy, pilot; Capt. R. L. Foster, copilot; and A2c E. G. Gotcher, crew chief.
03.03 1962
Source: Kaman RotorTips, issue Dec 1962, page 18 "Huskie Happenings"
... HH-43B from Det. 1, 54th ARS, Thule AFB, Greenland; flys seriously ill Eskimo woman from Kanak to hospital at Thule. Capt. R. C. Pfadenhaur and Capt. R. L. Foster pilots on mission.
03.04 14 December 1962
Source: USAF Accident/ Incident Report, HQ AFSC/JAR, Kirtland AFB, NM
Rescue Mission DET.1, 54 ARS 14 Dec 1962
HH-43B 61-2922
Flown by Capt. William J. Murphy (RCC); Capt. Richard C. Pfadenhauer (co-pilot); SSgt. Robert H. Cain (FF); A1C Erich W. Lietz (FF); A2C John L. Killian (MT)
Objective: F-102A 57-0873, assigned to the 332 FIS, based at Thule AB. The missing pilot was Maj. Robert H. Daum. Crash location 20 NM South of Thule.
History of Flight
(1) At 1138 AST, 14 December 1962, Detachment 1, 54ARS was notified by crash phone that an F-102 was missing on the Icecap, 25 nautical miles from Thule on a magnetic bearing of 195° . At approximately 1150 HH-43B helicopter 61-2922 scrambled from Thule AB on a Local Flight Clearance with 3+00 hours fuel on board. The weather at Thule was: Estimated 4400 overcast, visibility 10 miles, temperature 8, dew point 2, wind east at 5 knots, altimeter setting 29.23 inches.
(2) Captain Murphy (Rescue Crew Commander), in the right seat, completed the takeoff and headed the HH-43B toward the Icecap on the reported vector. He then turned the control of the helicopter over to Captain Pfadenhauer (co-pilot), in the left seat, while he made an adjustment. Captain Pfadenhauer continued to fly and took a measurement of the base of the clouds enroute as requested by the GCI site, "Iceman". The bases of the clouds were at 3500 feet MSL.
(3) Maintaining contact with Iceman and escort aircraft (HC-47) on the GCI frequency, the helicopter proceeded to Tuto East, an Army Research and Development Site. Captain Pfadenhauer then established a hover at Tuto East and requested a vector from Iceman. The helicopter received a vector of 170° magnetic from Tuto East at 13 miles. Captain Pfadenhauer took off, maintaining 50 to 100 feet of altitude above terrain. Twenty minutes had transpired since the tookoff at Thule. Visual contact with the ground was maintained by using the shadows of the helicopter lights in the ripples of snow. The weather at the time was moderate to heavy snow, but visibility was restricted mainly by darkness.
(4) After five minutes flight from Tuto East, Captain Murphy took control of the HH-43B and continued on the heading of 170° . The HC-47 above the helicopter was maintaining visual contact with the helicopter and relaying radio calls between Iceman and the helicopter. Five minutes later the snowstorm got heavier and Captain Murphy noticed that they were flying along the side of a hill at about 3000 feet altitude. He descended to a few feet above the ground and flew along the side of the hill, descending all the while to maintain visual contact with the ground. The slope came from the left above and descended to the right. His airspeed never went above 40 knots.
(5) Captain Murphy contined to fly the aircraft. He was maintaining visual contact with the ground by using the shadows of the lights on the snow ripples. The blowing snow on the ground indicated that the helicopter was flying directly into the wind. Captain Murphy also was monitoring the airspeed and attitude indicator (to be sure that he was in a straight and level attitude). The airspeed was 20 to 30 knots. He continued to descend along the slope which shallowed out after he passed below 2000 feet MSL.
(6) The snowstorm increased in intensity to a point where the landing light would not penetrate to the ground. Captain Murphy retracted the light slightly and regained visual contact with the ground. At this time the HC-47 flying cover lost sight of the helicopter flying below. Captain Murphy then noticed that the helicopter was traversing what seemed to be a perfectly smooth area with no ground ripples. He slowed the HH-43B down. The co-pilot gave him hand signals indicating that his altitude, attitude and forward speed were okay. Captain Murphy momentarily lost sight of the ground and then saw it again. He was approximately 20 feet in the air with low airspeed of 20-30 knots. He then increased the airspeed and continued to fly to the Icecap, maintaining good visual contact.
(7) About five minutes later, the helicopter again flew into what seemed to be an area of perfectly smooth terrain with no shadows for ground reference. The area immediately ahead seemed to be sloping upward. Captain Murphy decided to land, reorient himself as to just exactly where he was, and wait better visibility conditions. He announced that they were going to land.
(8) Captain Pfadenhauer had been looking outside at the ground, and, at the announcement of the landing, transferred his vision to the instruments inside. They indicated a slightly nose high attitude and near-zero airspeed - normal for a landing.
(9) The aircraft touched down and rolled over on its right side. The time was apporximately 1240 AST.
(10) The two pilots evacuated through a hole in the right windshield and the three crew members in the cabin exited through the clamshell doors. Survival measures were taken and the crew of five were rescued the next morning at 0800 and returned by ground vehicle to Thule at 2300.
NOTE: Aircraft 61-2922 was out of service for a long time, from accident date 14Dec62 up to 25 February 1964.
04.01 1963
Source: Kaman RotorTips, issue Dec 1963 - Jan 1964, page 12,13 "Report from the 54th ARSq" Thule Air Base (Det 1)
HH-43B MISSIONS IN THE FAR NORTH
Commander Erik W. O. Clausen, Danish Liaison Officer for Thule AB, Greenland, requested through the base commander that a critically ill Eskimo girl at Savigsivik, 65 miles southwest of Thule, be air evacuated to Thule. Due to a wind warning and alert commitment take-off was delayed until 2035. Flying the mission were Capt Grant D. Kerber, pilot; Capt Joseph T. Herr, co­pilot; AlC Charles G. Moinichen, crew chief; Command­er Clausen, and Dr. Johannes Stander, local Danish Doctor.
Although the winds were not forecast to be too strong, the first leg to Camp Tuto, 10 miles southwest of Thule, required 15 minutes. The cloud cover over the icecap was completely overcast and right on the surface, neces­sitating climbing above it. The tops of the undercast required flying at altitudes up to 8000 feet. Once on top, vectors were obtained from P-Mountain, the local GCI site.
After flying for approximately one hour, several small holes were found in the undercast with a glacier visible below. Two attempts to descend through these holes had to be discontinued because of mountains along the descent path and the holes closing up. After circl­ing for 10 minutes a slightly larger hole was found over the edge of the fiord and the glacier. Descent was ac­complished through this hole without difficulty. The base of the overcast was from 1000 to 2000 feet, ragged with drizzle and rain showers. Captain Herr determined our position to be approximately 25 miles from Savigsivik. Flight was continued along the edge of the cliffs, moun­tains and open water as the clouds still covered the ice­cap and mountain tops. Approximately 10 miles from Savigsivik all factors were considered and it was de­termined we would have fuel enough to land and return to Thule. Landing at Savigsivik was accomplished with­out incident, although moderate turbulence was encoun­tered during the approach. Approximately 30 minutes were spent on the ground while the patient was prepared for the flight back and the doctor obtained her medical history. Climb out was accomplished on instruments through a 3000-foot-thick overcast. Once on top, P­-Mountain again gave vectors back to Thule. We had to climb to 7000 feet to top the clouds. Because of the stronger-than-anticipated tailwind , the return flight re­quired only 45 minutes as compared to approximately an hour and 45 minutes for the flight to Savigsivik.
Doctor Stander stated the girl was critically ill and probably would have died in the near future if she hadn't received medical attention. At the present time the cause of her illness is undetermined. A base flight C-47 flew as escort for the mission.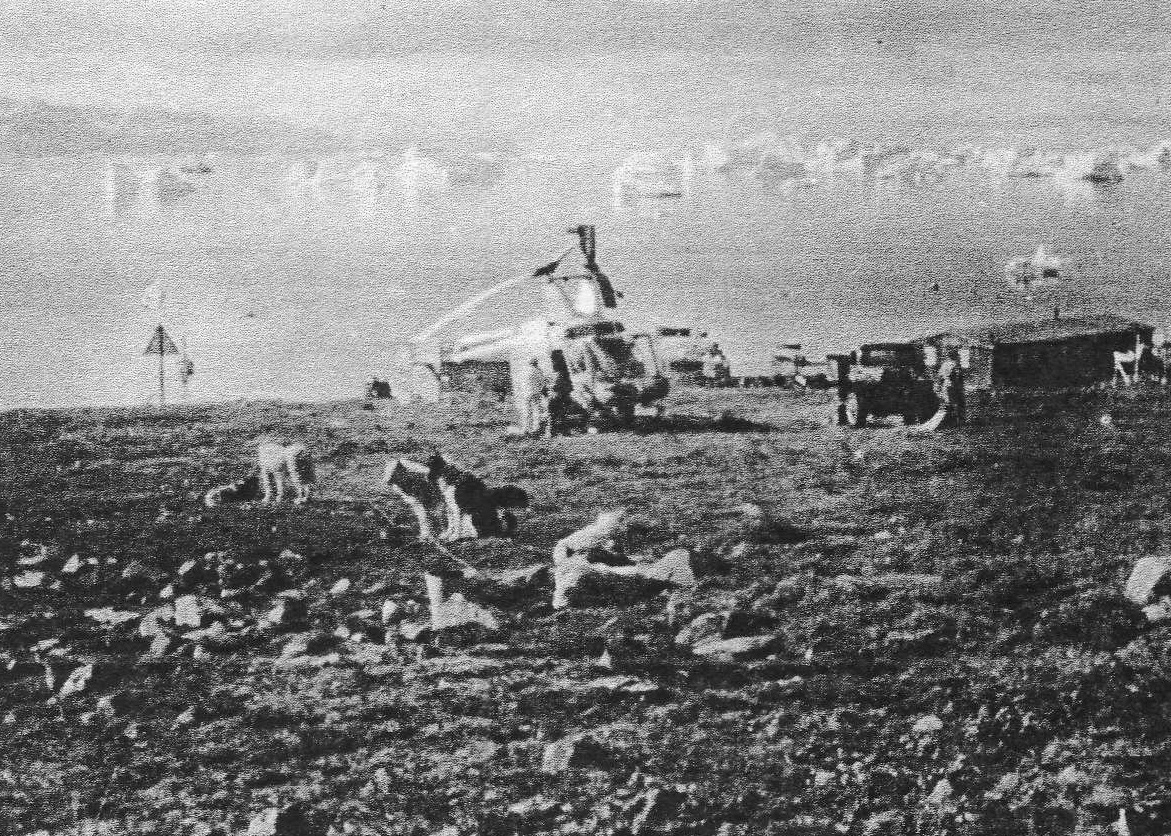 HUSKIE meets Huskies - Kaman RotorTips, issue Dec 1963 - Jan 1964, page 13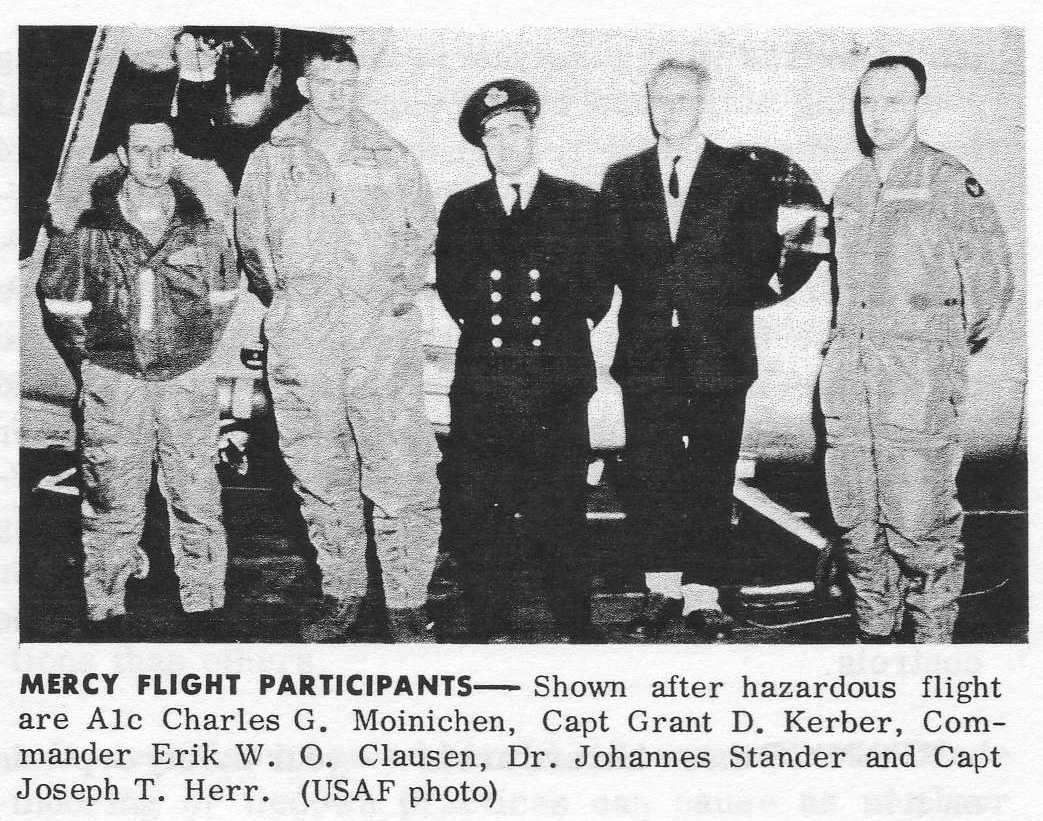 Kaman RotorTips, issue Dec 1963 - Jan 1964, page 13
05.01 1964
Source: Kaman RotorTips, issue Aug-Sep 1964 and Oct-Nov 1964, page 6 "1000-Hour Pilot Awards"
HH-43B pilots in widely separated areas qualified recently for desk sets awarded by Kaman Aircraft to those logging 1000 hours in helicopters produced by the company.
In right photo, LtCol E. L. Read, commander of the 54th Air Rescue Squadron, presents award to Capt. J. H. Black, Jr., of Det 1, Thule AB, Greenland.
05.02 1964
Source: Kaman RotorTips, Dec 1964-Jan 1965, page 14 "HH-43B Missions In The Far North"
A night mercy mission was also flown by Det 1, 54th ARSq, at Thule AB, Greenland, when a seriously ill civilian was evacuated from the Danish hospital at Kanak to the USAF hospital at Thule. Two HH­43B's from the detachment took off at 8 p. m. for Kanak and made the round trip in two-and-a-half hours.
The rescue helicopter was piloted by Capt James H. Black, Jr., and 1stLt Clarence C. Campbell was copilot. Also aboard were Maj Bealer T. Rogers, Jr., director of base medical services, and AlC Boyd L. Buchholz, helicopter me­chanic. The trip from Kanak to Thule by boat requires approxi­mately 12 hours.
06.01 1965
Source: Kaman RotorTips, issue Jun-July 1965, page 16 "DET ONE Receives Outstanding Unit Award"
ARS Det 1, 54th Air Rescue Sqdn(MATS) at Thule AB, Green­land, has been awarded the Air Force Outstanding Unit Award for exceptionally meritorious service from June 1, 1963 to May 31, 1964. The award was presented to Capt James H. Black, Jr., detachment commander, by LtCol William Carlyon, 54th ARSq operations officer, Goose AB, Labrador.
The detachment was cited for the "outstanding initiative, re­sourcefulness and leadership dis­played by personnel", and for a­chieving a zero aircraft and ground accident-incident rate while suc­cessfully completing many rescue and supply support missions "de­spite extremely adverse weather, lack of navigational aids and per­sonal hardships."
In summation, the citation said, "the singularly distinctive accomplishment of all members of the detachment re­flects great credit upon them­selves and the United States Air Force. "
During the period covered, de­tachment personnel flew 314 mis­sions in their HH-43B's, many of them over long stretches of Arctic ice, open water or the desolate Greenland ice cap. Kaman Scrolls of Honor were awarded the crew of DET one for saving the life of a critically-ill child during an extremely hazardous mission.
In a letter nominating the de­tachment for the award, LtCol Ernest L. Reid, commander of the 54th ARSq, credited detach­ment men with a "high level of maintenance proficiency" and said: "I have been consistently im­pressed by the high level of morale and espirit de corps. In spite of the isolated location of the base and the bleak surroundings, de­tachment personnel expended that
'little something extra' to com­plete their mission."
Representing the unit at the a­ward presentation were Captain Black; Capt William F. Clark; Capt Franklin L. Wilton; Capt Robert L. Gardner; Capt Arthur W. McCants, Jr., Capt Clarence C. Campbell; SMSgt Ash­by L. Rice, Jr., TSgt Knight C. Younkin; TSgt Grady L. Dunn; SSgt Boyd L. Buchholz; SSgt John P. Shir­key; SSgt Francis L. Lown; SSgt Wayne E. Dondero; and AlC Billy F. Brock; A1C Roy F. Taulbee and A1C Thomas D. McKiddie.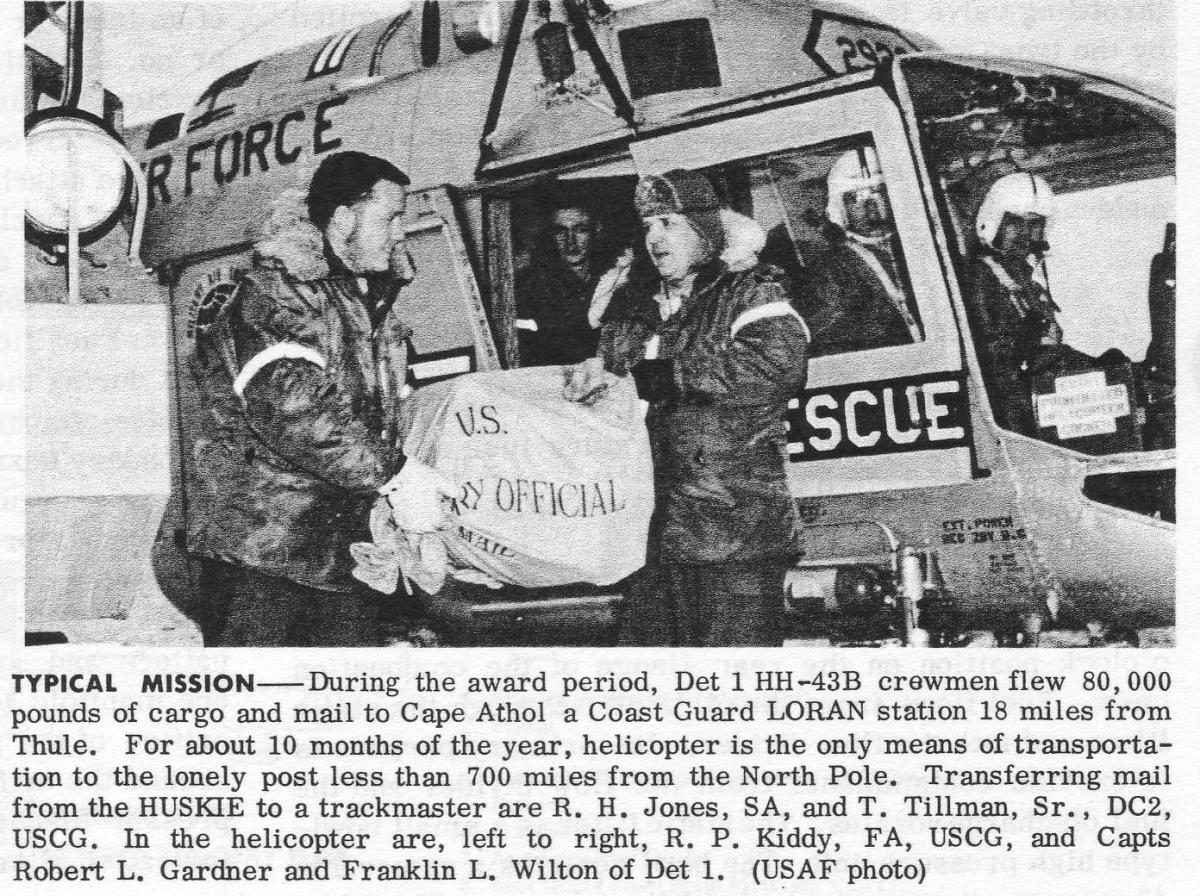 Kaman RotorTips, issue Jun-July 1965, page 16
06.02 1965
Source: Kaman RotorTips, issue Aug-Sep 1965, page 14 "Far North Missions"
Due to the efforts of HUSKIE crew­men from the 54th ARSq's Det 1 at Thule AB, Greenland, a seriously ill Eskimo woman was evacuated to the hospital. Dog sled was the only other means available to make the 32-mile trip. Capt Arthur W. Mc­Cants, RCC, and Capt Clarence C. Campbell, copilot, first flew to the Danish-Greenland village of Kanak, 60 nautical miles north of Thule, to pick up a Danish physician and then to Siorupluk 82 miles northwest of Thule to pick up the woman and de­liver her to Kanak. Also aboard the HH-43B were Maj Bealer T. Rogers, flight surgeon and director of base medical services; SSgt Lyle G. Noah, medical technician; and AlC Thomas D. McKiddie, crew chief.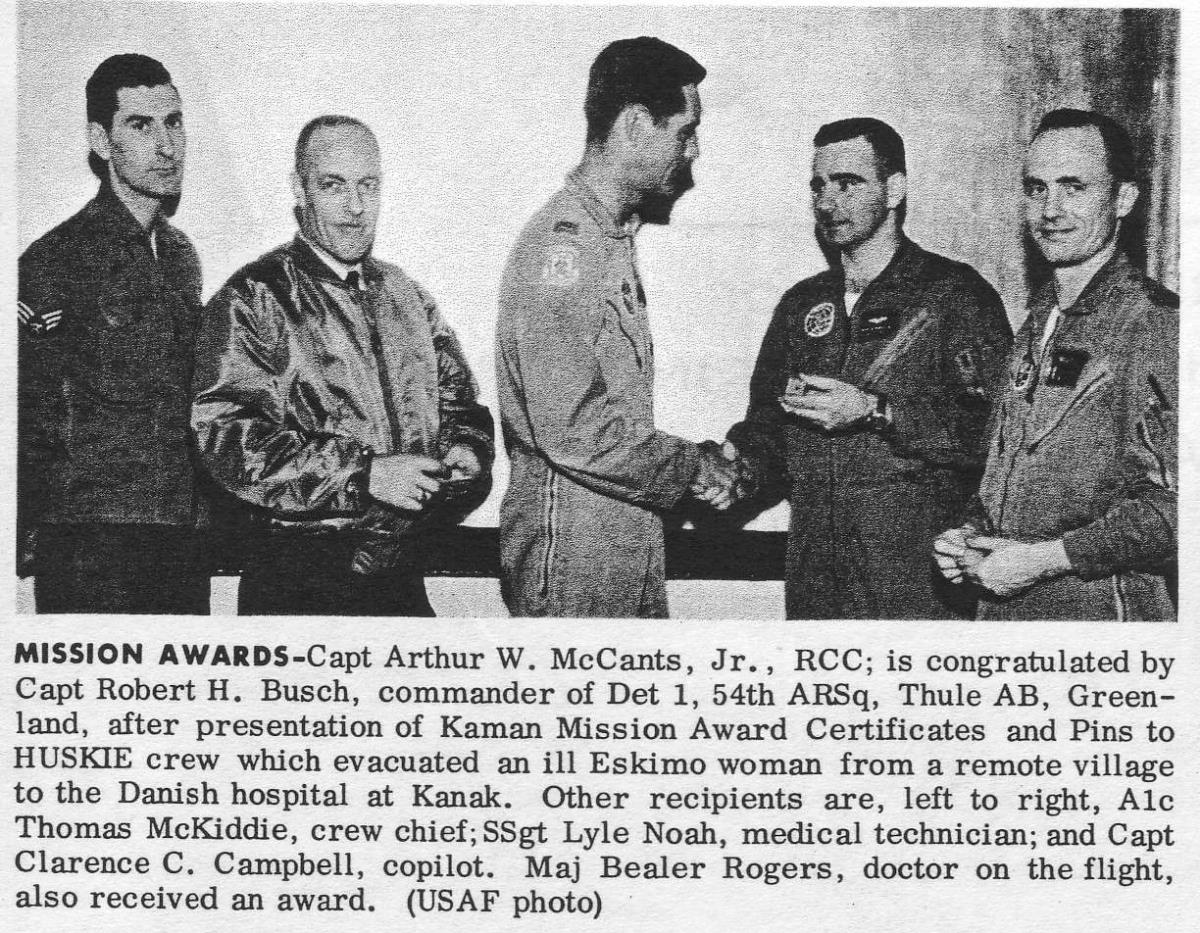 Kaman RotorTips, issue Aug-Sep 1965, page 14
06.03 1965
Source: Kaman RotorTips, issue Oct-Nov 1965, page 13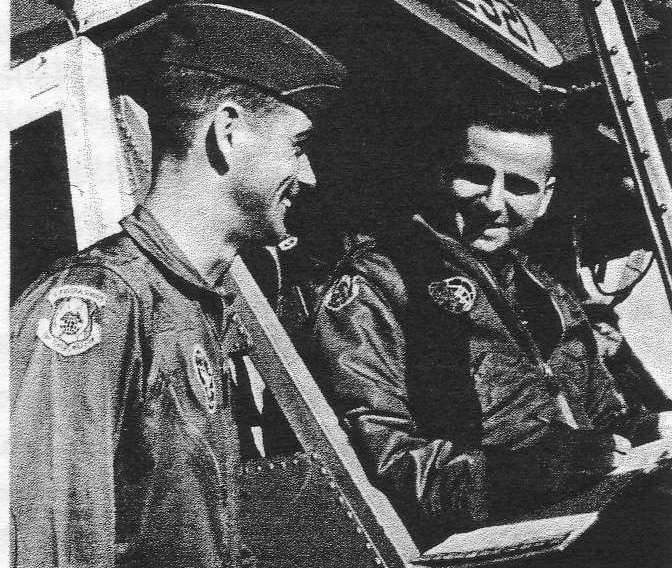 "1000-Hour Pilot Awards" - Capt Arthur W. McCants logs his 1000th hour in the HUSKIE as Capt Robert H. Busch, commander of Det 1, 54th ARSq, Thule AB, Greenland, watches.
06.04 25 July 1965 : Det.1, 54 ARS became Det.18, EARC
Det.1, 54 ARS at Thule AB was discontinued on 25 July 1965, and replaced by Det.18, EARC, activated on the same date.
(Source: AFHRA file K318.2, Jan-Dec65, Vol.5, Jul-Sep65)
06.05 1965
Source: Kaman RotorTips, issue Dec 1965 - Jan 1966, page 12,13 "Top of the World"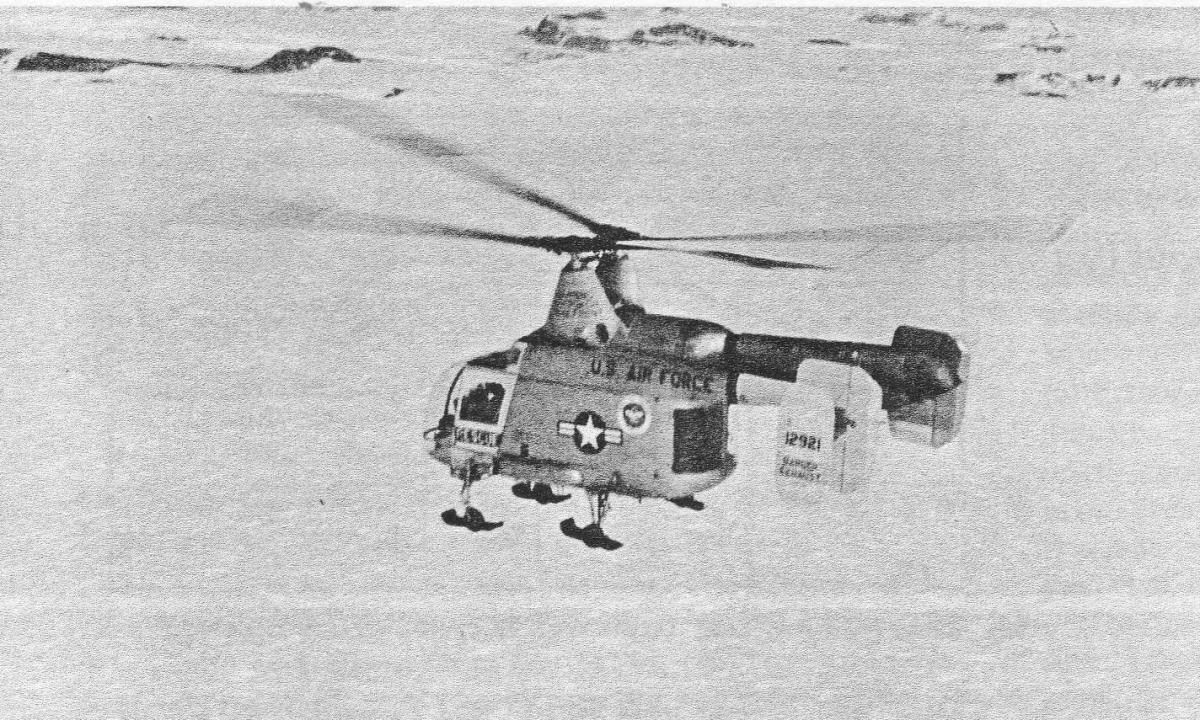 Mission To Kekertat
Rescue Mission DET.1, 54 ARS Late 1965
HH-43B "Pedro 1"
Flown by Capt. Robert H. Busch (RCC); 1stLt. David A. Cochenour (CP); AlC Thomas D. McKiddie (crew chief)
HH-43B "Pedro 2"
Flown by Capt. Henry Q. Long, Jr. (RCC); Capt. Leonard L. Hills (CP); SSgt. Julius Murray (FF)
Objective: Med.Evac of a seriously ill woman from a small village 35 miles East of Kanak
History of Flight
This account concerns a mission flown by HH-43B crews from ARS Det.18, EARC, Thule AB, Greenland and is rep­resentative of the hazards which often face this and other Air Rescue units serv­ing near the "Top of the World". All of the participants mentioned in the article, which was written by Capt David A. Cochenour, have been awarded Kaman Scrolls of Honor.
A seal dives for his hole in the ice and a disgruntled Greenlander aban­dons his stalk. Suddenly, out of a snow shower and flying only 10 feet above the ice, two HH-43B heli­copters appeared. The hunter gazes curiously at the strange looking aircraft and then begins to walk back toward his sled. His disappointment at losing a seal will be overcome when he hears of the results of Det.18's rescue mission.
Thule AB Command Post notified Det.18 at 1805 that an emergency call from Kanak, 58 miles north, had been received stating that a dog sled had just arrived from Kekertat, a small village 35 miles East of Kanak. An Eskimo woman there was bleeding internally and had lost a dangerous amount of blood. The trip by dog sled down Inglefield Bay had already consumed twelve hours and Dr. Ole Skov, the resident physician at Kanak, considered the patient's con­dition to be quite serious. Det.18 launched two "copters" at 1830L.
Since the prevailing weather con­ditions prevented any possibility of taking the direct over-the-icecap route to Kanak, the two helicopters were forced to fly at extremely low altitudes over the sea ice and as close to the edge of the cliffs as possible to preclude flying into a white-out condition, the greatest hazard to Arctic flying. Flying as low as 10 feet and often equally as close to the rock cliffs, the normal 45-minute trip was increased to one hour and 15 minutes. The aircraft often lost sight of each other at distances less than one-quarter of a mile. Air speeds varied from 90 knots to 20 knots as the visibility alternately raised and lowered.
At 1945 both helicopters landed at Kanak to refuel and pick up Doctor Skov. The refueling operation was conducted by Sergeant Murray and Airman McKiddie by hand pump from fuel cached for just such a mission. They were assisted by some 20 chil­dren and a few sledge dogs. Due to the extremely poor weather con­ditions it was decided to take an Eskimo guide with us. Our guide was Kutikitsok Odak and he was to receive his first ride in an USAF helicopter.
Refueling completed, both heli­copters took off into the lowering fog for Kekertat. Departing Kanak, the weather again closed in to less than one-eighth of a mile in fog. In order to maintain visual reference, both helicopters flew as close as possible to the sheer cliffs of the bay. The sea ice close to shore was rotten and weak and it was doubtful whether it would have sup­ported the weight of the aircraft had they been forced to land. Due to the seriousness of the patient's con­dition, Captain Busch elected "to press on". After awhile, visibility had increased slightly and it was possible to take a more direct route across the ice. Occasionally the guide would tap Lieutenant Coch­enour on the shoulder and point in the direction he wanted to fly. Al­though he had no compass and no map, his route was in close agree­ment with the flight-planned route. Twenty-five minutes after leaving Kanak, the Harward Islands were spotted and the guide proved to be of great service in locating the tiny village of Kekertat. Captain Busch made a cautious approach to the village and looked for a safe place to land as Captain Long continued to circle overhead. A fairly level spot was found and the first heli­copter landed. Airman McKiddie quickly jumped from the aircraft to hold back the crowd that had gather­ed at the first sound of the rotor­blades, and Lieutenant Cochenour assisted Captain Long in finding a suitable landing spot. The village leader led Doctor Skov to the house of the ill woman where he quickly examined her. Captain Busch, Cap­tain Hills and Airman McKiddie, as well as several of the town people, placed her on the stretcher and car­ried to Captain Busch's aircraft.
The return flight to Kanak was ac­complished in the same manner as the previous flights, with 30 minutes flying time. Upon arrival the pa­tient was quickly taken to the hos­pital. After completing the rescue por­tion of the mission the crews relaxed over some delicious Danish coffee and discussed the mission. A light snow was falling as Air­man McKiddie and Sergeant Murray finished refueling and both Det.18 helicopters soon departed for Thule. The return trip was uneventful and both aircraft were on the ground by 0100 - rescue successfully accom­plished.
06.06 1965
Source: Kaman RotorTips, issue Dec 1965 - Jan 1966, page 12,13 Arctic "Route 66"
The following is a condensed version of an article which appeared in "the Thule Times". Story and photos by SSgt Philip Schick.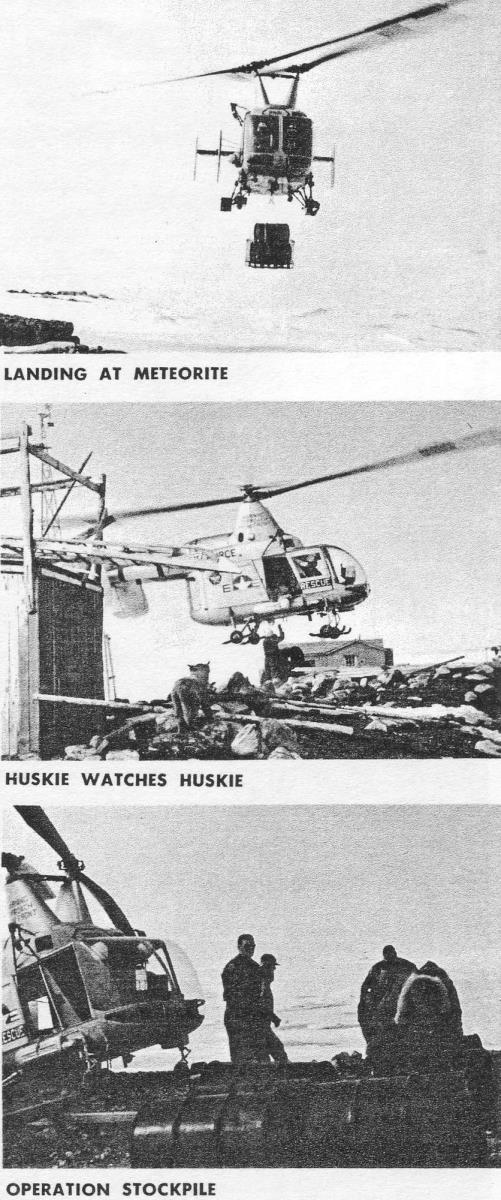 Kaman RotorTips, issue Dec 1965 - Jan 1966, page 13
Sixty-six miles south-south-east of Thule on Meteorite Island, lies Savigsivik, one of the most remote villages in the world. It is inhabited by from 50 to 80 people, depending on the time of year.
There are three ways to get to Savigsivik from Thule. You can go by dog sled, most common method used; by boat during the short period that the waters of North Star and Melville Bays are open; or, by heli­copter, the way we went.
Two helicopters from Det.18 made the flight. Purpose of the trip was to deliver and store there, aviation fuel used by helicopters on return trips from Savigsivik when high headwinds make necessary the use of additional fuel. A second purpose was the in­spection of suitable landing sites since the ice is no longer strong enough for the HH-43B's to land on.
The flight down took about an hour. It was an hour spent viewing the seemingly numberless "snow scapes" nature has painted in this frozen land. Occasionally there was nothing but an endless blanket of white from horizon to horizon. Then, the scene would change dramatically with large outcroppings of some­times slightly reddish, sometimes pitch black cliffs and mountains of rock, partially covered with snow or sheets of glistening ice.
Along the coast, I could see ice­bergs imprisoned in the frozen bay. Along the shores there were huge cliffs of ice where pieces had "calved", or fallen into the fjords.
The helicopter I was in arrived first. Our pilot, Capt Henry Q. Long searched the village for a flat place to land on and finally selected a small spot near the center of the village. Like a driver backing his truck by leaning out of the cab, Cap­tain Long eased the bird slowly to the ground and released the cargo of fuel from underneath.
After our cargo was released, he quickly moved away to make room for the second fuel-carrying bird to deposit its cargo. Both helicopter pilots then found a safe spot to land near the beach and the birds were set to "roost" for awhile. The heli­copter crews began to work clear­ing rocks and other debris from two spots intended for landing areas for future trips. Meanwhile I roamed around the village taking pictures of whatever caught my fancy.
Pictures completed, fuel unloaded and stored and two clean landing sites constructed, we bid everyone goodby and climbed aboard the two helicopters. Sitting in the helicop­ters waiting for the turbine engine to be started, I could hear what seemed like a million birds scream­ing in the fog-covered mountain. Soon that sound was dimmed by the screaming of the turbine and in seconds we were airborne and fly­ing north toward Thule.
06.07 1965
Source: Kaman RotorTips, issue Dec 1965 - Jan 1966, page18 "Huskie Happenings"
... Despite low clouds and minimum visibility, HH-43B crew from Det.18, EARC, Thule AB, Greenland, evacu­ates sick Eskimo child to hospital from isolated village. Ordinary travel by dog sled impossible. HUSKIE crew consists of Capt Henry Q. Long, pilot; Capt Robert L. Gardner, copilot; SSgt Wayne E. Dondero, helicopter mechanic; and PO/2 Erik H. Lange, Danish Interpreter.
06.08 1965
Source: Kaman RotorTips, issue Dec 1965 - Jan 1966, page 18 "Huskie Happenings"
... Two HH-43B crews from Det 18, EARC, Thule AB, Greenland, transport survey party 66 air miles south of base to estimate problems in recovering 15-ton meteorite found in 1963.
06.09 1965
Source: Kaman RotorTips, issue Dec 1965 - Jan 1966, page 19
HEARTFELT THANKS - Mrs. Dorothea Suarsak shakes hands with Capt Clarence C. Camp­bell, pilot of the HH-43B which flew her to Thule AB hospital from the remote village of Savigsivik, Greenland, after she was bitten by a dog thought to be rabid. The 130-mile flight was made over the barren Greenland ice-cap in darkness and sub­zero temperatures. Others who manned the Det.18 HUSKIE on the haz­ardous flight were Capt William Clark, co­pilot; AlC Thomas McKiddie, crew chief; Capt Robert Ruggeri, MC, flight surgeon; and Mr. Orla Sandborg, Danish government official who acted as interpreter. Later Mrs. Suarsak was taken to Copenhagen for further treatment. (USAF photo)
Kaman RotorTips, issue Dec 1965 - Jan 1966, page 19
07.01 1966
Source: Kaman RotorTips, issue Feb-March 1966, page 18 "Huskie Happenings"
... Det 18, EARRC (MAC), Thule AB, Greenland, starts off 1966 with New Year's Day mercy mission flown after darkness to village 75 miles from base. HUSKIE lands on sea ice at foot of 30-degree slope and crew makes way to home of seriously-ill woman 150 yards away.
Capt Thomas L. Kelly, Jr. (MC), flight surgeon, determines she is suffering from appendicitis. Hunting sled used to transport patient to chopper and she is flown back to base for suc­cessful operation. Capt Henry Q. Long, Jr., RCC on mission; Capt Lonnie C. Luttrell, co-pilot; AlC Jerome A. Tuttle, crew chief; and A2C Harold W. Hammett, medical technician.
07.02 1966
Source: Kaman RotorTips, issue Apr-May 1966, page 19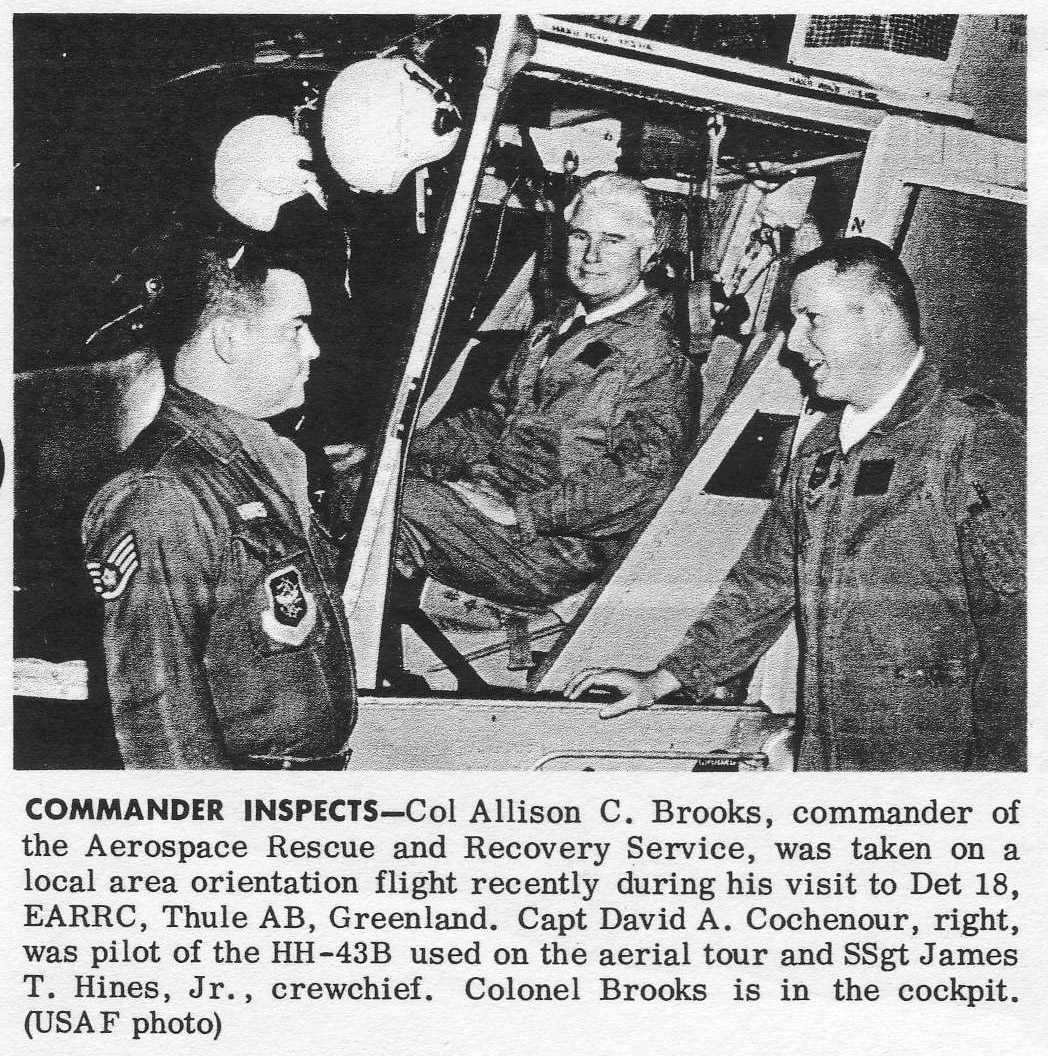 07.03 13 July 1966
Source: Kaman RotorTips, issue Nov-Dec 1966, page 15
"Joint Thule Operation"
by Lt. K. D. Kleiber, USNR HC-4, Det 82, USCGC Westwind
July 13, 1966 marked the date when two operational helicopters produced by Kaman Aircraft Corporation penetrated northern latitudes to a point believed to be farther north than that reached by any other helicopter from Thule AB, Greenland.
Approximately two weeks earlier the U.S. Air Force's Det 18, EARRC (MAC), at Thule furnished helicopter transportation for members of a Rutgers University mineral research team to a campsite located at 78-33N and 71-00W in Inglefield Land, Greenland. The party was composed of Dr. John C. Tedrouch, Ph.D; Dr. Grant F. Walton, Ph.D, and Mr. David Gaskin. Their purpose was to study the soil and rock composition of the area.
On the 13th, Navy personnel from HC-4's Det 82 aboard the USCGC Westwind (WAGB 281) were asked by the Air Force if one of their helicopters could accom­pany the HH-43B's on the return trip to pick up the scientists.
Two Air Force HUSKIES and one UH-2B SEA­SPRITE (HC-4's "Scooter 59") from Det 82 launched on the 162-mile flight north from Thule. The greater range and cargo capacity of the UH-2B added a margin of safety to the flight over the frozen bays, rugged moun­tains and glacial Greenland icecap - an area devoid of navigational aids. "Scooter 59" was able to make the round trip without refueling and, in addition, carried two drums of JP-4 as external cargo to a midpoint so that the HH­43B's would have extra fuel if needed on the return trip.
The first HUSKIE was piloted by Capt Ryland R. Dreibelbis and 1stLt Glenn T. Passey. The second HH­43B was piloted by 1stLt Robert J. Osik who was accom­panied by TSgt Howard M. Lord and SSgt Robert L. Julian. The SEASPRITE was piloted by Lt Kenneth D. Kleiber and Lt(jg) Patrick F. Mahoney, USNR. Roger D. Terbrak. AMH3, was crewman.
08.01 June 1967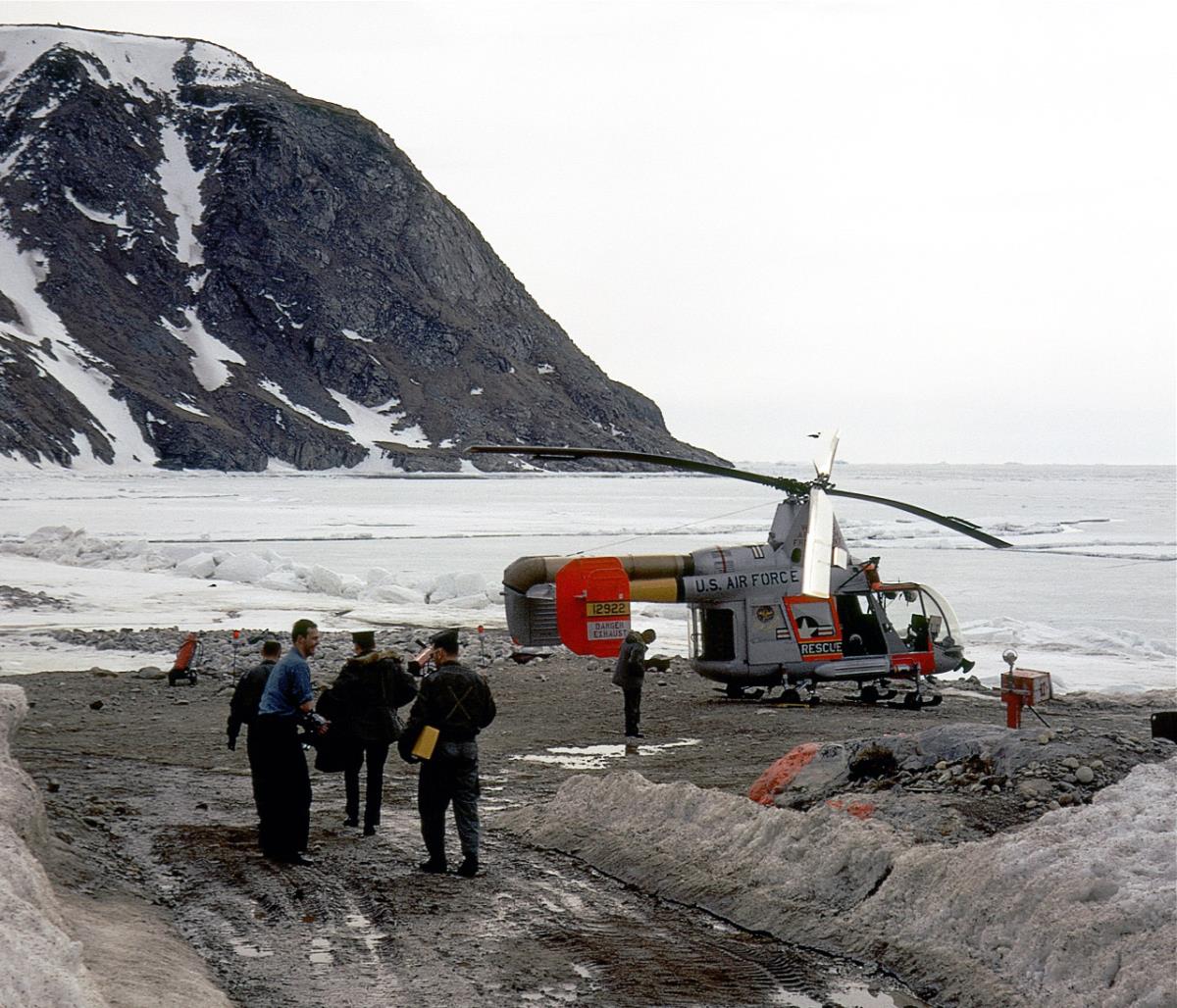 The landing site was at Cape Athol (a US Coast Guard LORAN-C station about 10 miles off the coast near Thule). There were about forty US Coast Guard troops stationed there and we were there only as means of support during the dark season and bad weather.
They were really isolated from the outside world and we would bring them into Thule for some limited R & R. ; June 1967, photo: John Flournoy
08.02 19 September 1967
08.02.01
Source: History EARRC 1Jul-30 Sep67, AFHRA file K318.2071, Jan'67-Jun'68 (on AFHRA microfilm K3261, frame 168 to 250)
Rescue Mission DET.18, EARRC 19 Sep 1967
HH-43B 61-2921 "Pedro 1"
Flown by Capt. Harold L. Hiner (RCC); Capt. George R. Ehler (co-pilot); A1C Gary McRae (FE)
HH-43B unknown serial no. "Pedro 2"
Flown by Capt. John C. Flournoy (pilot); Capt John J. Duggan (co-pilot), 1stLt Albert C. Schube (..); AlC Wendell D. Granstaff
Objective: A resupply and passenger pickup flight to Kanak, a village 70 miles north of Thule
Preliminary Report of aircraft mishap
Date and location : 19 September 1967 at 12:20 Atlantic Standard ; 77 10N - 07 00W
Autorotation due to loss of power, aircraft secured at landing site. Unable to give man hour estimate until future investigation and or aircraft is returned to Thule AB. Damage repair is restricted to landing gear attachment points, minor sheet metal repair. Initial estimate appears not extensive. Base flying safety officer unable to visit aircraft at this time.
Suspected engine failure T53-L-1B LE00304 total 700.1
Preliminary investigation by 4683rd ABGp flying safety officer (Capt. Robert S. Pocreva) has begun pending arrival of EARRC investigation team. ETA Thule AB on 21 Sep 67.
An incident occurred on 19 September 1967 when two helicopters of Det.18, Thule AB were returning from a routine flight to Kanak. Shortly after crossing a large bay, approximately 20 minutes out of Kanak, "Pedro 1" (61-2921) experienced a power loss and was forced to enter autorotation. Under the extremely hazardous conditions of poor visibility, sloping terrain and very limited time, Capt. Harold L. Hiner and crew demonstrated superior crew coordination and professionalism which resulted in a safe landing. There was no injury to the crew or passenger and the aircraft incurred only minor damage.
Capt. Hiner received a "Well Done" from General Brooks and thanks from the Danish passengers on board at the time.
Colonel Ellis and his staff arrived on 21 Sep 67 to assist in recovering the downed aircraft from the Ice Trail. The aircraft was successfully recovered by 03 Oct 67 with the assistance of the 4683 ABG and the US Coast Guard.
08.02.02
Source: "MAC Flyer", issue April 1968, page 16-17 GOOD SHOW
Rugged terrain and constantly changing weather keeps Thule HH-43 crews on their toes. Caution is the watchword and flights off base are always conducted with two aircraft. This procedure paid off handsomely last fall for Capt Hiner and crew, Det 18, Eastern ARRC.
A resupply and passenger pickup flight was schedualed to Kanak, a village 70 miles north of Thule. The flight across iceberg-choked waters and glacier fields was uneventful for Capt Hiner and crew as well as for their companion chopper.
After picking up their passengers, both choppers started the return trip. Shortly after crossing a fjord, both Capt Hiner and Capt Ehler, copilot, noticed a fluctuating rotor RPM. Capt Hiner switched to emergency fuel while Capt Ehler radioed the other Huskie.
The emergency fuel system failed to function properly and Capt Hiner started an autorotation. Due to the snow being stirred up by the chopper's blade, Capt Ehler opened his door and looked down to help Capt Hiner judge his altitude. On his signal, Capt Hiner flared and landed in complete whiteout conditions. Landing on a slope, the gear was damaged, but the 'copter remained upright.
08.02.03
Source: Kaman RotorTips, issue Jan-Feb 1968, page 20 "DET Huskie Recovers Huskie"
While on a routine return flight from Kanak to Thule AB, one of the HH-43B's from Det 18, EARRC, was forced to make an emergency landing after an engine power loss. Despite poor visibility and 25-knot winds, Capt Harold L. Hiner made a safe autorotation landing on the Ice Trail about 40 miles from Thule. With him were Capt George R. Ehler and AlC Gary McRae. The accompanying Huskie, manned by Capt John C. Flournoy, Capt John J. Duggan, 1stLt Albert C. Schube and AlC Wendell D. Granstaff, immediately landed and the res­cued crew was airlifted to Thule.
Several rescuemen stayed behind to finish the job of securing the downed helicopter and were picked up about six hours later.
After a 10-day wait for the weather to clear, dis­assembly of the downed HH-43B (61-2921) began. Working under extremely difficult conditions, maintenance crews re­moved the rotor blades, engine, clamshell doors, seats and other equipment. Due to the bitter cold and other unfavorable working conditions, one airman became ill and was evacuated in an HH-43B flown by Captain Flournoy and Capt Raymond Murden, CWO Wickersham was cabin attendant. Toward the end of the recovery operation the Coast Guard ice breaker "Edisto" arrived and her UH-2 SEASPRITE crews from HC-4 aided the Air Force men in the disassembly work. An HH-43B (62-4509) from the de­tachment then picked up the other Huskie and airlifted it to the "Edisto". This is believed to be the first time one HH-43 lifted another HH-43 with the transmission still intact*). During this time, alert duties at Thule were assumed by the HC-4 SEASPRITES. *) In the Summer of 1964 one Colombian Air Force HH-43B lifted another Colombian Huskie from the crash site, in this case the transmission was removed.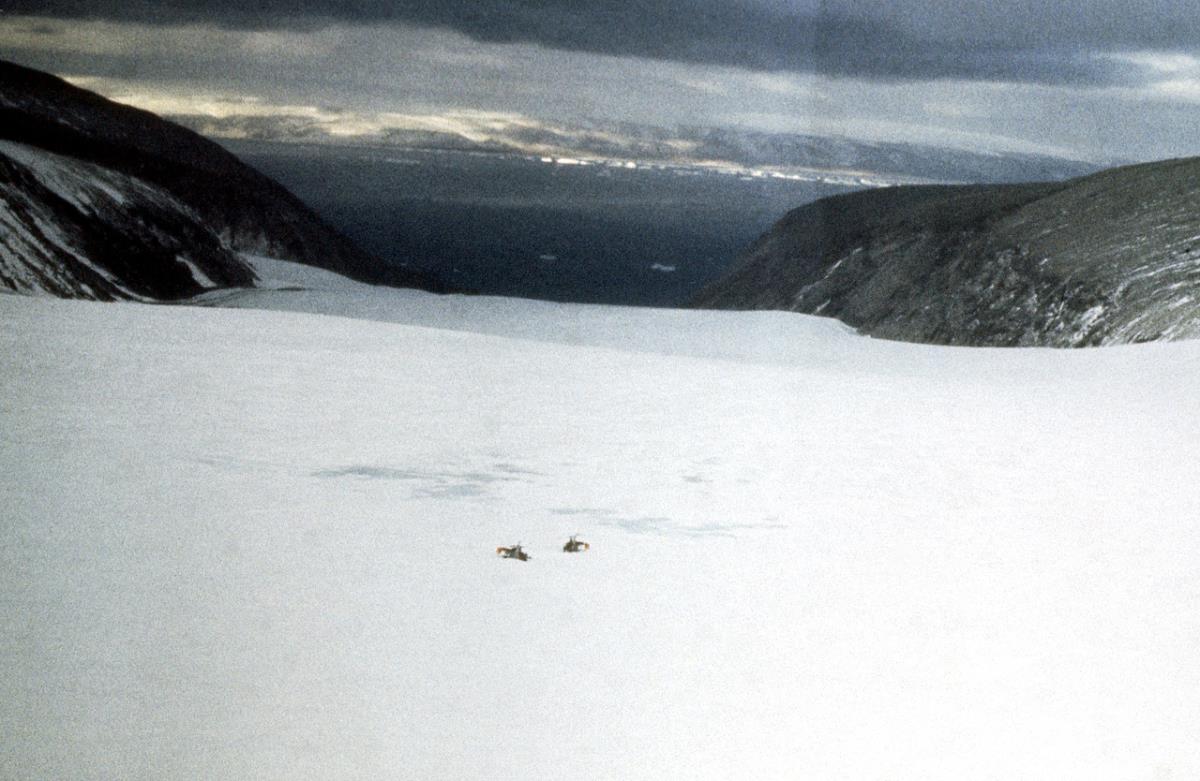 two HH-43B, one being the stranded 61-2921 on the glacier surface - late September 1967 - photo by John Flournoy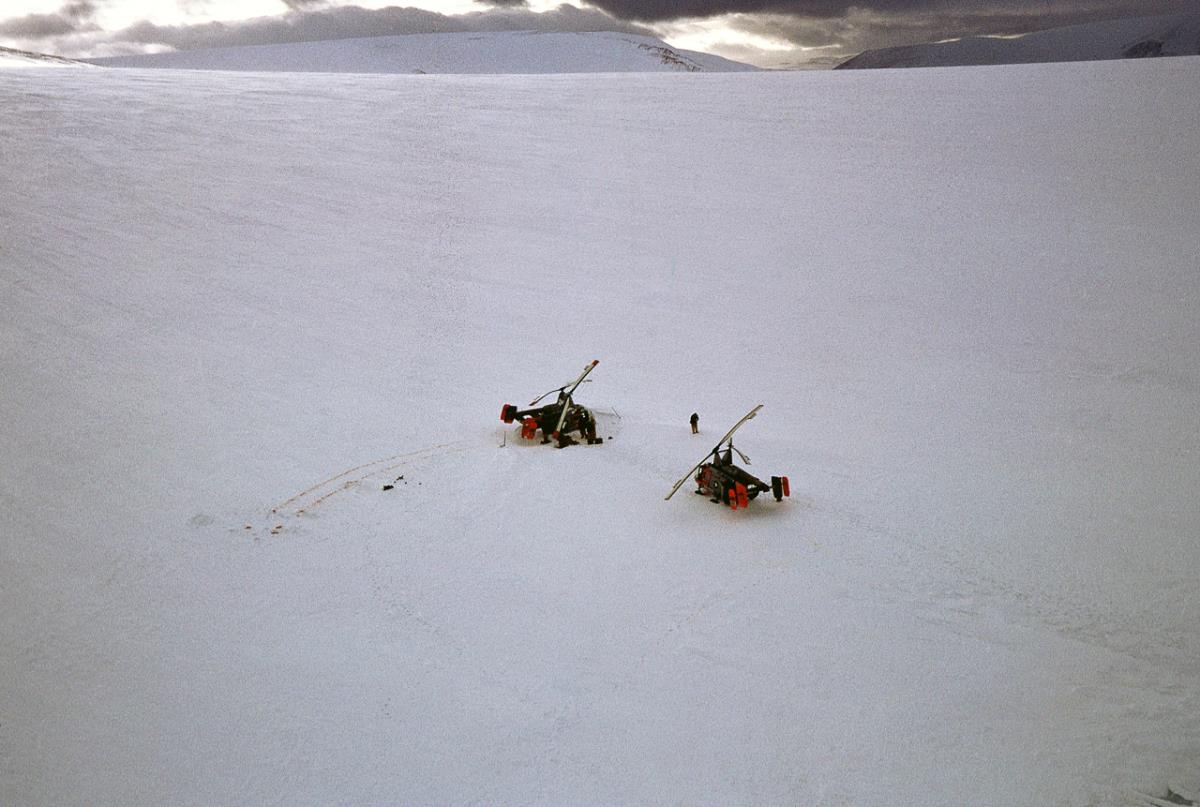 two HH-43B, one being the stranded 61-2921 on the glacier surface - late September 1967 - photo by John Flournoy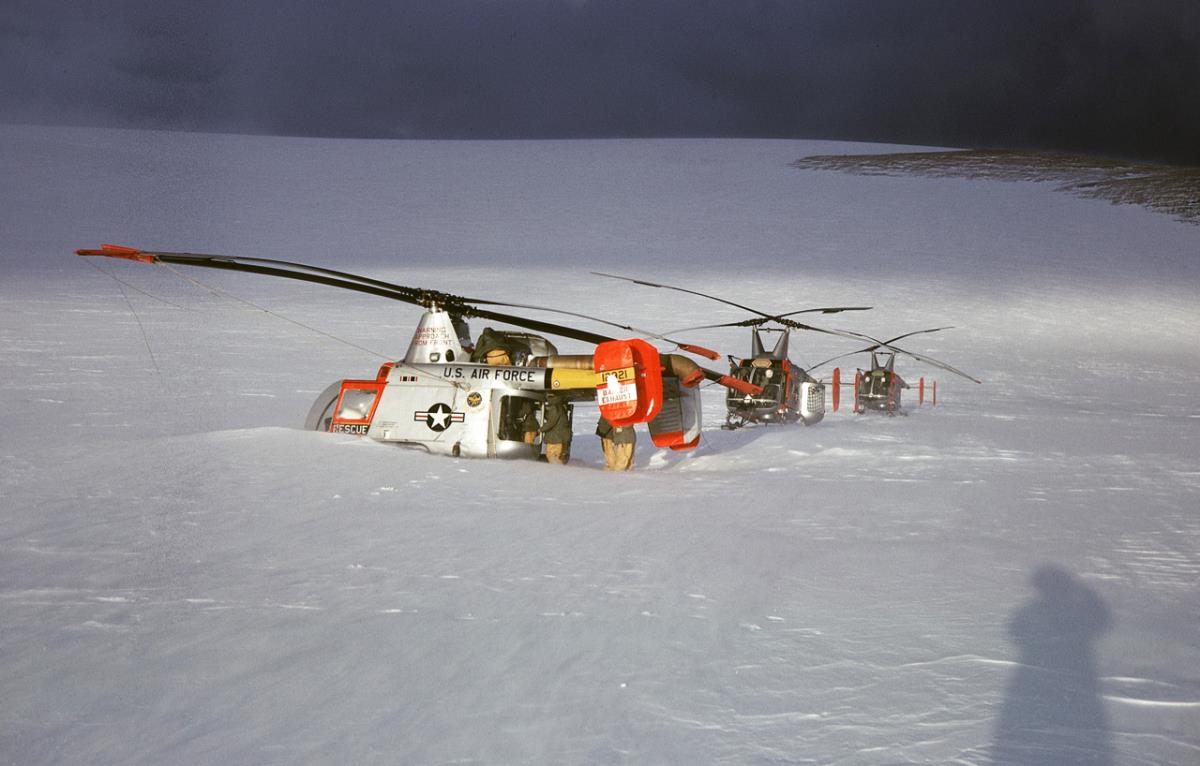 HH-43B 61-2921 to be recovered, next is 61-2922 and 62-4509 - all Det.18 aircraft present - late September 1967 - photo by John Flournoy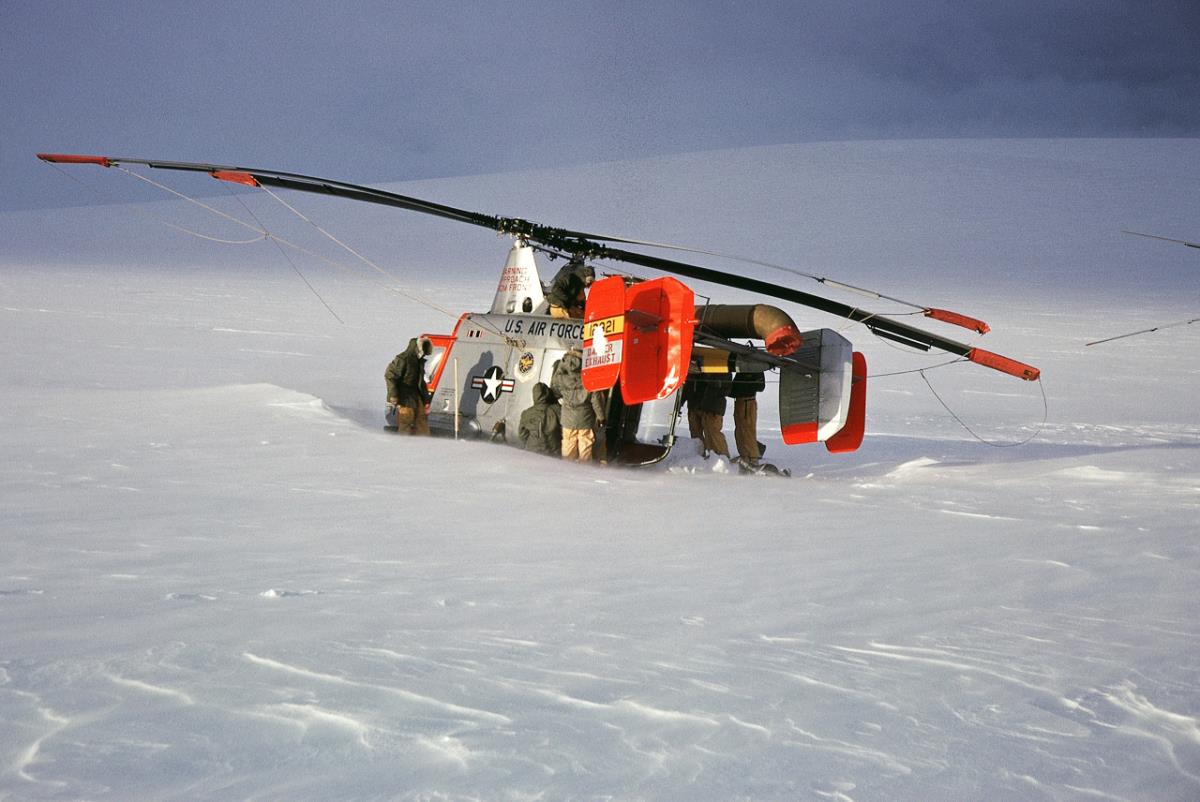 HH-43B 61-2921 to be recovered - late September 1967 - photo by John Flournoy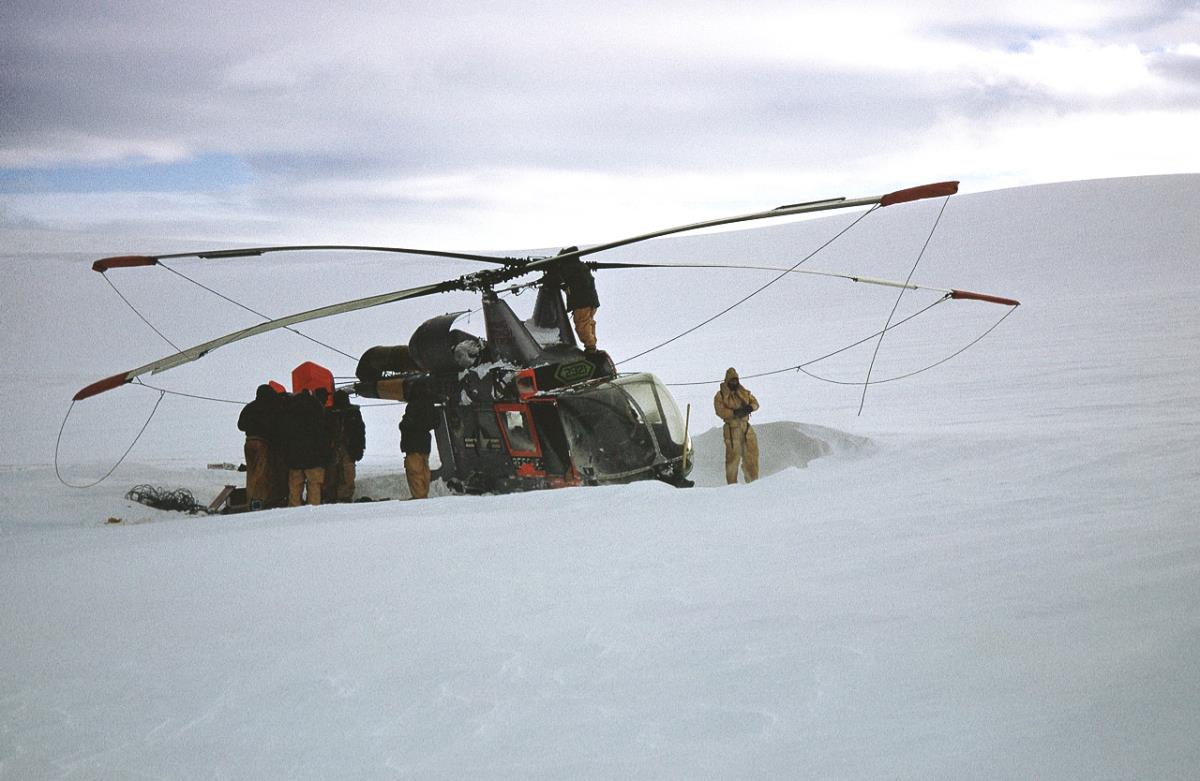 HH-43B 61-2921 to be recovered - late September 1967 - photo by John Flournoy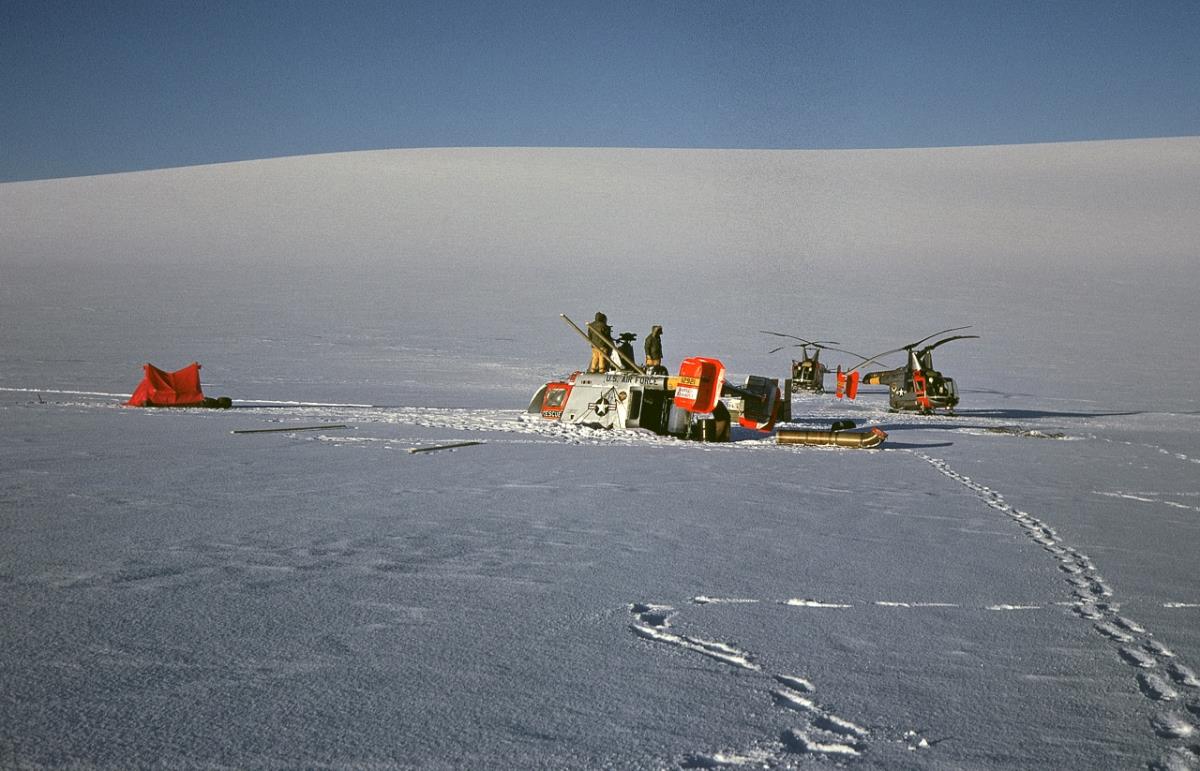 HH-43B 61-2921 to be recovered, next is 62-4509 and 61-2922 in the distance - the crew working outside in the arctic temperatures in September just before the dark season set in. They worked in short shifts and crowded into a small survival tent for a few minutes at a time to warm up and get something to drink. - late September 1967 - photo by John Flournoy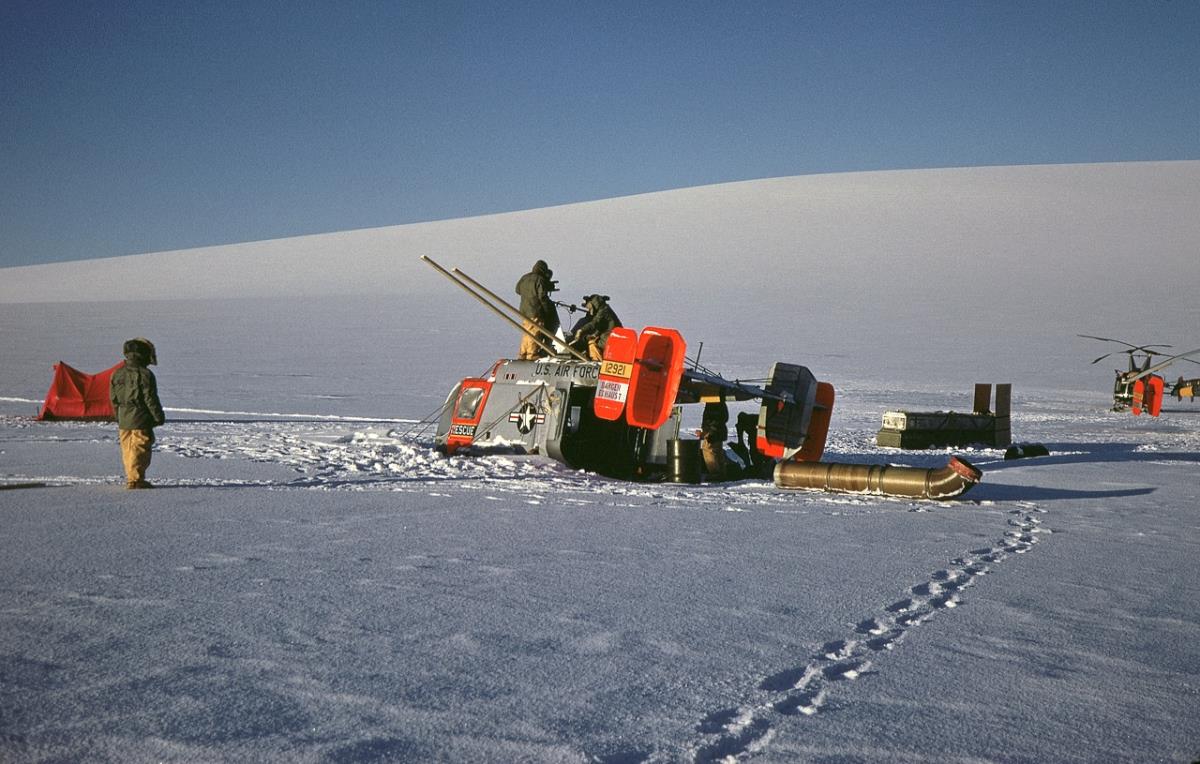 HH-43B 61-2921 to be recovered - late September 1967 - photo by John Flournoy
HH-43B 61-2921 to be recovered - late September 1967 - photo by John Flournoy
HH-43B 62-4509 hovering over 61-2921, about to remove the engine - late September 1967 - photo by John Flournoy
more recovery photos to follow
08.02.04
Pilot, then Captain, John Flournoy, Det.18 Commander, remembers:
I picked up the downed bird with HH-43B 62-4509 and flew it to the deck of a USCG icebreaker just off the Greenland coast. The icebreaker brought the bird back to Thule and we repaired it there and it was flying again later that year. Because of the cold temperature and low density altitude we were able to do it at maximum power. It was a challenging job.
We had minimum fuel and a light crew on the pickup bird and we had drained the fuel and oil and removed the blades, tail, engine and battery and some radios from the downed bird prior to trying to move it. If I remember correctly it was just prior to the dark season which started in early October 1967.
John Flournoy continues:
There were a lot of factors working in our favor on that operation or, quite frankly, that old bird would still be sitting on the ice cap. As we were flying back to Thule from Kanak that day the weather over the ice cap was as usual, questionable. Sort of a low broken deck of clouds over the ice cap and as we climbed up from around sea level out of Kanak (a Danish run eskimo village about 70 miles North of Thule), flying over the open water and up through the glacier towards the top of the ice cap (around 3000 feet), everything was going normal.
I was flying #2 behind 921 (we always flew in a two ship for just such a problem) and a little above him and in trail. We were about 3/4 of the way up the glacier when they had the engine problem and he started his forced landing/autorotation toward the glacier. I really don't remember our altitude AGL (above ground level) but we usually tried to stay at least 500 feet as we were climbing out. I remember turning to watch him as he neared the glacier and watched them hit and one of the gear tear off and then it stopped and they got it shut down without rolling over. When I looked back out at where we were all I saw was white, as we had descended into the glacier below the level of the ice cap and there were no visual outside references and everything around was a solid wall of white. I had not a clue how high we were above the terrain from the outside references.
Fortunately I had a great copilot that day and he had been watching an outcropping of rock on his side of the glacier which was the only visual reference around. He took the controls and turned toward the rocks, got a good approach started and gave me the bird back on short final. When the snow that was blowing up from the rotor wash began to settle a little we were able to hover over to where 921 had gone down and land close by. Everyone was OK and the pilots of 921 did an outstanding job to get the bird down with only minor damage on the landing. Considering the slope of the terrain and the white out conditions we were all very lucky. The weather was not getting any better so we secured 921 as best we could and loaded the crew and passengers from 921 on our bird and headed for Thule. I don't remember how many total people we had in the back of our bird but I do remember it was very crowded in the cabin. There was never a problem at Thule with enough power and you always had to be careful not to exceed torque and gross weight limits. We probably pressed the limits of both that day.
As fate would have it the weather turned bad and we were not able to get back to the crash site for about 10 days. When we did get back we found that some eskimos on their way across the glacier by dog sled had visited the crash site and, while doing no additional damage to the aircraft, had left a door open and the bird was almost full of snow from the past 10 days of bad weather, high winds and blowing, drifting snow on the cap. That slowed down our recovery process some as we had to get all the snow out of the bird, drain the fuel, remove all the gear we could to make the aircraft lighter, remove the blades, tail and engine while working outside in the arctic temperatures in September just before the dark season set in. The troops worked in short shifts and crowded into a small survival tent for a few minutes at a time to warm up and get something to drink. All I can say for everyone involved is that they went way above and beyond what was expected of them to pull the operation off.
Again we had to fly to the crash site from Thule, do our work there and return in the short daylight periods we had in September. We were several days preparing the bird to be lifted off the glacier. When the bird went down and we got back to Thule to sort things out it became apparent to us that we needed to get it off the glacier before the dark season and winter weather set in or we would have never recovered 921. The coast guard icebreaker that kept the shipping lanes to Thule open had headed back to the states for the winter months and the sea ice was about to start freezing over solid. We requested he return to Thule and proceed and hold off the coast of the village of Kanak which was the closest point of deep water to the crash site. The timing worked out perfect and he had just returned when we had 921 ready for the lift from the glacier to the ice breaker.
As one can imagine, static electricity is a big problem in the arctic and the helicopter acts like a big static electricity generator. Before touching the hoist cable or sling, the person on the ground has to discharge the static electricity with a wand that is grounded or the resulting shock is quiet severe. Needless to say a couple of our troops working under the bird got knocked around pretty good on more than one occasion. You can tell the number of trips that were required back and forth to the crash site just to get all the parts off 921 and back to Thule. The blades, engine, and everything else we could take off were removed and flown back to Thule. Only the tail and aircraft were slung down to the icebreaker. I picked up the tail of 921 from the glacier and flew it down to the icebreaker deck first as sort of a trial run for the aircraft to follow. We used a very minimum fuel load, a small crew chief in the door to direct the hook operation and the HH-43 standardization pilot from the states flying as my copilot.
I won't say we exceeded any limits but I will say it had never been done before or since. The chief of maintenance from the rescue center in the states was running the crew on the deck of the icebreaker and talked me over the spot on the fan tail via radio. Due to the size and height of the deck that entire operation was done OGE (out of ground effect).
Once on the deck of the icebreaker, it took them only about a day to return to the dock at Thule to off-load 921. They then had to head south to avoid the freezing winter sea ice and total darkness. The base sheet metal troops along with our maintenance troops got the bird back together and fully repaired in fairly short order after we received all the needed replacement parts. I got to fly the FCF (functional check flight) following the repairs and the bird flew as good as new. What could have been a major accident turned into a minor incident due to the hard work of a lot of people, too numerous to mention, and unfortunately, after 50+ years, too hard to recall all their names.
more recovery photos to follow
more recovery photos to follow
more recovery photos to follow
more recovery photos to follow
08.03 24 December 1967
Source: Kaman RotorTips, issue Mar-Apr 1968, page 18 "Huskie Happenings"
.... Help and presents - both were given Christmas night by an HH-43B crew from Det 18, EARRC (MAC), Thule AB, Greenland. Base personnel had collected fruits and candy for Eskimo children at Mannusauk, but an Arctic storm prevented delivery. Then came a call from the village - a young Danish schoolteacher and her Eskimo sled driver were there, suffering from frost bite and exhaustion. Capt. John C. Flournoy and his crew took off into the enveloping darkness of the arctic night and, flying just above the sea ice, headed for Mannusauk. On the half-hour flight the land­ing and flood lights were used to spot the icebergs which suddenly loomed ahead. Once at Mannusauk, the presents were delivered and then the HUSKIE made the same hazardous trip back to the base with the two patients. They had been caught in the storm and, after building a shelter for the teacher, the sled driver fought his way through the storm to Mannusauk and the villagers went to the woman's aid. With Captain Flournoy were Capt Harold L. Hiner, copilot; Sgt James F. Wittfeldt, crew chief; Capt J. A. Armstrong, MC; and Jens Zinglersen, an interpreter.
09.01 21 January 1968 B-52 crashed
Source: History EARRC 1Jan-31Mar68, AFHRA file K318.2071, Jan'67-Jun'68 (on microfilm K3261, frame 168 to 250)
DET.18, Thule AB sent out "Pedro I" (aircraft 509) and "Pedro II" (aircraft 922) on 21 January 68 after a loud explosion was heard north of the base. A B-52 had crashed in North Star Bay.
At 19:50 hours the first two crewmembers were recovered. All seven members were recovered finally. The entire operation was hampered by 24 hours of darkness -20 to -30 degrees below zero temperatures and no surfase transportation available.
Details gained from Internet:
B-52G, 58-0188, of the 528th BS, 380th BW, from Plattsburgh AFB, NY, carrying four hydrogen bombs crashes on the ice, seven miles from Thule Air Base, Greenland at 1639 hrs. AST, one crew member was killed. All four B-28 weapons were consumed in post-crash fire, however one bomb unaccounted for after debris is audited. Extensive contamination of site and several relief workers exposed to radiation. "Operation Chrome Dome", the carrying of nuclear weapons on non-combat missions was suspended.
09.02 1968
Source: Kaman RotorTips, issue May-Jun-Jul 1968, page 22 "Huskie happenings"
09.02.01 … For Capt John C. Flournoy and the rest of his HH-43B crew from Det 18, EARRC (MAC), it was the "most turbulent flight they had ever experienced while flying missions from Thule AB, Greenland". The turbulence was experienced during a mercy mission flown at night over rugged mountains and the polar ice cap to evacuate a seriously-ill Eskimo. The 190-mile midnight flight to the village of Kanak and back was made in a temperature of minus 38° F. Maj Leroy Weeks, (MC), a flight surgeon, and Capt R. Baker (MC), medical officer, treated the patient during the return to base. Other members of the crew were Capt John J. Duggan, copilot, and SSgt Ronald E. Levi, flight engineer..
09.02.02 ... Two days later a HUSKIE crew from Det 18 made another night flight, to evacuate an Eskimo child from the village of Siropaluk. The child, who had fallen down a mountain, was airlifted to Kanak and placed in the hospital. Manning the HH-43 were Captains Flournoy and Duggan, Major Weeks, and Sgt James F. Wittfeldt, flight engineer. The base C-54 flew top cover during the mission.