H-43 USAF units CONUS
CONUS BASED LOCAL BASE RESCUE (LBR) UNITS
A survey, compiled by Johan Ragay, based on USAF documents filed in the AFHRA, Maxwell AFB, AL
WESTERN Air Rescue Center / Aerospace Rescue & Recovery Center / 42 ARRS
CENTRAL Air Rescue Center / Aerospace Rescue & Recovery Center / 43 ARRS
EASTERN Air Rescue Center / Aerospace Rescue & Recovery Center / 44 ARRS
click on the blue hyperlink for more details
a short history :
PRIOR to 01 October 1961 : the H-43 aircraft were assigned to the major unit at the home base
Local Base Rescue (LBR) was accomplished by Air Rescue Service (ARS) during 1961.
Air Rescue Service was assigned LBR and the National SAR Plan in December 1960.
The implementing plan specified the transfer date of the Inland SAR function to ARS from CONAC as 01 February 1961.
On 16 February 1961 the CONAC RCC's at Robins AFB, GA , at Hensley NAS, Dallas, TX and at Hamilton AFB, CA
were renamed EASTERN, CENTRAL and WESTERN Air Rescue Center, respectively.
The RCC's at Mitchel AFB, NY and Selfridge AFB, MI were discontrinued on the same date.
MATS Special Order G-52 dated 18 May 1961 :
The Air Rescue Service detachments are designated and organized at locations , effective 01 October 1961
01 October 1961 : The LBR function was to be transferred from individual commands to ARS as soon as possible,
but not later than this date. A maximum of 66 LBR detachments, worldwide, operating 132 UE aircraft :
approximately 96 H-43B, 10 H-21 and 26 H-19 plus 12 command support aircraft was originally
planned, but there were indications that the ultimate force would be larger.
01 February 1964 : the organization of LBR DETs was changed.
From that moment on each of the Air Rescue Centers would have DET numbers which start with #1.
08 January 1966 : the organizations were renamed from MATS to MAC and from ARC (Air Rescue Center) to
ARRC (Aerospace Rescue and Recovery Center).
01 January 1970 : The 39th Aerospace Rescue and Recovery Wing (MAC) was activated on 01 January 1970 with
headquarters located at Richards-Gebaur AFB, Missouri.
The Wing functions under the command of Headquarters ARRS (MAC), Scott AFB, IL.
The period 01 January 1970 to 01 April 1970 was an organizational period with the Wing having neither
command nor control over subordinate units.

The 39th ARRW moved to Eglin AFB, FL in June 1971.
As a result of FY72 studies by USAF, the 39 ARRW force composition was changed. Reductions in the size of forces and
a mission more oriented toward combat SAR.
Twenty-five of the 39 ARRWg 's thirty-three detachments were deactivated.
By Dec 1972 the authorized number of HH-43F was still 60. The reduced manning was effective by 30 June 73.
The major changes have been the retirement of the HH-43F and replacing them with the HH-1H.
(source : AFHRA Document dated 31 December 1972)
Last CONUS units to fly the HH-43F were :

| | | |
| --- | --- | --- |
| DET.6 , 43 ARRS (formerly 42nd) | Holloman AFB, NM | until August 1973 |
| DET.22, 43 ARRS (formerly 42nd) | Mountain Home AFB, ID | until August 1973 |
| DET.18, 43 ARRS (formerly 44th) | Plattsburgh AFB, NY | until September 1973 |
Final operational flight of a USAF Huskie was made on 20 September 1975 by HH-43F 64-17559 assigned to
DET.5 , 40 ARRS at Udorn RTAFB, Thailand.
DET.5 was deactivated on 30 September 1975 , according to the below reprinted Udorn RTAFB "EASY FLYER",
dated 12 September 1975 (received from Mr. George J. Kuerner, SMSgt Ret. and H-43 crewchief at that time) :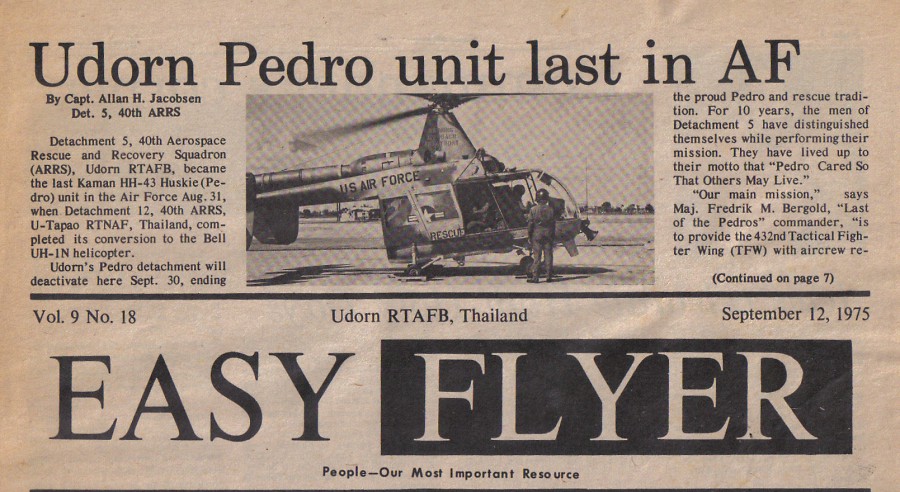 last update 25/06/2016