H-43A Service History 1959-1962
H-43A 58-1835 3615th PTW Craig AFB, AL August 1959, photo by C.Damonte
Preface
This overview is edited from stories and mission reports published in the Kaman Rotor Tips magazines
and in newspapers, as well as from personal accounts by the men who flew with the H-43A.
Some of the many documents availabe from the archive of the A.F. Historical Research Agency (AFHRA),
Maxwell AFB, AL. were consulted during my visits to the Agency back in 1996 and 2001.
Johan D. Ragay, February 2019
Mr. Carlton Damonte (Lt.Col. USAF Ret.) wrote :
"She certainly isn't a legend, the H-43A. Most helicopter pilots today probably never heard of her. She didn't even have a name.
Today (ca.1995) , those of us who flew her 35 years ago, still refer to the old bird simply as the "A" model. All were assigned to the Air Training Command to provide crash rescue support.
Within two and a half years her career was over and she was shipped to the boneyard, replaced by her big sister the H-43B Huskie".
1.0 Introduction - H-43A and Local Base Rescue
The U.S. Air Force H-43A helicopter, selected to fill the local crash-rescue mission, was developed by Kaman for operations in areas of mud, sand and snow.
The H-43A configuration differs from the HOK-1 , since 1956 the Marines version of this aircraft, primarily by replacement of the vertical center fin of the HOK-1 and HUK-1 (US Navy) with two dorsal and ventral fins attached to the booms. The elevator span had been extended by 2 feet on the H-43A, and the vertical fins attached to the ends of the elevator have been increased in size. The two center dorsal fins provide a marked improvement in directional stability, compared to the HOK, during power-on and -off approaches, especially during crosswind approaches. Bear-paw landing gear was added as well. (source : Limited Performance Evaluation of the H-43A, Report AFFTC-TN-59-4, dated March 1959)
Mission role for the H-43A with the USAF included standby air operation during mass airplane landings and take-offs, to locate and pinpoint any emergencies and accidents and bring back disabled crew members. Thousand-pound firefighting and rescue kit, including fire extinguishing agent, axes, bars, metal cutters, etc. can be suspended beneath the helicopter. (Aviation Week - February 23, 1959)
After reorganizations and reductions in strength that began shortly after the close of the Korean War, the need for an organized rescue service in the Air Force was again questioned in 1959.
As of February 1959 and up to 30 September 1961 the 18 H-43A aircraft made part of the major unit at the station of assignment.
But in 1961 the Air Rescue Service accomplished the necessary planning to assume both the National SAR Plan and the Local Base Rescue Helicopter Program. Later , the LBR function were transferred from individual commands to the ARS.
As of 01 October 1961 the CONAC RCC's , all operating the H-43A, were organized as follows :
EASTERN ARC , Hq. at Robins AFB, GA :
| | | | |
| --- | --- | --- | --- |
| assigned – up to Sep61 | station | assigned – as/of Oct61 | H-43A from / to |
| 3505th PTW | Greenville AFB, MS | ----- | Jun 59 - Oct 60 |
| 3550th PTW | | DET.54 , EARC | Mar 59 - Feb 62 |
| 3615th PTW | | DET.53 , EARC | May 59 - Dec 61 |
CENTRAL ARC , Hq. at Hensley NAS , Dallas, TX :
| | | | |
| --- | --- | --- | --- |
| assigned – up to Sep61 | station | assigned – as/of Oct61 | H-43A from / to |
| 3510th PTW | Randolph AFB, TX | DET.28 , CARC | May 59 - Jan 63 |
| 3555th PTW | | DET.33 , CARC | Mar 59 - Jul 62 |
| 3565th NATW | JamesConnally AFB, TX | DET.38 , CARC | Apr 59 - May 62 |
| 3575th PTW | Vance AFB, OK | DET.29 , CARC | Aug 59 - Dec 61 |
| 3640th PTW | | DET.36 , CARC | Jan 59 - Dec 61 |
WESTERN ARC , Hq. at Hamilton AFB, CA :
| | | | |
| --- | --- | --- | --- |
| assigned – up to Sep61 | station | assigned – as/of Oct61 | H-43A from / to |
| 3525th PTW | Williams AFB, AZ | DET.16 , WARC | Oct 60 - Jan 62 |
2.0 From production line to Air Force delivery
The only batch of H-43A ordered by the Air Force was for a total of 18 aircraft , serial numbers 58-1823 to 58-1840 (contract AF-36190).
The first H-43A coming from production line at Bloomfield, CT, was 58-1823, which made it's maiden flight on 19 September 1958. It stayed with the manufacturer for trials up to September 1959. Vance AFB, OK became it's first LBR assignment.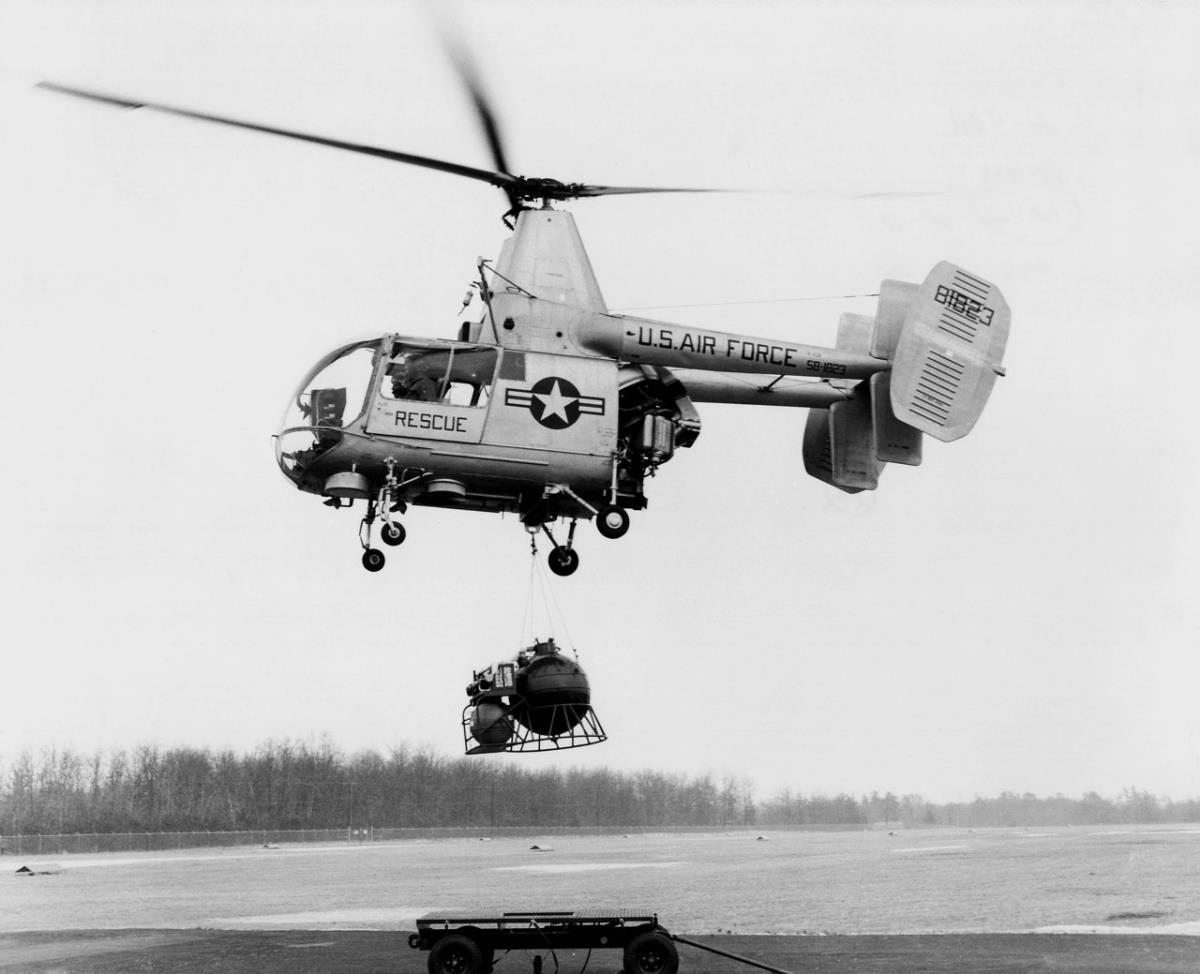 H-43A 58-1823 at Kaman Bloomfield, CT , unknown date , coll. W. Mutza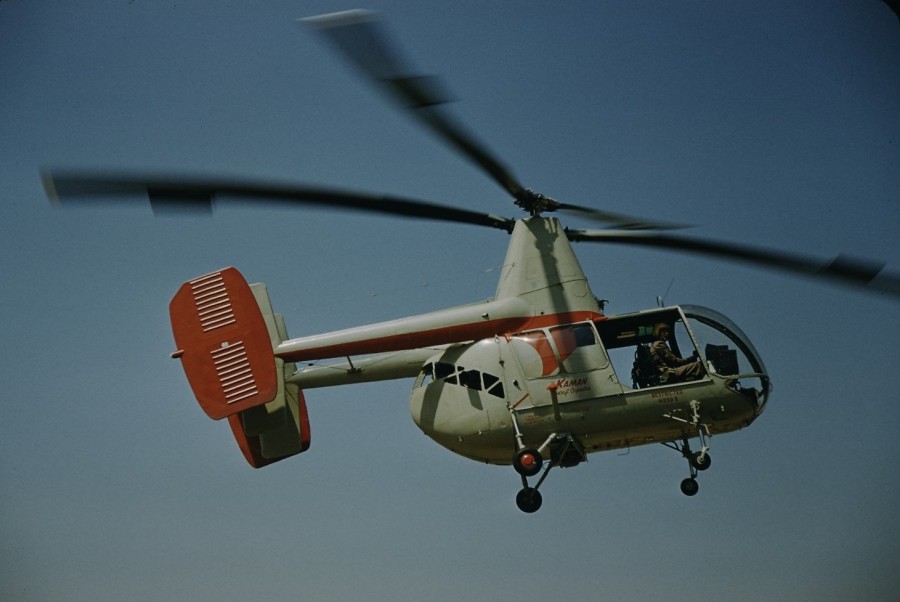 N298B Kaman K-600 Kaman Aircraft Corp. at Anacostia, Washington, DC April 1958 (former HOK-1 129839) - this aircraft became AF 58-5524 (see below) , EBay-auction photo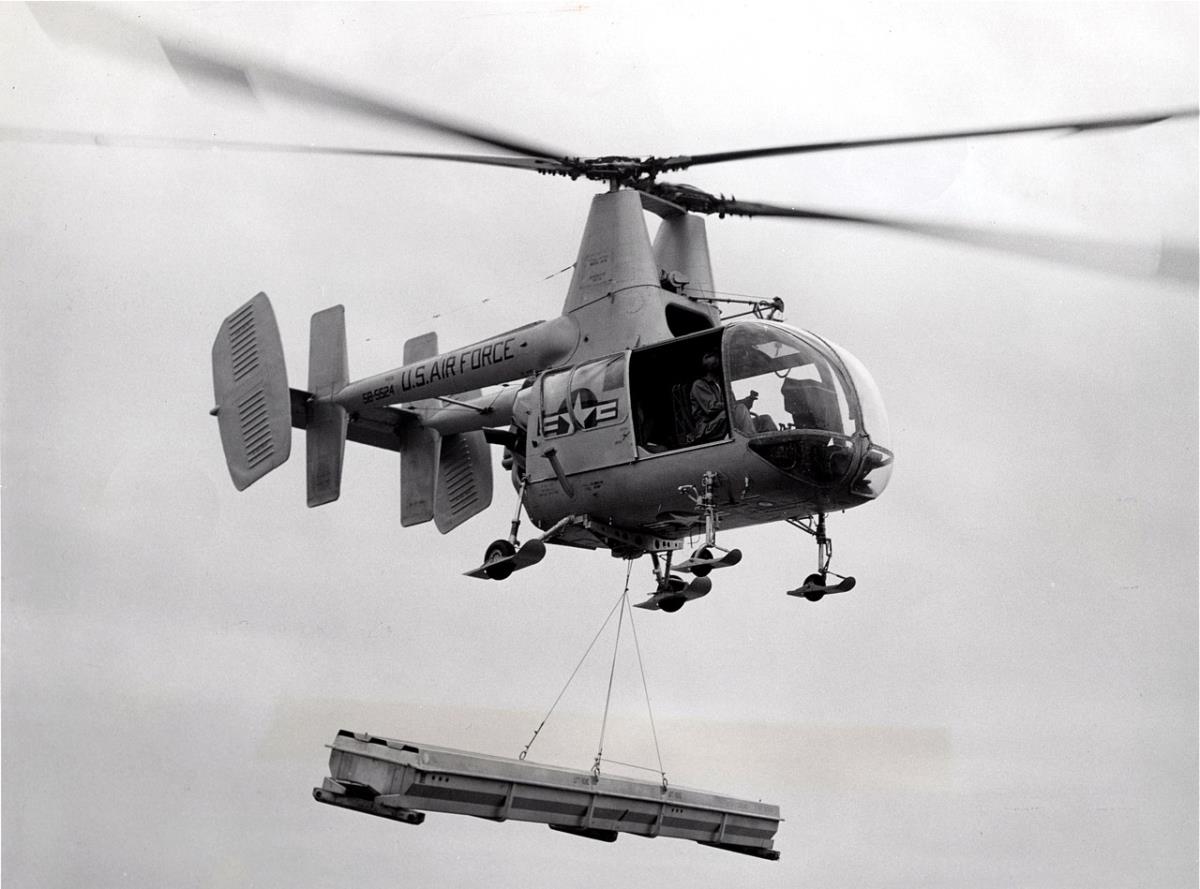 H-43A 58-5524 at Kaman Bloomfield, CT 24 July 1958 with rotorblade shipping box ; Kaman Photo
One extra H-43A, the 19th, with serial number AF 58-5524 was bought by the USAF and bailed to Kaman for evaluation in anticipation of the first production H-43A. Kaman used aircaft 58-5524 for various tests and called it in it's reports "the demonstrator H-43A".
This particular aircraft was former HOK-1 BuerNo. 129839. It was struck of charge on 23 Jan 1957 (after an accident at Camp Pendleton, CA on 19 Sep 1956). Transferred to Bloomfield, CT and restored, but it did not return to the Marine Corps. As Kaman Model K-600 the aircraft then flew with FAA Registration number N298B in a grey and red scheme and with Kaman title. First seen in April 1958. It had the newly developed four-fin tail mounted. By June 1958 the aircraft was repainted in sliver finish with USAF title and serial number. This 58-5524 always remained at Bloomfield, CT and was used for many trials, up into early 1963.
Between 28 Nov 1958 and 17 July 1959
all 18 H-43As were accepted by the Air Force at the Bloomfield, CT plant.
The first two H-43As delivered to the Air Force were accepted and ferried to
Laredo AFB, TX (3640th PTW) by Captain Bert E. Cowden and
Captain Theodore C. Vurbeff .
H-43A 58-1824 accepted on 31 Jan 1959, and 58-1825 accepted on 27 Feb 1959.
A1C Jesse Munoz Jr. was one of the first firemen assigned to the 3640th PTW at Laredo AFB, TX.
In 2018 Mr. Munoz provided the following details for this moment :
Our story starts with a staff meeting for all Fire Department personnel at Laredo AFB, Texas in late February 1959. The Fire Chief informed us that our base was forming a new unit called H-43A Local Base Rescue Section from Air Rescue Service and involved training base firemen. They were asking for volunteers, I was a young Airman First Class. The thrill of flying got my immediate attention and I volunteered. There were eight of us and little did I know to what paths it would take me.
A few days later we were given an orientation flight on a H-19. Then they took us to see the H-43A. It looked awkward and looked much like an ugly eggbeater. We wondered if it could really fly. We started training in early March with a Kaman Aircraft Corporation Representative who taught us the capabilities of the H-43A and its FSK. Next, he gave us a briefing on the firefighting operations. We were also provided a booklet of operating instructions about our new "Toy" called the Fire Suppression Kit (FSK) and nicknamed the "Sputnik". He showed us how the FSK worked, we completed our training March 31, 1959 and received our certificates from the Kaman Aircraft Corp.
(Source : Article : "Ring of Fire" , "Fighting Fires with the H-43A" , by MSgt Jesse Munoz, Jr USAF Retired. Published in " The RIP Chord" , McChord Field, WA - Volume 46, number 1 , Jan-Mar 2018)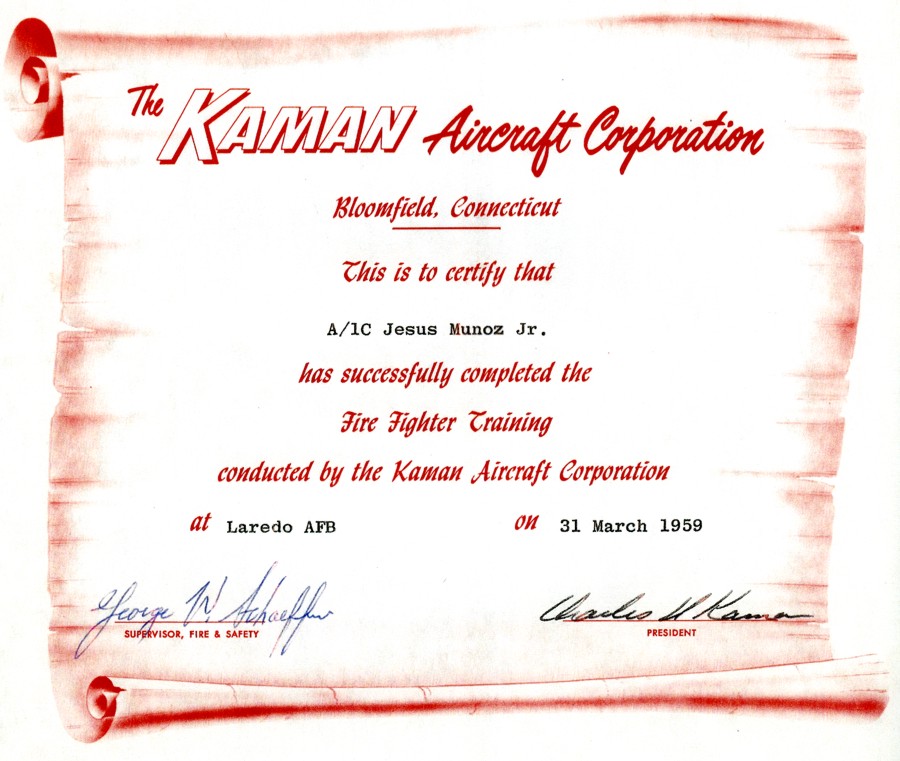 collection J. Munoz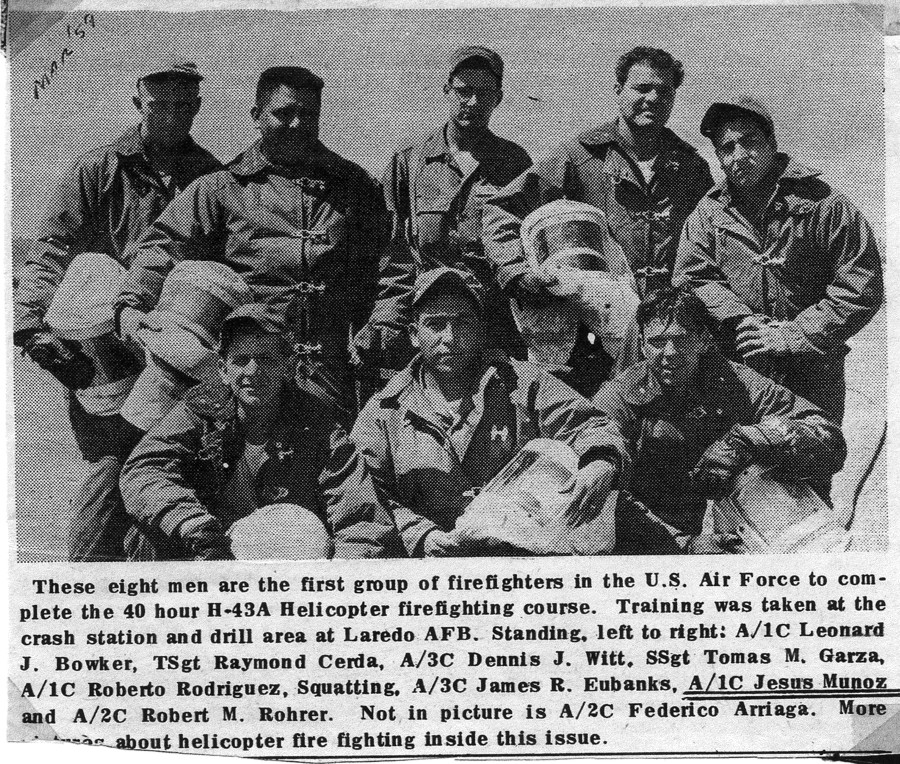 photo published in "Que Paso" newspaper xx March 1959 - collection J. Munoz