October-November 1965-page 6 + 12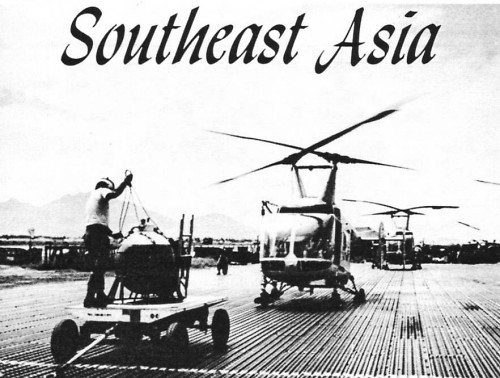 READY FOR RESCUE-HH-43B and HH-43F from ARS Det 7, 38th ARSq, PARC(MATS), on flight line at Da Nang AB. (USAF photo)
HH-43 crews from ARS Det 7, 38thARSq, PARC(MATS), have rescued more than 20 downed American pilots from North Vietnam during the last few months. All told, the detachment has plucked some 40 pilots from the jaws of the Viet Cong plus many others downed in combat over South Vietnam.
The rescue unit, stationed at Da Nang Air Base, includes two HH-43F HUSKIE helicopters and one HH-43B, as well as four amphibious fixed wing aircraft. The HH-43F's are powered by Lycoming 1100 shaft horsepower T53-L-11 engines while the "B" model is powered by a T53­L-1 engine rated at 860 shaft horse­power. The unit's nine officers and 27 enlisted men have been on duty at Da Nang since October 1964.
The 7th Detachment reached its peak activity on March 2, 1965 when it earned eight Silver Star medals for actions in rescuing pilots downed in North Vietnam. On that day, six aircraft were lost and the 38thARSq recovered five of the six pilots. Two of these were picked up by HH-43 helicopters.

In addition to recovering downed pilots in North Vietnam, the unit also recovers downed pilots in South Vietnam and orbits Da Nang Air Base during all emergency and VIP landings. DaNang is the largest tactical Air Base in South Vietnam and is used by Army and Marine air groups. In its pilot-saving missions in Vietnam, the helicopters have flown as far as 130 miles north of the 17th parallel into North Vietnam. On duty around-the-clock, the unit averages five scrambles a day for emergencies in South Vietnam and is on special alert whenever air strikes in the North are planned.

About 90 per cent of all American or Vietnamese pilots forced down in North Vietnam have been rescued by this or other units. The rescues aid greatly in maintaining morale of the jet pilots flying in strikes against North Vietnam.
"The HH-43 has served us well, " Capt Jim E. Hartley, operations officer, said. Capt Floyd Lockhart added that the big engine is a great help, "especially in some of the terrain we have to fly in."
The HH-43's have taken several hits from ground fire and one was shot down near Da Nang. The crew was rescued, soon afterward.


"HH-43's in Dramatic Rescues" by 1 stLt Jess E. Maxwell , USAF Combat News
BIEN HOA AIR BASE, RVN - Two dramatic rescue attempts in two days over enemy territory is not the normal bill of fare for members of Det 6, 38th ARSq, here. Recently, however, four Air Force HH­43 crews did just that in rescue efforts for downed Vietnamese air crews.
A Vietnamese Air Force H-34 helicopter crewman was rescued from a crash site during one of the recoveries, but a VNAF A-1H pilot was found dead in the other attempt. The rescued helicopter crewman was found near Ben Cat, 18 miles north of Saigon, in the famous "D" Zone area. Five American aircraft responded to the distress call, including two armed UH-1B "Hueys, " a C-123 flareship, and the two ARS helicopters. Capt Darvin E. Cook piloted the lead USAF helicopter which pulled the Vietnamese crewman to safety.
"Viet Cong ground fire was heavy in the area," he said. "While the other choppers flew cover, we went in. A man wearing a flying suit ran out of the trees into a clearing. We immediately scooped him up."
The injured crewman told the American pilots that he was the only one who survived the crash. He was then airlifted to Tan Son Nhut AB for hospitalization. Captain Cook felt a severe concussion while lifting the injured Vietnamese airman to safety. "I thought we were hit," he said. "No bullet holes were found during later inspection, however. "
One of the other helicopters flying cover for the mission was damaged by a VC bullet, but returned to base safely. Other crew members on the successful HH-43 rescue were Capt Donald E. Stranahan, copilot; TSgt Dominica J. Cocuzzi, crew chief; and A2c William H. Pitsenbarger, pararescue technician.
The unsuccessful rescue attempt occurred near Moc Hoa, about 50 miles northwest of Bien Hoa. Air Force helicopter personnel here received word that a VNAF A-1H had crashed off the end of the Moc Hoa runway. Two HH-43 helicopters responded, but found that the pilot had been killed and assistance was not required.
In another incident, a downed pilot was on the ground less than five minutes before a HH-43 assigned to Det 6, pulled him to safety. Capt Carl G. Layman and his helicopter crew were already in the air after responding to another emergency call when the crew heard an F-100 pilot inform the tower he had a flame-out and was ejecting. The HH-43 immediately flew to the crash scene about five miles east of the base. They were in time to see the crippled F-100 crash into the thick jungle.
"We spotted the downed pilot's chute immediately, " said Capt Dale L. Potter, copilot. "He was still trying to crawl out of his parachute harness." The rescue site was covered with 20-foot-high brush and small trees.
"We had to haul the jet pilot out with a special forest penetrating hoist, " said Captain Potter.
Crew members on the helicopter besides Captain Layman and Potter were TSgt Joseph W. Blaquiere and Airman Pitsenbarger.


Det Provisional Second
Air Rescue crews based at Nakhon Phanom AB, Thailand, recently were awarded Kaman Scrolls of Honor for the rescue of two USAF pilots downed in hostile territory.
During one mission, at night, the HUSKIE crew flew through haze and smoke to land in a jungle clearing near a village where the downed pilot was lodged with friendly natives. Crew members, temporarily attached to Det Provisional Second at the time, were Capt Israel Freedman, RCC; Capt James O. Rodenberg, co­pilot; A3c Frank P. Hanutke, helicopter mechanic; Alc Herbert H. Romisch, paramedic. The cover HH-43 was piloted by Capt Warren K. Davis with TSgt John J. Kelly, helicopter mechanic; and SSgt Enson J. Farmer, paramedic.
(add by Ragay : this was the mission of "Bandy 41" HH-43B 62-4510 - flown by Capt. Freedman - and "Bandy 21" HH-43B 60-0279 , flown by Capt Davis on 2 March 1965 ; the rescued pilot was Major George Panas -- source : "PJs in Vietnam", by SMSgt Robert LaPointe pages 96-99)
The second mission was a day pickup over dense hostile jungle. There were several search aircraft in the area when the HH-43B's arrived. The pickup crew spotted the downed flyer in the midst of heavy jungle in a small open area. Capt Jay M. Strayer, RCC, hovered 100 feet overhead while Sergeant Farmer was lowered to help the injured pilot into the hoist collar. Others aboard the Huskie were Captain Rodenberg, Alc Cecil A. Boothby and Airman Romisch. The cover HH-43B was manned by Captain Freedman, Captain Davis, Airman Hanutke, SSgt Harold G. Stroud and A2c Eric A. Anderson, Jr.
(add by Ragay : this was the mission of "Alban 21" HH-43B 60-0279 - flown by Capt. Strayer - and "Alban 41" HH-43B 62-4510 , flown by Capt Freedman on 31 March 1965 ; the downed flyer was F-100D pilot Capt Bigoness -- source : "PJs in Vietnam", by SMSgt Robert LaPointe pages 104-106 ;
add by Scharringa : F-100D 55-2906 was hit by ground fire near Ha Tinh in North Vietnam during an early morning waether reconnaissance sortie. Capt Ran A. Bogoness realised he would not be able to reach Da Nang so instead flew due south towards Laos. He was about 20 miles into Laos before he was forced to eject and was picked up by a USAF HH-43 helicopter from Nakhon Phanom)
In another incident, a Navy pilot bailed out of his damaged aircraft near the base and an HH-43B flown by Captain Rodenberg, RCC, followed the chute as it drifted earthward. Others aboard the HUSKIE were Captain Strayer, copilot; Airman Boothby, helicopter mechanic; and A2c Henebry, paramedic.
(add by Ragay : Mr Jim Burns comment on 22 June 2007 : "This sounds like the 27 April 1965 loss of a Navy A-1H that went down about two miles from NKP" ; "I used the book "Vietnam Air Losses" by Chris Hobson to look up the 'possible matches' ")
last update : 12/04/2017