3.5 Craig AFB, AL - 3615th PTW - DET.53, EARC
H-43A 58-1832 accepted on 13 May 1959 and
H-43A 58-1835 on 10 Jun 1959.
3.5.1 pilot Carlton Damonte "Flying the H-43A"
58-1832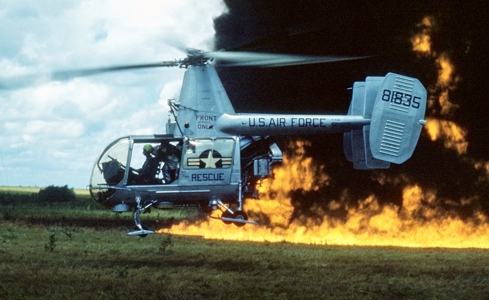 58-1835
Derived from the Navy's Kaman HOK, the H-43A was a compact little machine. In the crash rescue mission configuration, it carried one pilot and two firefighters who sat behind the pilot. The copilot's seat and controls were removed and a folding litter rack was installed on the left side of the cabin. Access to the litter rack was accomplished through the left side of the "bubble" that opened like a clam shell door. In this mission configuration, it also carried the Fire Suppression Kit (FSK) that was prepositioned on a trailer in front of the helicopter. A stick positioner was located in front of the trailer so that after lifting to a hover the pilot maneuvered the helicopter up against the positioner allowing the groundcrewman (crew chief) to make the hookup. When the FSK hookup was complete, the crew chief placed the positioner horizontally against the ramp. This signalled the pilot that he was cleared for take off. That's when things started to get sporty.
I flew the H-43A at Craig AFB, AL. Powered by a Pratt & Whitney R-1340-48, piston engine, power available was always critical. Especially in the summer months when outside air temperature was in the 90 degree range. Lifting the 1,000 lb. FSK and getting into translational lift was always a challenge. To accomplish the mission under these conditions, we had to reduce the fuel load on the helicopter to a mere 200 lbs. This gave us about 15 to 20 minutes flying time before the low level light illuminated. But it worked and we never aborted a scramble mission.
Flying the H-43A was a lot of fun. At normal gross weights, it was very much like flying a light airplane. Control inputs were made to blade flaps on the trailing edge of the wooden rotor blades that in turn caused the blades to twist about their spanwise axis. There was no need for a hydraulic boost system. There was always a good "feel" to the controls. Autorotation characteristics were also excellent. After having flown the Vertol H-21 that, in my opinion, autorotated like a greased crowbar the H-43A seemed to just sort of "flutter" to earth with the power off.
There is one incident that I recall that could have ended in disaster. There was no formal school for checkout in the H-43A. Two pilots from our unit were sent to the Kaman factory for checkout and then ferried two birds to Craig AFB (May 1959). They in turn checked the rest of our pilots out locally. So experience in the Kaman intermeshing, counter-rotating system was limited. On one of our first functional check flights after maintenance on the rotor systems, I was the co-pilot.
The pilot, fully qualified, lifted the helicopter to a hover as you normally would. He immediately discovered that he had lost directional control as we sat turning around and around without sufficient opposite pedal travel to stop the rotation. He set it down while turning and fortunately we did not tip over. That's when we discovered that the proper technique was to very slowly increase power when lifting off and at the same time ensure that you had sufficient pedal to stop any rotation. The optimum condition being neutral pedal when headed into the wind. The problem was that one rotor was rigged to fly higher than the opposite rotor thus generating an excessive unbalanced torque condition. That's called learning the hardway.
Occasionally on shutdown, especially in gusty winds, a droop stop would get stuck out. If, after re-engaging and trying several times to get it to go in, the procedure was for the crew chief to get a broom and give it a whack as the rotor coasted down. It worked. However, it caused a great deal of chuckles from the jet pilots who observed this somewhat unorthodox procedure.
Another unique characteristic, and this was true for the H-43B Huskie too, was the tendency for the wooden blades to absorb moisture while sitting static in the humid Alabama climate. When you would first take off there was a roughness in flight similar to having a blade out of track. However, after about ten minutes into the flight it would smooth out as the moisture dissipated and the blades came back to a balanced condition.
Well that's about it. As I mentioned earlier, she isn't a legend; but she sure as hell was a classic.
Carlton Damonte (ca.1995, original sent to Wayne Mutza, for his H-43 book)
In January 2019 Mr. Damonte wrote :
At Craig AFB we routinely took our helicopters to Brookley AFB, AL to have them weighed and insure the weight and balance was correct. I personally flew an H-43A and later an HH-43B there for this purpose. The forming of the LBRs under the Air Rescue Service (ARS), was somewhat of a turbulent affair. In 1960, the ARS did not posses a single helicopter. Helicopters were dispensed to all different commands. At Craig we were under Air Training Command.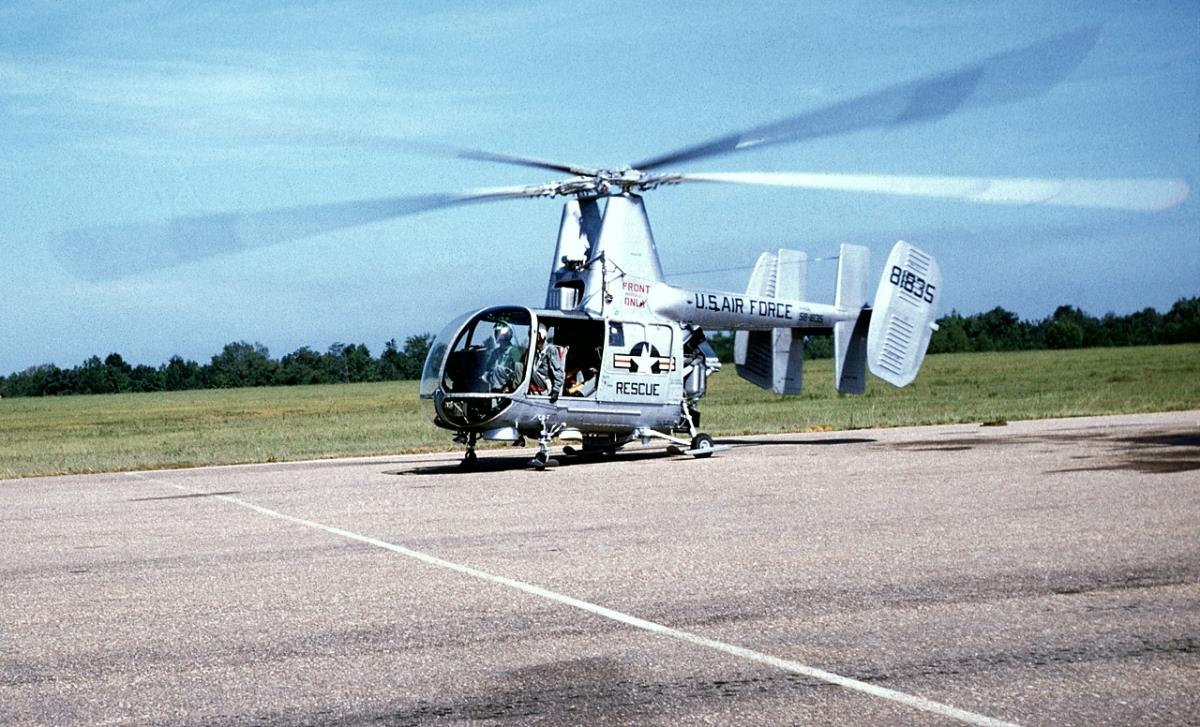 58-1835 3615th PTW , Craig AFB, AL August 1959 - photo by C.Damonte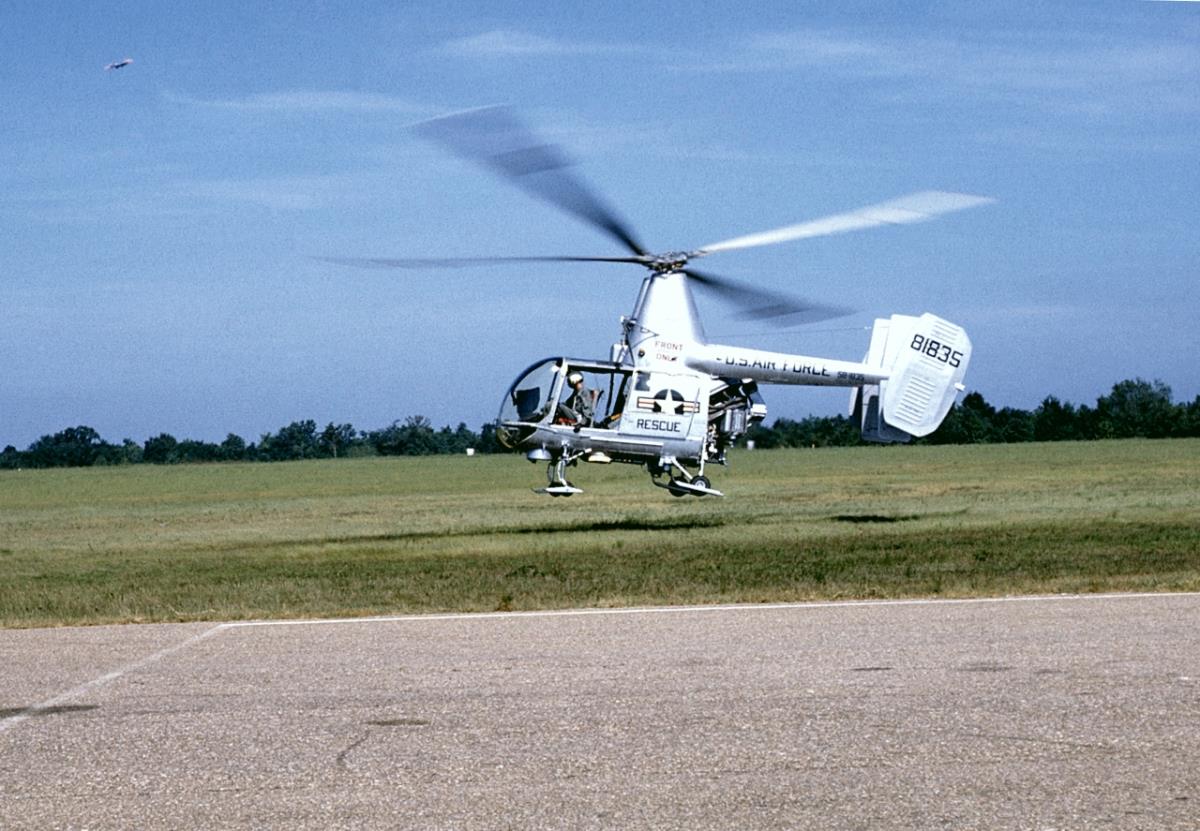 58-1835 3615th PTW , Craig AFB, AL August 1959 - photo by C.Damonte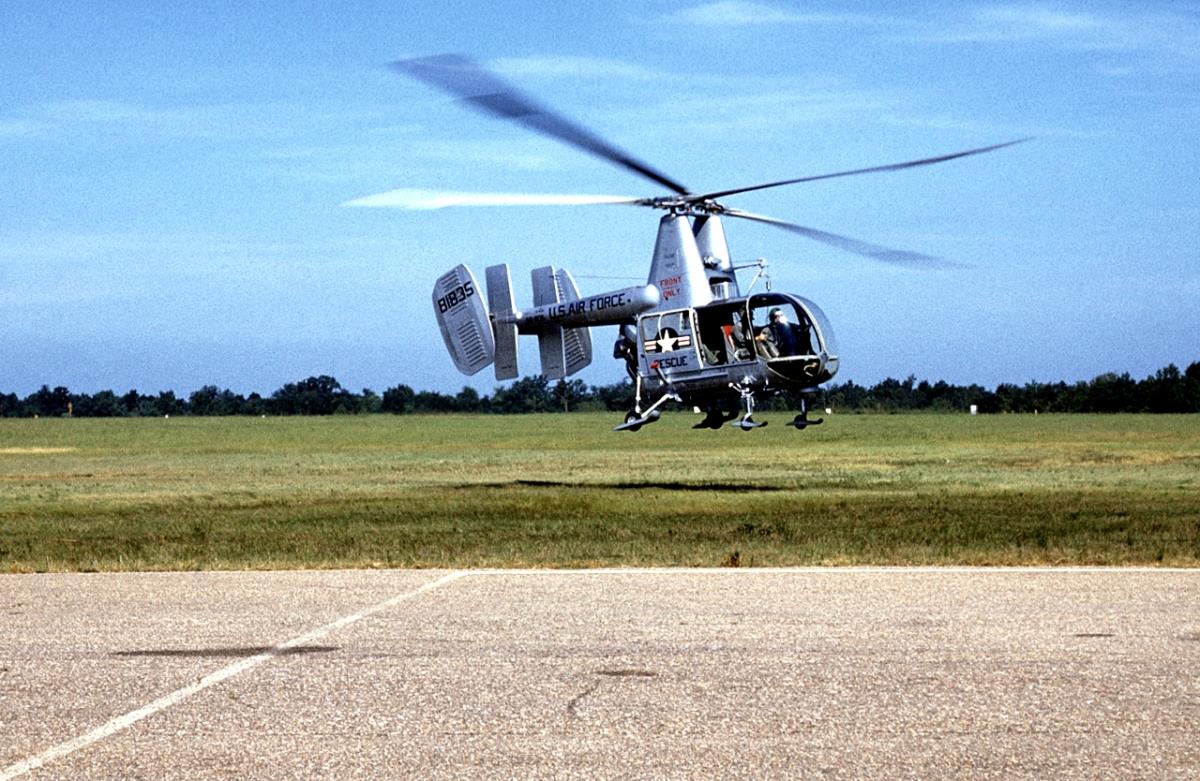 58-1835 3615th PTW , Craig AFB, AL August 1959 - photo by C.Damonte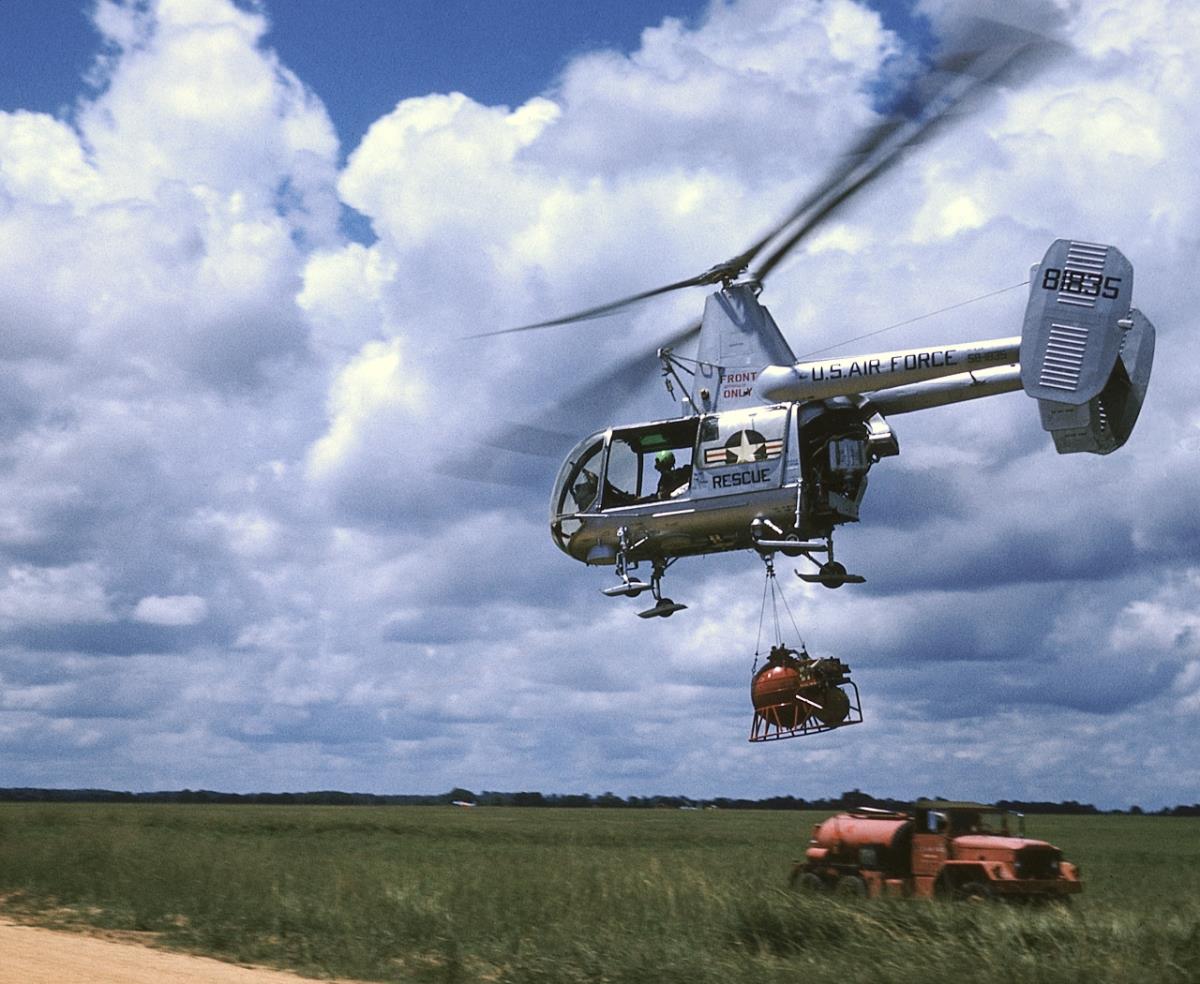 58-1835 3615th PTW , Craig AFB, AL August 1959 - photo by C.Damonte
3.5.2 Personal account by Bill Malpass - dated 13 nov 2002
I was stationed at Craig AFB from Aug 1959 to April 1961 We at that time had H-43A's. There were two of them and you can clearly see the tail numbers on them. I was a firefighter assigned to them at that time.
( unknown guestbook entry)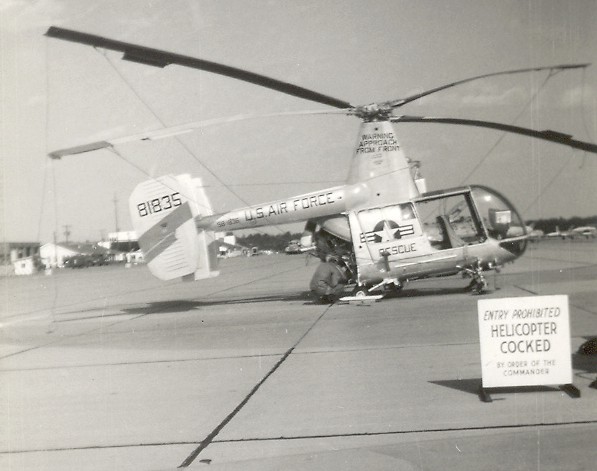 58-1832 3615th PTW , Craig AFB, AL June 1960 - photo by B.Malpass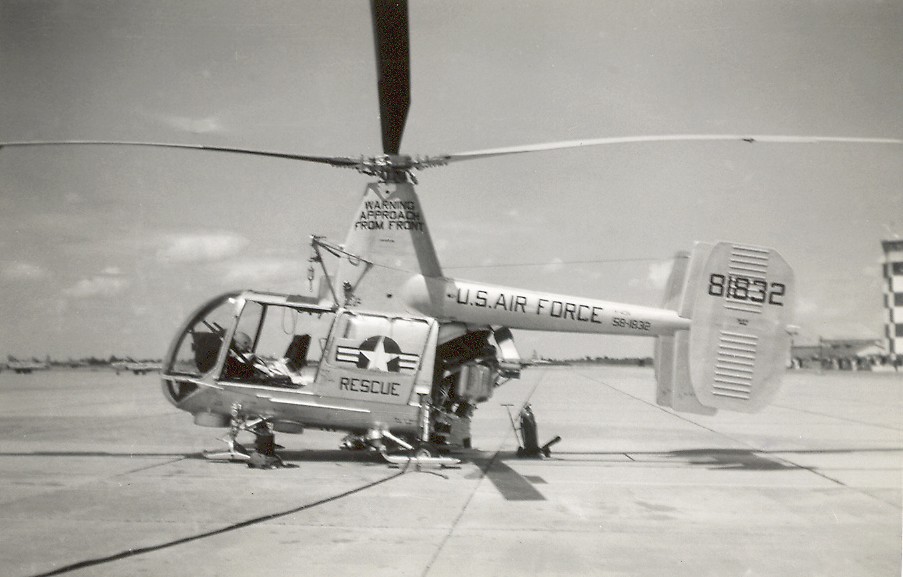 58-1832 3615th PTW , Craig AFB, AL June 1960 - photo by B.Malpass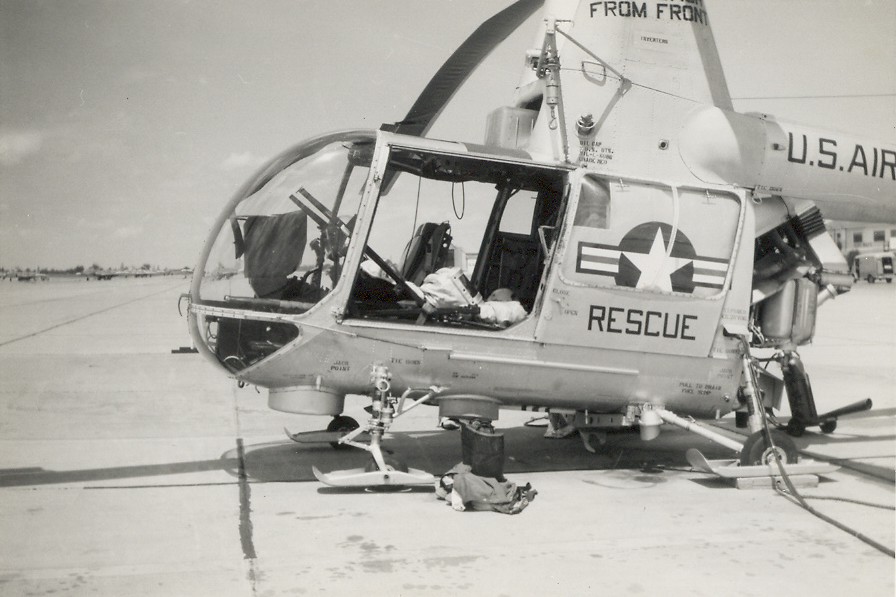 58-1832 3615th PTW , Craig AFB, AL June 1960 - photo by B.Malpass

58-1835 and 58-1832 3615th PTW , Craig AFB, AL during 1960 - photo C.Damonte
3.5.3 Known crewmembers who have been assigned to this H-43A unit.
Collegues of, then 2/Lt. Damonte, were pilots Capt. Robert (Bob) Glore, Officer In Charge, 1/Lt. Jack Warden, and 1/Lt. William (Bill) Hoerman.
3.5.4 "1000-Hour Pilot Awards"
HONORED BY KAC - Latest pilots to receive desk set awards from Kaman Aircraft for logging 1000 hours in helicopters produced by the company are:
Capt C. R. Damonte, Det 11, EARC, Craig AFB, Ala. (Source : Kaman RotorTips , issue Jun-July64 , page 9 )
3.5.5 Retirement H-43A
H-43A 58-1832 and 58-1835 both arrived at the boneyard, Davis-Monthan AFB, AZ during Dec 1961.
3.5.6 New Aircraft
One H-43B aircraft, 59-1586, was flown by 1/Lt Carlton Damonte from Brookley AFB, AL to Craig AFB on 28 Oct 1961 (586 was previously assigned to the Pope AFB, NC unit, and was probably at Brookley for overhaul). The other H-43B, 59-1591, was flown by pilot Damonte direct from Pope AFB, NC to Craig AFB on 09 Nov 1961.
last update 19/02/2019