HMRC-263
HOK assigned to HMR(C)-263 - a historical overview
MARINES HMR(C)-263*

01 June 1958 - 29 Feb 1960

MAG 26 , 2nd Marine Aircraft Wing, Aircraft, FMF, Atlantic

MCAF New River , Jacksonville , NC

* HMR(L)-263 : Marine Helicopter Transport Squadron (Light) was redesignated HMR(C = Composite) on 01 Jun 1958 , but redesignated HMR(L) again on 29 Feb 1960

19xx

history


Assigned aircraft :

the following HOK 's all came from assignment to VMO-1 (MCAF New River), and were reassigned back to VMO-1

129803 01 Jun 1958 - 07 Oct 1958 139980 01 Jun 1958 - 12 Feb 1960

129811 01 Jun 1958 - 12 Feb 1960 139981 01 Jun 1958 - 26 Oct 1959

129835 01 Jun 1958 - 12 Feb 1960 139988 01 Jun 1958 - 26 Oct 1959

129837 01 Jun 1958 - 17 Feb 1959 139989 01 Jun 1958 - 16 Dec 1959

138101 01 Jun 1958 - xx May 1959 138102 27 Jun 1958 - 03 Nov 1958 w/o

139971 01 Jun 1958 - 01 Apr 1959 139991 27 Jun 1958 - 19 Jan 1960

139972 01 Jun 1958 - 13 May 1959 w/o 139993 xx Jun 1958 - 12 Feb 1960

139976 01 Jun 1958 - 16 Dec 1959 129810 10 Oct 1958 - 12 Feb 1960

139977 01 Jun 1958 - xx Dec 1959 139994 22 May 1959 - 12 Feb 1960

139979 01 Jun 1958 - 14 May 1959 129838 16 Jul 1959 - 12 Feb 1960

139978 28 Aug 1959 - 12 Feb 1960
RARE PHOTOGRAPH :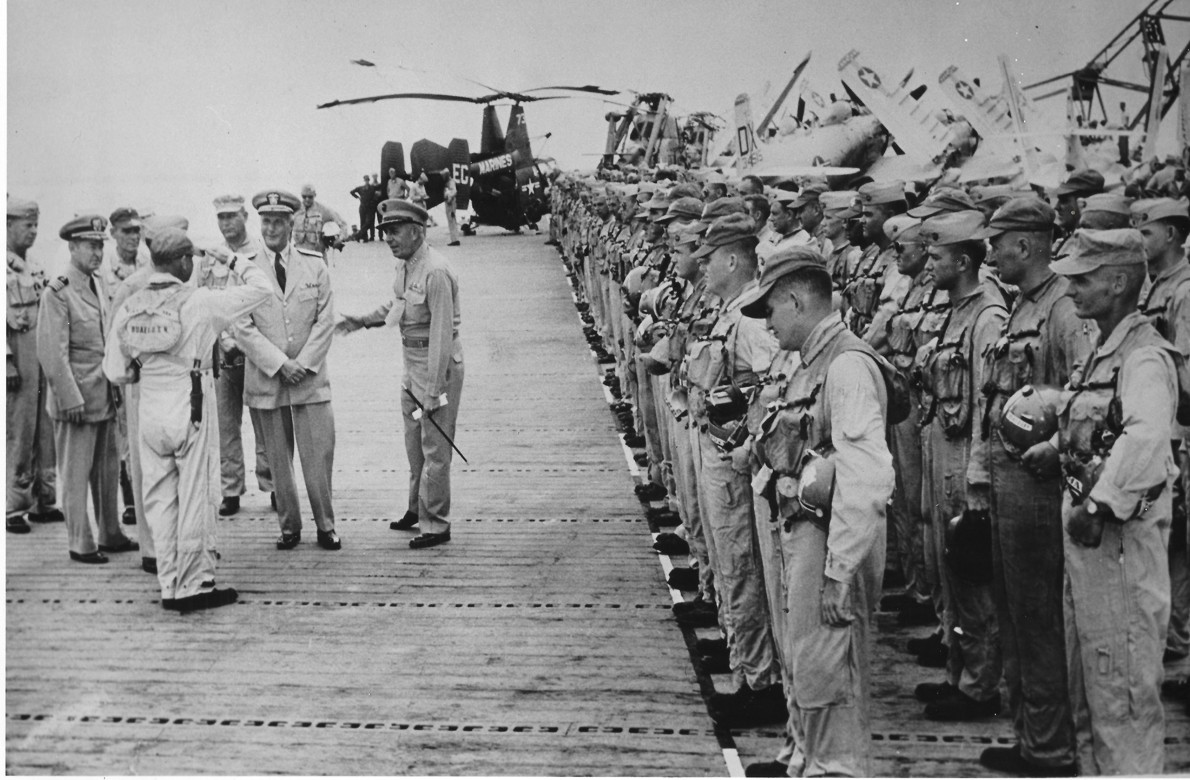 HOK-1 EG 73 seen here on board of an aircraft-carrier. This Kaman Aircraft Corp. photograph, No. 2649-1, dated 29 July 1958 (collection Mr. A.D. Rita) is supposed to be taken during an Operation in the Mediterranean Sea . No further information from the photograph, unfortunately.
Because of the pressance of Skyraider DX 34515 , a search over the Internet revealed the following. The "DX" tail-code belonged to VMA-324. The website of Marine VMA-324 squadron has the following historical fact : September 8, 1957 - Sailed on the United States Ship Lake Champlain from the Marine Barracks Annex, Bayonne, New Jersey for Operation DEEPWATER.
The Wikipedia page for Operation DEEPWATER confirms that the operation took place in the Mediterranean Sea during the Fall 1957. USS Lake Champlain CVS-39 was there, as well as VMA-324 with Skyraider aircraft.
Unfortunately the Wikipedia page does not mention the pressance of aircraft of HMR-263 , so maybe the HOK was an extra to the operation.
Which maybe relevant, because , according to the data of assigned aircraft, no HOK aircraft were assigned before 01 June 1958.