AircraftHistories ATLANTIC
The Kaman HH-43 Huskie in Europe and Northern Africa
A survey, compiled by Johan Ragay, based on USAF documents filed in the AFHRA, Maxwell AFB, AL



In the following table all HH-43 which were assigned to the Atlantic Air Rescue Center (AARC) and
it's successors are presented in order of their serial number. By clicking on the serial number a page with
detailed information will appear.
The information on these pages was gained from the USAF Individual Aircraft History Records, which
can be found in the archives at Maxwell AFB, AL (the AF Historical Research Agency, AFHRA)
Further sources were the official documents saved by the USAF / AFHRA. In several cases the
Individual Aircraft History Records were not complete or even wrong. See the accompanying notes.
In many cases the units were not given in the Individual Aircraft History Records (mostly only the higher
command). This information was however gained from the AFHRA documents and matched to the
assigned locations (which were always on the Aircraft Records).

HH-43 assigned to units in the ATLANTIC region
59-1564
62-4523
62-4545
59-1565
62-4524
62-4546
59-1566
62-4532
62-4547
59-1567
62-4533
62-4548
60-0255
62-4534
62-4549
62-4516
62-4535
62-4550
62-4517
62-4536
62-4551
62-4518
62-4537
62-4558
62-4519
62-4538
62-4559
62-4520
62-4540
-
62-4521
62-4544
-
The information on these pages was gained from the USAF Individual Aircraft History Records, which can be found in the archives at Maxwell AFB, AL (the AF Historical Research Agency, AFHRA). An example of these Individual Aircraft History reviews is as follows :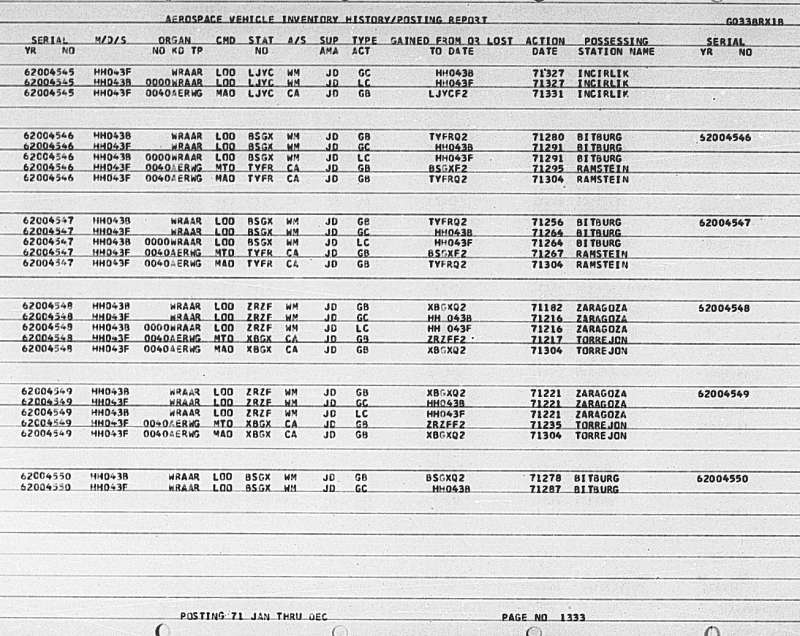 update 12/06/2016