May-June-July 1970-page 13,14,15
"3rd ARRGp Honored by South Vietnamese"

3rd ARRGp Emblem - Symbolic of the group and its mission, the emblem shows a blue globe which represents the worldwide capability of the group for search, rescue and recovery operations. A red cross on the globe depicts a location of distressed personnel or required rescue operations. A white lightning bolt denotes adversity (hostile forces or elements) which must be overcome to effect successful search and rescue operations. A green arrow piercing the lightning bolt signifies the response of the group's forces to all emergencies. A scroll immediately beneath the emblem states the motto: "Per ADVERSA AD EREPTIONEN - Through Adversity to the Rescue."
TAN SON NHUT AB - The Vietnamese Unit citation streamer of the Cross of Gallantry with Palm was awarded to the 3rd Aerospace Rescue and Recovery Group in recent ceremonies. MajGen Thrn Van Minh, commander, Republic of Vietnam Air Force, attached the streamer to the guidon of the 3rd ARRGp and presented medals to the commander and vice commander of the unit before a formation of VNAF airmen in front of VNAF Headquarters.
The members of the 3rd ARRGp, responsible for search and rescue in an area covering more than a million square miles in Southeast Asia, were cited for saving 317 Vietnamese, during the period of Jan. 8, 1966, through July 28, 1969. The citation was signed by Gen Cao Van Vien, Chief, Joint Staff, Republic of Vietnam Armed Forces.
The citation emphasized that the rescuemen had performed thousands of flights evacuating wounded soldiers, including more than 1,900 in February, 1968. It also praised 18 missions flown to save VNAF crewmembers and aircraft involved in four crashes.
Mission Described
A rescue performed on an aircraft which crashed May 5, 1968, while on a flare dropping mission some 500 meters from Tan Son Nhut AB, was also described: "The aircraft was in flames and in danger of explosion because of the flares but, with traditional bravery of the HH-43 Pedro crewmembers of the 3rd ARRGp, they rescued all the crewmembers of the downed plane who were still in the cockpit," the citation read.
Air Force rescuemen in SEA fly the HH-3 "Jolly Green," HH-43 "Pedro," and the HH-53 "Buff" helicopters. A specially equipped version of the C-130 Hercules aircraft serves as an aerial command post and refueling tanker for the helicopters during rescue missions.
Highly Decorated Unit
One of the most highly decorated units in Air Force History, the 3rd ARRGp was recently awarded its second Presidential Unit Citation for "...extraordinary heroism in combat from July 1, 1967, to Jan. 31, 1969."
Col Malcolm C. Frazee, who has held numerous rescue assignments since 1945, commands the 3rd ARRGp. Col Frederick V. Sohle, Jr., with 10 years of Air Rescue experience, is vice commander. Col Hollon H. Bridges, former commander of the unit, who now serves as deputy director for operations of the 60th Military Airlift Wing at Travis AFB, Calif., was cited for his leadership and inspiration during the period of the award. Although he couldn't attend the ceremony, he also was awarded the Cross of Gallantry with Palm.
Navymen Evacuated By Det 8
Two members of a Navy patrol were evacuated during a night mission flown over mountainous territory by an HH-43 crew from Det 8, 38th ARRSq, Cam Ranh Bay AB. Both men, suffering from heat exhaustion, were hoisted from a jungle area near a 150-foot cliff. As Capt Peter F. Dineen held the Pedro in a high hover to avoid a large signal fire and holders in the area, TSgt Gilbert L. Devoe was lowered on the jungle penetrator. Sergeant Devoe, a pararescue technician, secured the rescuees to the seat and then, after they were safely aboard, was hoisted to the helicopter. Other members of the Pedro crew were 1stLt Harold I. Visnick, copilot; Alc Thomas W. Hooker, crew chief; and SSgt Lester W. Clements, firefighter.
Det 1 Evacuates RVN Soldiers
Two South Vietnamese soldiers requiring evacuation were picked up by an HH-43B crew from Det 1, 38th ARRSq, Phan Rang AB, and taken to a medical facility. The forest penetrator was used to recover the first soldier from the jungle-covered valley and then, as he was being taken to the hospital, a second request for aid was received. Capt Wayne R. Crowther piloted the HH-43 back to the valley and the second evacuee was taken aboard. Other members of the helicopter crew were Capt Thomas E. Rodgers, pilot; SSgt James A. Taylor, flight engineer; and SSgt Henry L. Jones, III, medical technician.
In another Det 1 mission, an airman who suffered a seizure while at the USAF beach six miles from Phan Rang was evacuated to the hospital by an HH-43 crew consisting of Maj Ronald K. Dalrymple, pilot; Captain Rodgers, copilot; Sgt Gary L. Hartley, flight mechanic; and Sgt Enrique Arias, medical technician.
Two Received By Det 9 Crew
The two survivors of an F-4 crash were rescued by an HH-43 Pedro from Det 9, 38th ARRSq, Nakhon Phanom AB, Thailand. To make the pickup, Capt Oliver E. Schmoker landed near the crash site and rescuees were taken aboard. Before taking off, however, medical aid was given to two villagers who had been injured by flying debris from the downed F-4. Other members of the Pedro crew were Maj Harold L. Edwards, copilot; Michael F. Dean, pararescueman; SSgt's Donald E. Sherman and Jerry Price, fire­fighters.
Det 8 Rescues 13 In Two Days
For Det 8, 38th ARRSq, March 22 and 23rd (1970) were "tug­boat days." During a 24-hour period three civilian tugs ended up on coral reefs a few miles from Cam Ranh Bay AB and HH-43 crews from the detachment went to their aid. Nine tugboat men were saved the first day, and four more crewmen were rescued the following day.
The alert Pedro launched after the "Madison" went aground in heavy surf, rescued one crewman who was stranded on shore and plucked another from the pitching deck of the tug. The ocean-going tug "Elsie B" then arrived and Pedro returned to base. A short time later, however, word was received that the Elsie B and the Madison were both aground and in danger of breaking up.
The Det 8 alert crew again scrambled and headed for the scene. A few minutes later another detachment HH-43 followed. Three survivors were rescued from the canted deck of the Elsie B by one Pedro and four more were picked up by the second HH-43. Five other crewmen were also saved by a medevac helicopter which arrived in the area to assist the Pedros. Manning the HH-43's were (1) Capt Peter F. Dineen, Capt Michael P. Bolline, SSgt Thomas W. Seibert and Sgt Larry C. Meyers. (2) Capt James L. McAfee, Capt Munro G. Dearing, SSgt Thomas F. Brownlee and Sgt Kenneth J. Musnicki.
The next day, four civilian tugboat men were rescued by an HH-43 crew from Det 8 after their vessel went aground on a coral reef 15 miles from Cam Ranh Bay and threatened to break up. Pedro located the "Win Quett" a few minutes after responding to the call for help. Captain McAfee hovered the HH-43 over the foundering tug and the four crewmen were hoisted to safety. Others manning the HH-43 were Captain Dearing, Staff Sergeant Brownlee and Sergeant Musnicki.
Det 11 Aids At C-47 Crash
Seconds after a C-47 ran off the runway at Tuy Hoa AB, an HH-43 crew was at the scene and had deployed the FSK. Although the transport had nosed over, there was no fire. A seriously injured Vietnamese woman passenger was taken to the hospital in the helicopter as the rescue specialists, SSgt Earl E. Hoal and Sgt Louis L. Toups, remained behind to help remove the C-47 pilot who had a back injury. Capt Charles E. Mayes, Pedro pilot, returned to the crash site and the injured man was placed aboard the HH-43 for evacuation. Other members of the Pedro crew were Capt John H. Williams, copilot, and MSgt Derald D. Parks, parares­cueman. All are from Det 11, 38th ARRSq, at Tuy Hoa.
(Ragay - Internet : C-47 crash at Tuy Hoa Airport 25 Apr 1970 : "Winner Airways" B-308 c/n 12790 - overran into sea)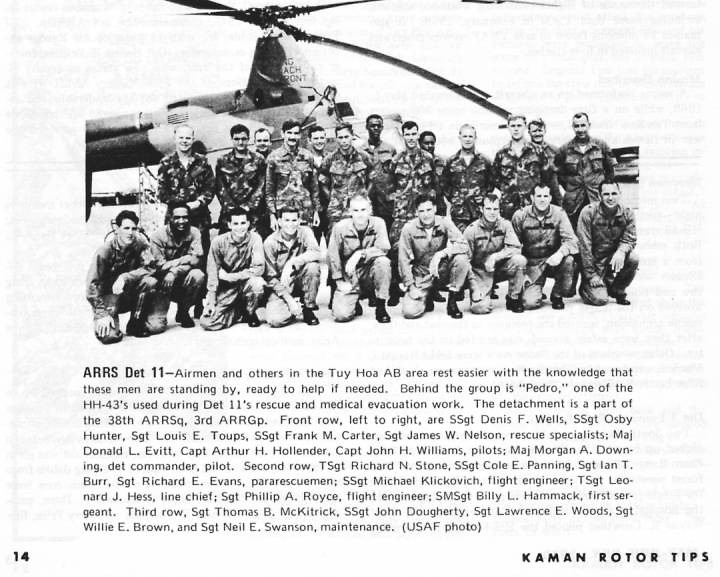 ARRS Det 11 - Airmen and others in the Tuy Hoa AB area rest easier with the knowledge that these men are standing by, ready to help if needed. Behind the group is "Pedro," one of the HH-43's used during Det 11's rescue and medical evacuation work. The detachment is a part of the 38th ARRSq, 3rd ARRGp.
Front row, left to right, are SSgt Denis F. Wells, SSgt Osby Hunter, Sgt Louis E. Toups, SSgt Frank M. Carter, Sgt James W. Nelson, rescue specialists; Maj Donald L. Evitt, Capt Arthur H. Hollender, Capt John H. Williams, pilots; Maj Morgan A. Downing, det commander, pilot.
Second row, TSgt Richard N. Stone, SSgt Cole E. Panning, Sgt Ian T. Burr, Sgt Richard E. Evans, pararescuemen; SSgt Michael Klickovich, flight engineer; TSgt Leonard J. Hess, line chief; Sgt Phillip A. Royce, flight engineer; SMSgt Billy L. Hammack, first sergeant. Third row, Sgt Thomas B. McKitrick, SSgt John Dougherty, Sgt Lawrence E. Woods, Sgt Willie E. Brown, and Sgt Neil E. Swanson, maintenance. (USAF photo)
"Det 7 Crews Fly Variety of Missions"
An HH-43 crew from Det 7, 38th ARRSq, has been credited with saving the lives of eight Navy men whose EC-121 crashed and burned at DaNang AB where the ARRS detachment is stationed. As ground equipment fought the fire, which had spread to buildings and revetments, Pedro carried five survivors to the base medical facility. Meanwhile, SSgt Reginald Ramseur, Sgt Carroll H. Bledsoe, firefighters; and SSgt Jules C. Smith, pararescueman, remained at the crash site pulling survivors and bodies from the burning debris. Afterward, the HH-43 was used to evacuate the survivors to the hospital. Pilot on the mission was Capt James A. Tassie. Capt Roger E. Hill was copilot and the other crewmember was SSgt Joseph L. Coburn, flight engineer.
(Ragay - Internet : 16 Mar 1970 EC-121K USN 145927 on approach to DaNang
The Fleet Airborne Reconnaissance Sqdn One (VQ-1) EC-121K crashed while landing with the No. 3 engine out/feathered while returning from Tainan
The aircraft stalled, crashed and cartwheeled into a USAF hangar area of airfield and broke into three pieces: cockpit and fuselage forward of the wing slid into revetment wall and burned; center section crashed upside down into a street and burned; the tail section landed on softball field. One man (tail section) walked away unscathed, the four other survivors (center section) were gravely injured.)
In a second Det 7 mission, Capt David A. Voigt and his crew flew through marginal weather to rescue a pilot who ejected from his battle damaged F-100 over the South China Sea. The survivor was rescued despite poor visibility and six-foot waves. After the downed airman was hoisted aboard by Sgt Randy L. Luke, the flight engineer, he was given first aid by SSgt Luther E. Davis, pararescueman.
During the pickup Maj John A. Tyson, the copilot, maintained constant vigilance on aircraft performance and instruments as well as giving continual altitude and heading directions to Captain Voigt. A second survivor was plucked from the water by another helicopter which arrived on the scene. Soon after the downed pilots were rescued, the weather dropped to a "ragged" 400 foot ceiling. Others aboard the HH-43 were Sergeants Ramseur and Bledsoe.
HH-43 Pedro crews from Det 7 also participated in several other missions recently. Most of them involved medical evacuations. The following are brief descriptions of these missions:
Flying over enemy territory, Captain Voigt and his crew evacuated an Air Force sergeant suffering from multiple skull fractures. The "professional competence, aerial skill and devotion to duty displayed by Captain Voigt, Maj Loran M. Nichols, Sergeant Coburn and Sgt Gary T. Osborne" was credited with saving the patient's life. A seriously wounded crewmember was removed from a battle­damaged HH-53 and taken to the hospital in an HH-43 flown by Capt Roger Hill. On the way first aid was given by MSgt Anthony R. Gargano and Sergeant Coburn. Major Nichols was copilot.
A critically wounded Marine pilot was taken from his aircraft as soon as it landed and placed aboard a Det 7 HH-43. Enroute to the hospital first aid was given by Sgt Edward K. Rendle and SSgt Ernest L. Long. HH-43 pilots were Captain Tassie and Captain Voigt.
A Det 7 Pedro met a battle-damaged H-3 as it landed and a minute later took aboard a wounded H-3 crewmember. While enroute to the hospital he was treated by SSgt Michael K. Vanbrunt and Sergeant Coburn. Pilots were Captain Hill and Major Nichols.
Flying at night over hostile territory, a Det 7 HH-43 evacuated a seriously ill Marine and his attending doctor. The Pedro crew consisted of Captain Voigt, Captain Hill, TSgt Gordon L. Ball and Sergeant Davis. A seriously­wounded O-2 crewmember was taken to the hospital in an HH-43 manned by Captain Tassie, Captain Hill, Sergeant Coburn and Sergeant Smith. Enroute first aid was given to the patient by Sergeants Smith and Coburn.
An airman suffering from multiple knife wounds was taken to the hospital in an HH-43 piloted by Captain Voigt and Major Nichols. Sgt Gary L. Hartly and Sgt Robert Reisig were crewmen. On the flight, Sergeant Reisig administered continual first aid.
A critically wounded Army soldier was taken to the hospital by Captain Voigt, Major Tyson, SSgt Ernest L. Long and Sgt Johnny L. Riddle.
A Det 7 HH-43 rigged for medevac was standing by as a battle-damaged TA-4 landed. The critically wounded front pilot was removed from the aircraft, treated and then placed aboard the Pedro. Three doctors accompanied the wounded man on the flight to the hospital. The attending physicians said later that had it not been for the "rapid and professional response of the Pedro, the airman would not have lived." Manning the HH-43 were Captain Voigt, Major Nichols, Sergeant Coburn and SSgt Curtis W. Phythian.
last update : 13/06/2017