3.4 James Connally AFB, TX - 3565th NA(navigational) TW - DET.38, CARC
H-43A 58-1830 and 58-1831 were both accepted at Kaman, Bloomfield, CT on 08 Apr 1959.
Aircraft 58-1831, which was ferried to base on 06 May 1959, crashed on 16 May 1959.
It was replaced by 58-1838 on 20 Jul 1959.
A third H-43A , re-assigned from Randolph AFB, was delivered on 01 Sep 1961 : 58-1837.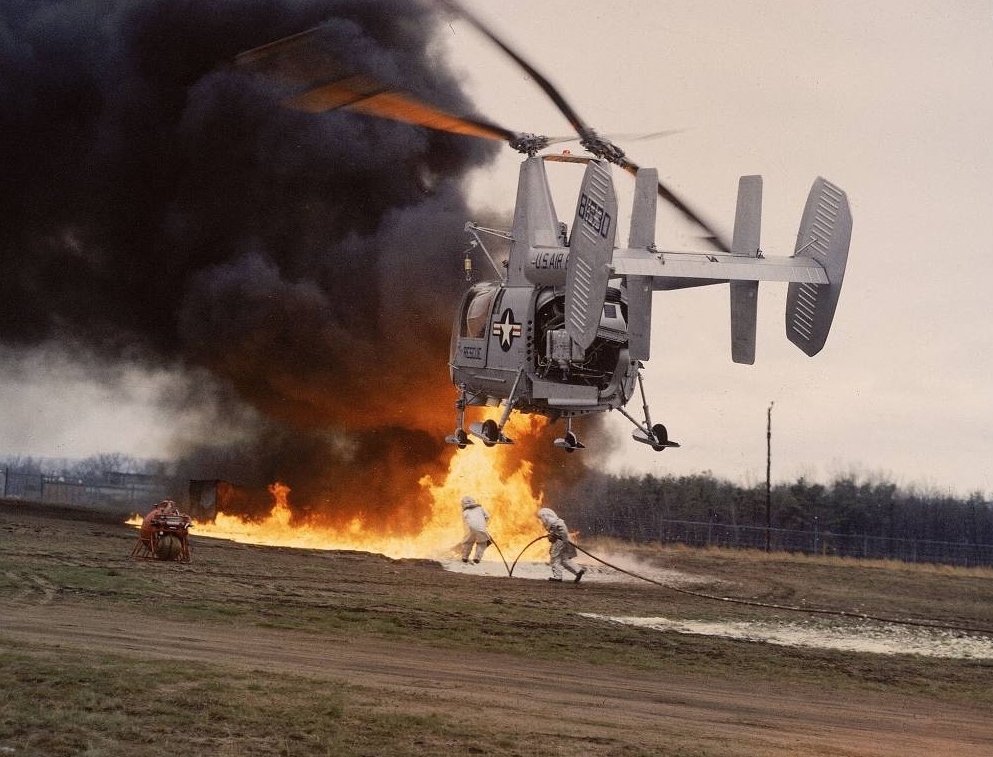 58-1830
3.4.1 H-43A crashed 16 May 1959
"Helicopter Crashes At Air Show Here"
A helicopter crash at 3:06 pm Saturday caused a slight change in the hugh Share in America Armed Forces Day program at James Connally AFB , witnessed by an estimated 30,000 persons.
The fire-fighting demonstration officially tabbed for 3:45 pm began at 3:06 pm.
As a result the always exciting fire fighting show packed about as hard a wallop as the helicopter, which hit the runway and burst into flames as it skidded approximately 500 yards.
Only persons hurt were five spectators who were hit by flying splinters. They all were treated and released at the base hospital.
Lt. James C. Greenway III and his crew chief, SSgt Jimmy R. Haddox, who had brought their new H-43A from Connecticut only 10 days ago, climed out of their blazing ship and ran to safety.
Approximately 15,000 were on the base at the time of the crash. Two of the H-43As just had finished a synchronized flying exhibition. This type of 'copter is noted for its high maneuverablility.
Then the team effort broke up. One of the H-43As made a fly-by to demonstrate speed. The other went up to a height estimated at from 700 to 2,000 feet.
Ey witness reports on what happened differ as much as the difference in height estimates.
Anyway, Lt. Greenway and his chief planned to demonstrated the stopping powers of their craft. They came down at about a 30-degree angle and were supposed to change the pitch of the props, immediately hovering instead of descending. An official investigation has not revealed what went wrong.
Anyway there was hovering to it. The 'copter hit the runway, loosing both propellers, its wheels and other smaller pieces. It bounced, slipped on its side and started its long skid along the runway. It caught fire during the skid. Both men hooped out as soon as it stopped and ran toward the crowd. The ambulance quickly went to the scene "just in case " .
So did the fire fighters, not "just in case" , and they had the fire out in - as one person put it - "a jiffy" .
Everyone agreed the fire show was far more exciting than it would have been had those drums of old oil been set afire at 3:45 pm.
(unknown newspaper – possibly Waco …… )
3.4.2 "H-43A Pilot Saves Two "
CONNALLY AFB, TEX. -- The F-89 was preparing to land when there was an explosion in the right engine and flames, four times as large as the aircraft, blos­somed forth. The pilot, lst Lt. Clyde Falls, success­fully completed his landing despite the fire.
Meanwhile, a H-43A being flown by lst Lt. Glyneth M. Gordon on a night transition flight, had been alerted to the emergency and followed the F-89 down the runway. As the F-89 came to a stop, Lieutenant Gordon used the helicopter rotor downwash to blow the flames away from the cockpit and enabled the F-89 radar observer, 2nd Lt. Jay A. Johnson, to evacuate the aircraft without incident. Lieutenant Falls, however, was delayed when his personal equipment caught in the cockpit. During the brief delay, the H-43A downwash kept flames away from Lieutenant Falls until he also evacuated.
(source : KamanRotorTips - issue October 1961, page 15)
And :
A Scroll of Honor was awarded by Kaman Aircraft re­cently to 1st Lt. Glyneth M. Gordon, H-43A pilot from the Helicopter Unit at James Connally AFB, Tex. His quick action and proficiency in using the helicopter's rotor downwash to beat back the flames from a crashed aircraft allowed the plane's occupants time in which to escape.
( source : KamanRotorTips - issue April 1962, page 18 )
And :
An Air Force pilot flying alone in a Kaman H-43A rescue helicopter saved the pilot of a flaming F-89 Scorpion jet from serious burns following an in-flight fire and em­ergency landing recently at Connally Air Force Base, Texas.
Rescue from crash fire utilizing techniques de­veloped by Kaman Aircraft and Wright-Patterson AFB technicians was an entirely new concept coupled with the introduction of the Kaman H-43B. This was the third in­cident in which the system has been proved in an actual crash rescue mission.
( source : "A chronological listing of rescue reports as received from the field by the Kaman Aircraft Corporation" - 27 July 1961 , Connally AFB. )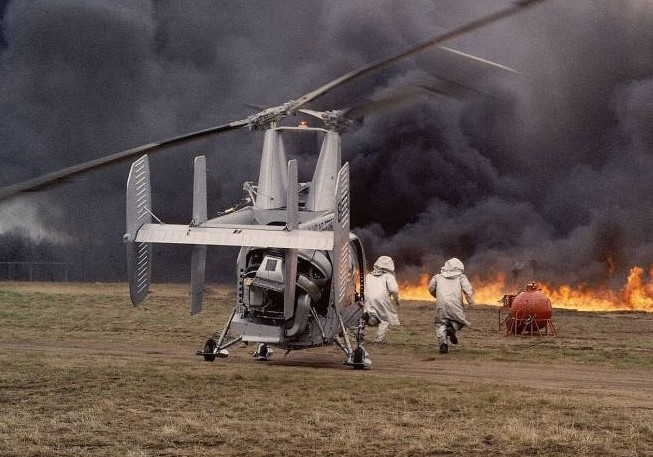 H-43A 58-1830 here seen at Bloomfield, CT 1959 - photo "LIFE" by J. Scherschel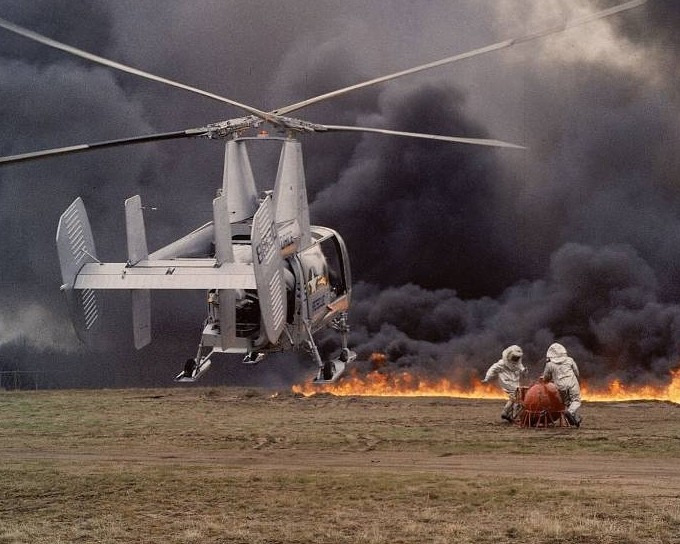 H-43A 58-1830 here seen at Bloomfield, CT 1959 - photo "LIFE" by J. Scherschel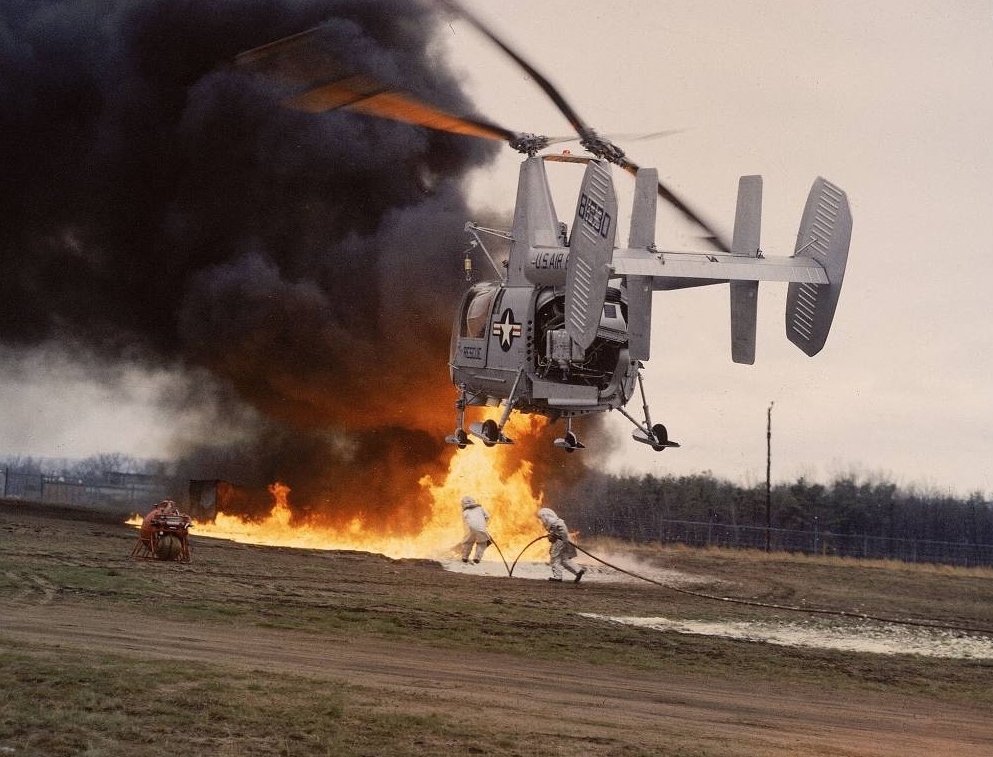 H-43A 58-1830 here seen at Bloomfield, CT 1959 - photo "LIFE" by J. Scherschel
3.4.3 Retirement H-43A
H-43A 58-1830 and 58-1838 both arrived at the boneyard at Davis-Monthan AFB on 16 May 1962. Aircraft 58-1837 arrived at MASDC on 17 Jun 1962.
3.4.4 New Aircraft
Two H-43B aircraft were delivered to DET.38, CARC : 59-1588 (on 01 Oct 1961) and 58-1858 (on 31 Jul 1962). Note that for a reasonable period of time both the H-43A and "B" were flying at James Connally AFB. The assignment of the H-43B to this unit was however short lived, and ended late September 1962.
last update 26/02/2019