3.6 Randolph AFB, TX - 3510th PTW - DET.28, CARC
H-43A 58-1833 and 58-1834 were both accepted on 13 May 1959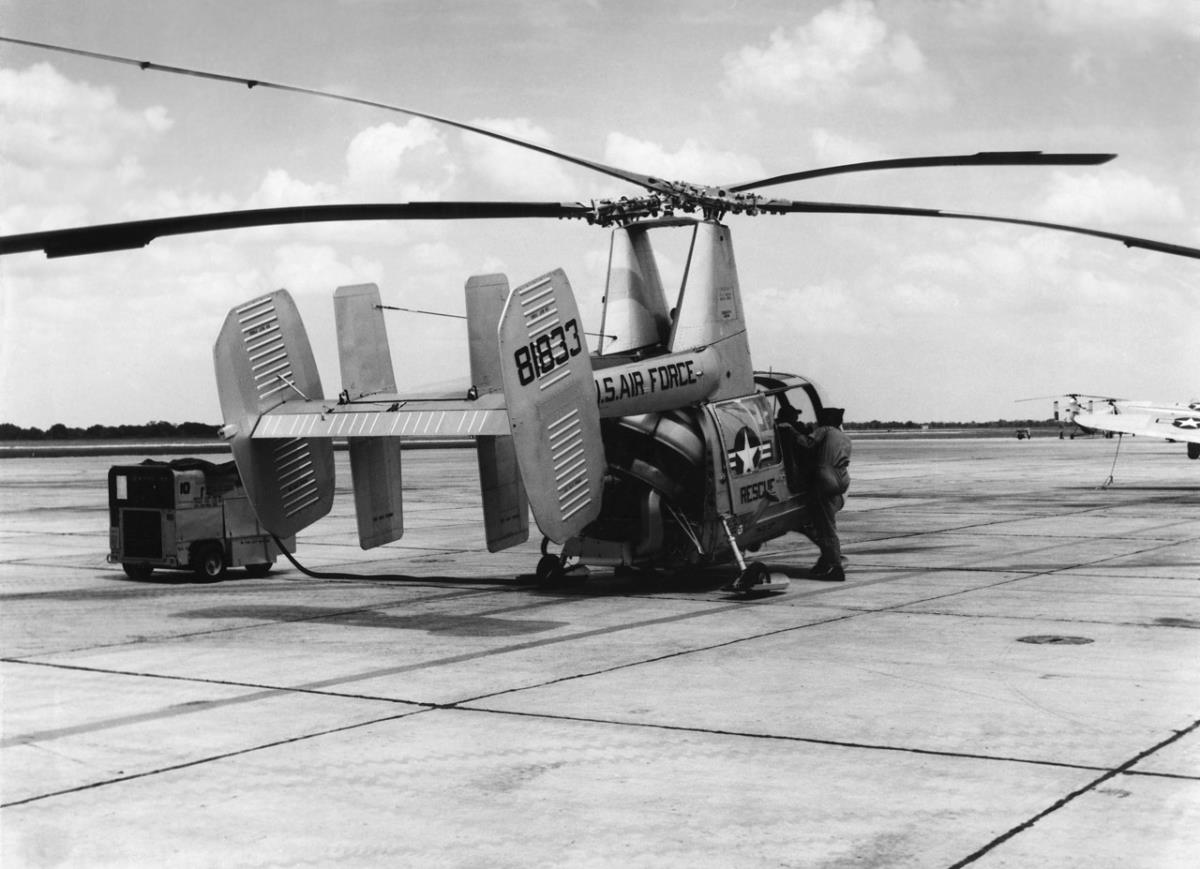 58-1833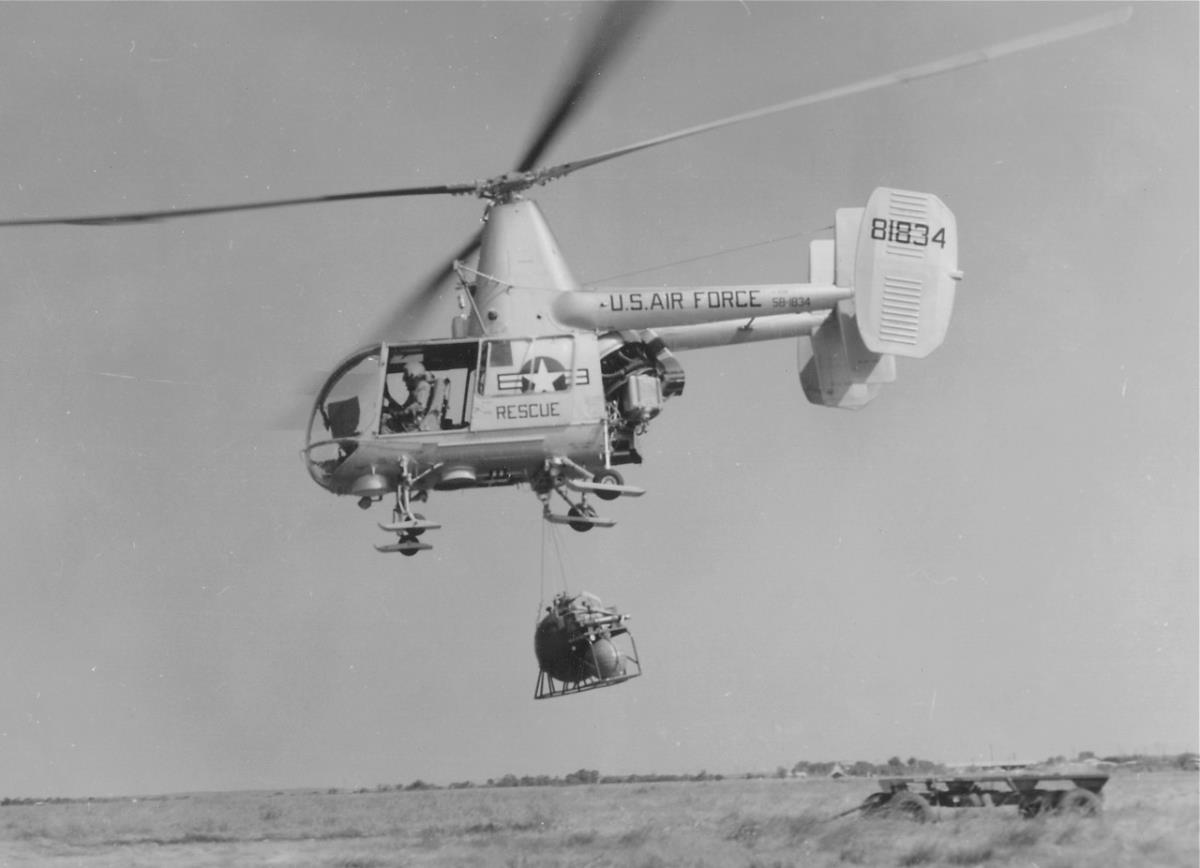 58-1834
3.6.1 KC-97G crashed near Randolph AFB 04 Nov 1960
An Air Force H-43A rescue helicopter and its crew have been credited with saving the lives of 11 crewmembers of a Strategic Air Command aerial tanker which made a crash landing near Randolph AFB, TX on 04 November 1960.
Quick action by the helicopter and its rescue crew prevented a serious explosion and fire when the big KC-97G tanker crash-landed in a field after three of its four engines quit five miles from Randolph.
The tanker was on its way from Davis Monthan AFB, AZ to its home base at Plattsburgh, New York, when, near Randolph Field, it developed trouble in three engines in rapid succession. To add to the problem, the third engine caught fire.
After declaring an emergency, the pilot of the KC-97G headed for Randolph but was unable to make it. The H-43A crash-rescue helicopter, which took off on first word from the crippled aircraft, followed the tanker in its landing procedure.
Almost as the big craft slid to a stop in a plowed field, the H-43A landed a fire suppression kit which it had been carrying on its cargo hook and its fire fighting crew. The crew had put out the engine fire before it could ignite 4,000 gallons of high octane aviation gasoline. Approximately a minute's time has elapsed from the time the plane crashed and the 'copter touched down.
The helicopter then flew Members of the tanker crew, two of whom were injured, to the base hospital. It returned to the scene to pickup five more crewmen and returned them to the base. Only when the helicopter returned to the crash site the third time had ground vehicles reached the scene.
Base officials credited the pilot's skill in handling the helicopter's rotor downwash, and the quick availability of fire fighting equipment and crew at the scene, with the prevention of the loss of 11 lives and a valuable aircraft.
The helicopter was flown by Capt. Charles R. Pinson. The rescue crew members were SSgt. Donald L. Baker (FF) and A1C Robert C. Birch (FF).
(Source : "A chronological listing of rescue reports as received from the field by the Kaman Aircraft Corporation")
(from AF Accident Report : KC-97G serial number 52-2740, assigned to 380 BW, crash-landed 7 miles west northwest of Randolph AFB, at 1635Z)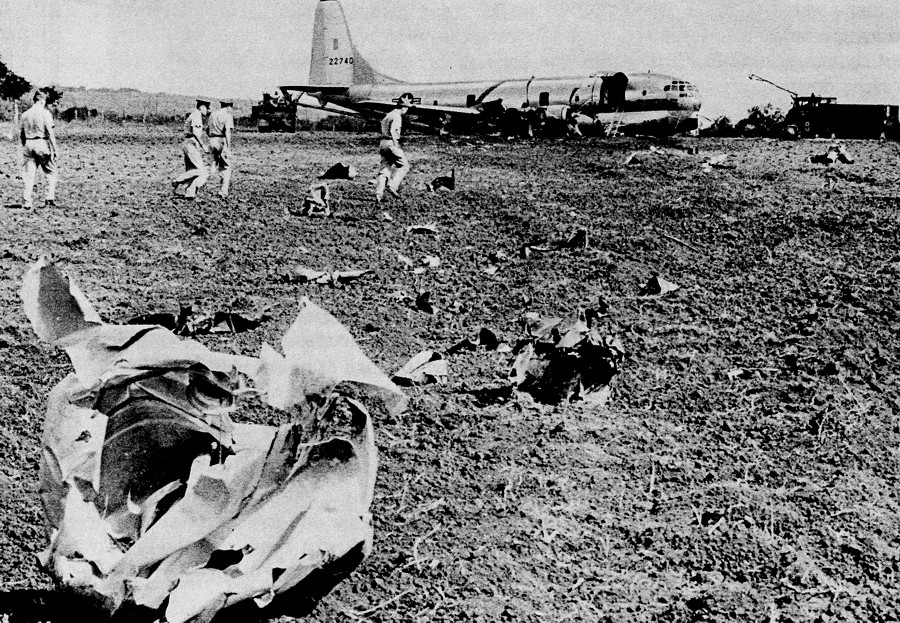 Kaman Rotor Tips , Dec 1961 , page 7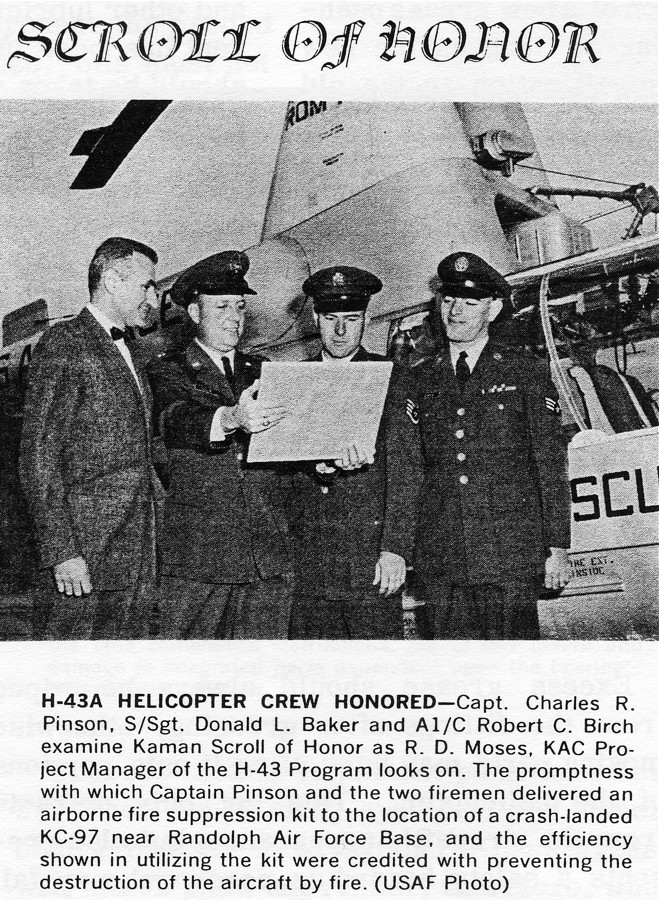 Kaman Rotor Tips , March 1961 , page 6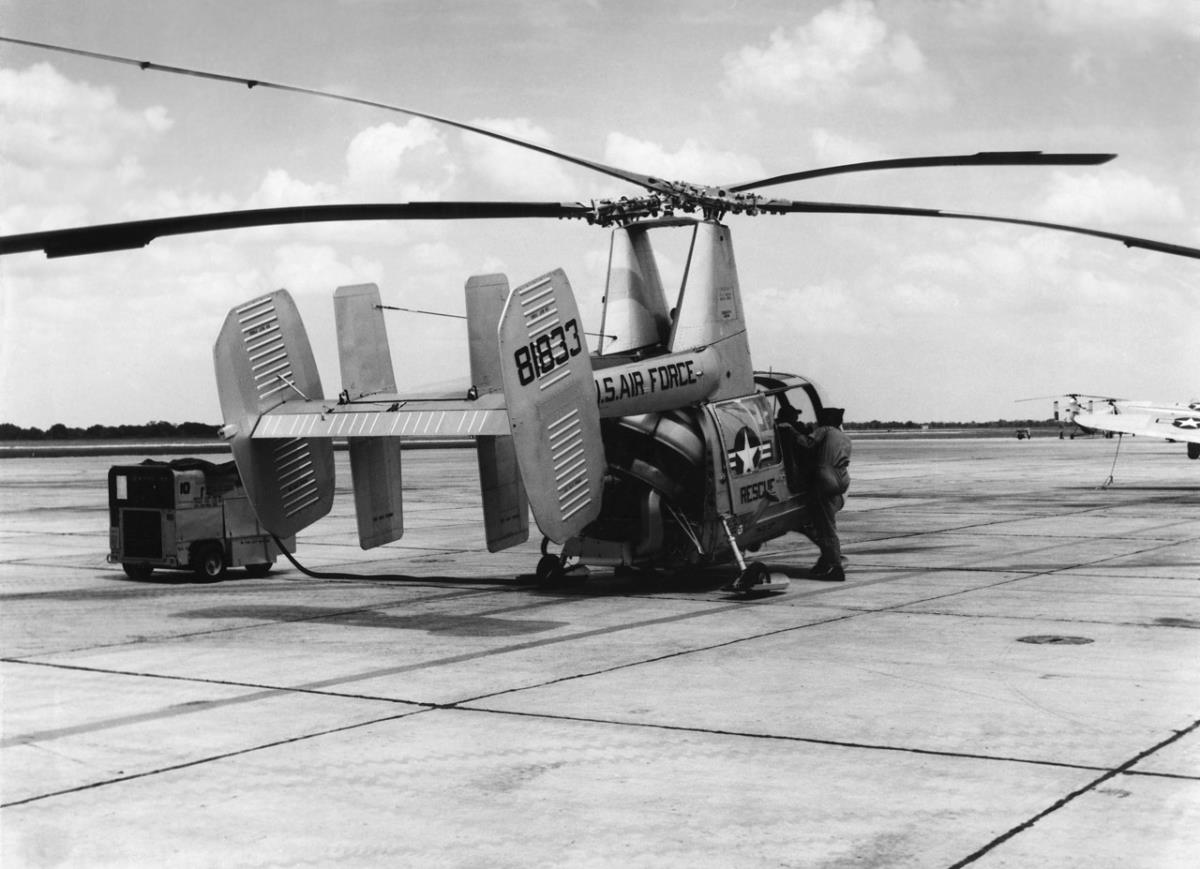 H-43A 58-1833 unknown place and date - USAF Photo 528-9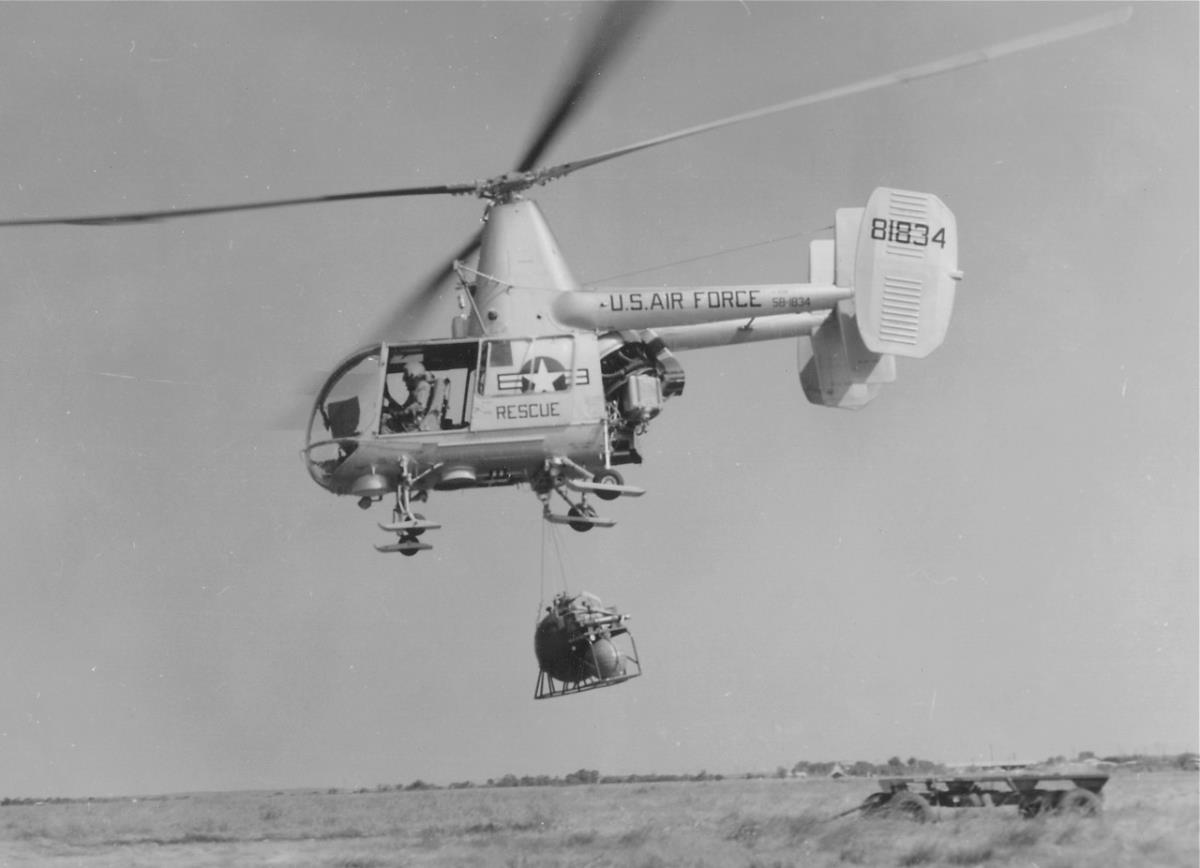 H-43A 58-1834 unknown place and date , USAF photo 162190AC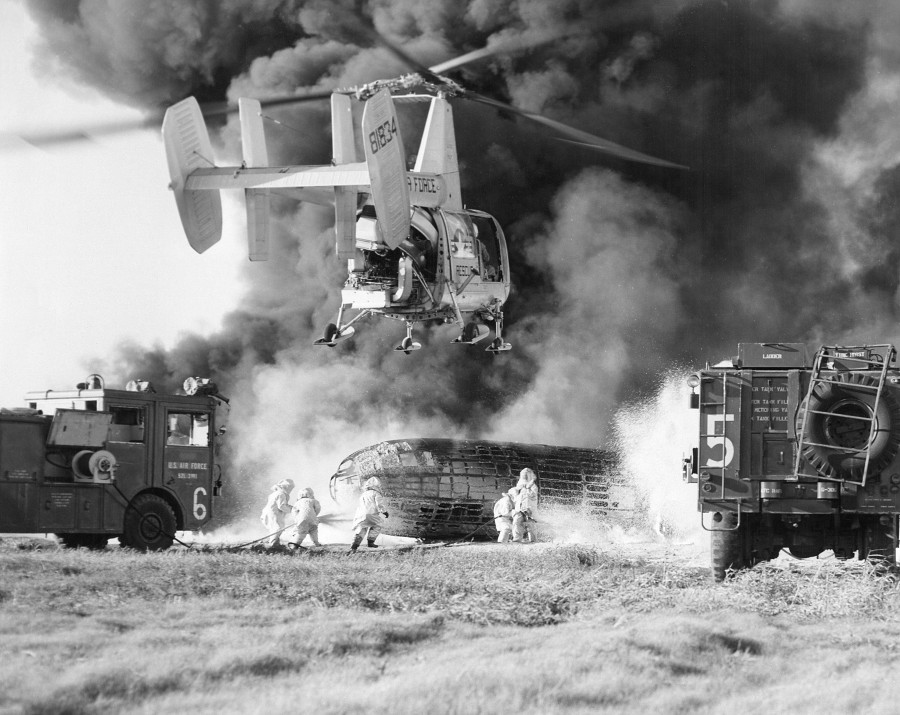 H-43A 58-1834 unknown place and date - FlickrCom website
3.6.2 "1000-Hour Pilot Awards"
HONORED BY KAC Latest pilots to receive desk set awards from Kaman Aircraft for logging 1000 hours in helicopters produced by the company are:
Captain Burke, Det 12 (Randolph AFB) commander, logs his 1000th hour. He flew 630 hours in HH-43A's and 370 in the HH-43B
(source : Kaman RotorTips , issue Jun-July64 , page 9 )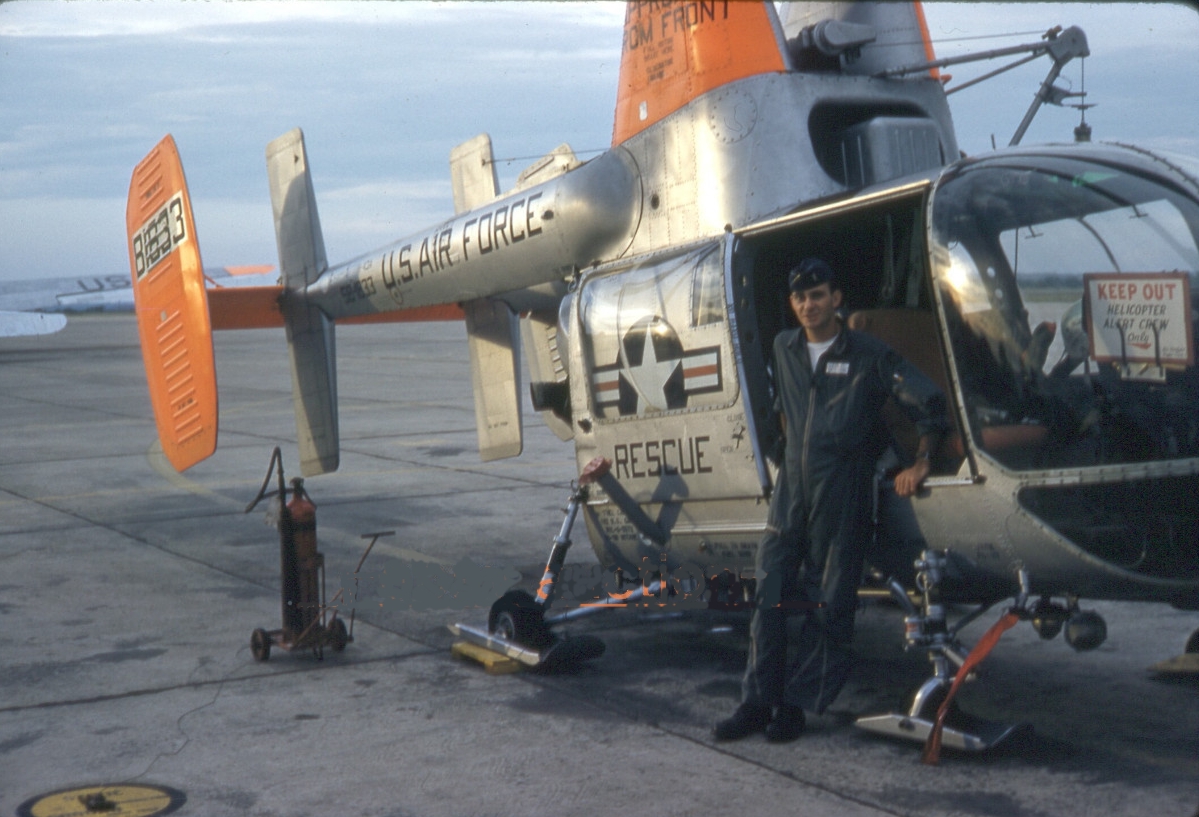 H-43A 58-1833 unknown location and date, unknown crew member - photo taken from EBay 2016 slide-auction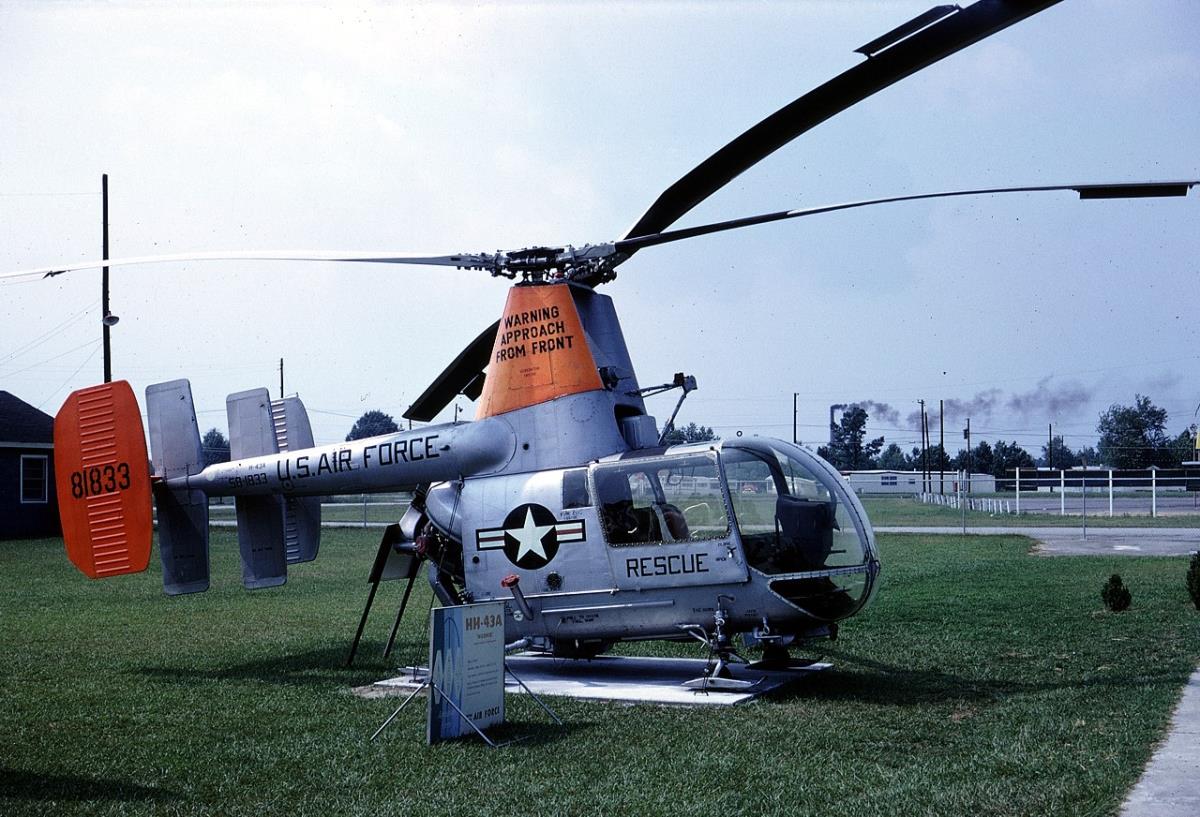 HH-43A 58-1833 on display Florence Air & Missile Museum, SC August 1966 - photo B. Schulte
3.6.3 Retirement H-43A
H-43A 58-1833 and 58-1834 both ferried to Eglin AFB, FL , assigned to PGCCE for tests. Arrived on 04 and 16 Jan 1963. 58-1834 was destroyed on 02 Feb 1963 and -1833 remained in storage there. Much later it became a display aircraft.
3.6.4 New Aircraft
Two H-43B aircraft were delivered to DET.28, CARC : 60-0284 and 62-4508. Both delivery dates are unknown , but took place during 1963.
last update 27/02/2019