3.2 Moody AFB, GA - 3550th PTW - DET.54, EARC
H-43A 58-1826 was accepted on 04 Mar 1959 and
H-43A 58-1827 on 31 Mar 1959.
58-1826
58-1827
3.2.1 Personal account by Richard H. Smith , date ?? (taken from a guestbook page)
My first flight in the H-43A was on March 19, 1959 at the Kaman factory in Bloomfield, CT.
I was sent there from Moody AFB in GA to check out and take delivery of the third H-43 delivered to the AF. My boss, Capt. Clayton Nirmeier preceeded me to the factory and brought one of the first two H-43A's back to Moody.
By Sep 1961, when I left Moody for assignment to the RCC at Elmendorf AFB, AK , I had been the primary instructor for the likes of Clyde Ashton, Dave Pittard, Grant Kerber and later Grant Mackie.
In 1965, I checked out in the H-43B at Loring AFB.
By the way, for the old Kaman guys, Frank Horn was my instructor at the factory and Bob Lambert came to Moody a few times as Tech.Rep.
3.2.2 B-52 emergency landing at Turner AFB, GA , 18 October 1961
The importance of having a versatile helicopter with flexibility in aerospace operation was recently demonstrated in a night precautionary SAR mission at Turner AFB, GA.
A SAC B-52 was experiencing hydraulic and power system difficulties, and a gear-up landing was a possibility if helicopter coverage with fire-suppression capability was available. Eastern ARC coordinated this mission and dispatched a H-43B helicopter with fire-suppression kit and a H-43A helicopter with fire fighting personnel from Moody AFB, GA. The success of this mission can best be described by quoting the following message from the Commander, 4138 Strategic Wing, Turner AFB :
"The two helicopter crews who responded to the B-52 emergency at Turner AFB are commended for their professional performance. The crews became airborne immediately upon request, arrived at Turner in a minimum period of time, went on alert standby, and became airborne again to meet the landing emergency. During the landing the helicopters flew close formation with the B-52, affording maximum fire protection coverage and rescue capability. Through their actions they received highly favorable comments from the B-52 crew and members of my staff. Request you pass on my sincere appreciation to Major Gordon S. Priest, Duty Coordinator, EARC, Robins AFB, GA, for his efficient assistance and to the helicopter crews for their outstanding performance of duty."
( source : AFHRA doc. - Hq ARS "Command Monthly Letter", 31 Oct 61 ; file K318.2 Jul-Dec 61, VOL.III Annex I )
( 3.2.2 ) Report from :
"A chronological listing of rescue reports as received from the field by the Kaman Aircraft Corporation" 18 October 1961 TURNER AIR FORCE BASE
The Strategic Air Command, Command Post at Robins AFB alerted Eastern Air Rescue Center at 0045 EST on 18 October 1961 stating that there was an airborne B-52 experiencing hydraulic, mechanical, and power system difficulty which indicated a gear up landing was imminent.
The decision was made at EARC to Launch the H-43's from Moody and the SAC Commander made the decision to attempt the B-52 landing at Turner (home base of the B-52) , providing the H-43 helicopter with the fire suppression kit could be made available. At 0100 EST, Eastern Air Rescue Center notified Moody to dispatch their H-43 helicopters to Turner. At 0230 EST the H-43A and B had completed the 70 nautical mile flight and were in position at Turner with the H-43B carrying the fire suppression kit and the H-43A carrying fire fighting personnel.
The B-52 made a successful gear down landing at 0406 EST and for the distance for the rollout on landing the H-43's flew one on each side of the B-52 until it came to a stop at the end of the runway. The B-52 made a successful landing and the six crew members were extremely grateful to the service that ARS provided them for the emergency. The SAC Wing Commander at Turner advised Colonel Dunkleburg, EARC Commander that he was writing a very laudatory commendation letter to General Tom Power which he in turn is requesting be passed on to General Joe Kelly of MATS citing a job well done on the part of the personnel of EARC and LBR Detachment 54 from Moody.
Reading from the ARS Mission Report, ...... At 0445 EST aircraft and crews released to return to Moody, further indicating the flexibility and need of the versatile helicopter in aerospace operation. This constitutes final mission report."
( 3.2.2 ) Report from Kaman Rotor Tips :
ARS DET. 54 at Moody AFB, GA , scrambles two helicopters, an H-43B with FSK and an H-43A as back up, flys 66 miles to Turner AFB after B-52 declares an emergency due to hydraulic system malfunction. Bomber escorted down runway by both helicopters, "B" drops Fire Suppression Kit and firemen by nose of giant ship as precautionary measure after it safely comes to halt. Firemen ordered to foam aircraft down at first sign of spark. As crew of B-52 evacuate, they are greeted by downwash from rotors of both H-43s which have assumed positions to cool overheated brakes and wheels on B-52.
H-43B crew : Capt. William J. Fitzgerald, pilot; Capt. Grant F. Mackie, co-pilot; SSgt. Arlie P. Stalvey and A1C S. Jarrell, firemen.
H-43A crew : 1st Lt. David H. Pittard, pilot; lst Lt. Grant D. Kerber, co-pilot; SSgt. Frank D. Hinton, A1C Sidney Allen, firemen; TSgt. Joseph Blaquiere, crew chief.
(source : Kaman Rotor Tips , issue February 1962 , page 16)
3.2.3 Known crewmembers who have been assigned to this H-43A unit
4.2.3.1 Maj Richard A. Smith receives congratulations from Capt Oliver E. Schmoker after logging his 2000th hour in the HH-43 HUSKIE. Major Smith, commander of Det 16, CARRC, McConnell AFB, Kan., went over the 2000-hour mark while on an emergency scramble. The Major has been flying the HH-43 since July 1960 and is one of the few pilots who logged time in all three HUSKIE models -- the HH-43A, HH-43B and the HH-43F.
(source : Kaman RotorTips, issue Jan-Feb69 , page 23)
3.2.3.2 Grant F. Mackie
I was a pilot and Detachment Comdr. at Moody AFB 1959 to 1963 flying H-43A (ATC) and then later B models. We had a great group of firefighters who were dedicated to the program with S/Sgt Arlie P. Stalvey as the NCOIC. Also an A1C Norton and others whose names I have forgotten.
(source : guestbook entry, Crash Rescue - Air Rescue Web Site – Bill Junkins)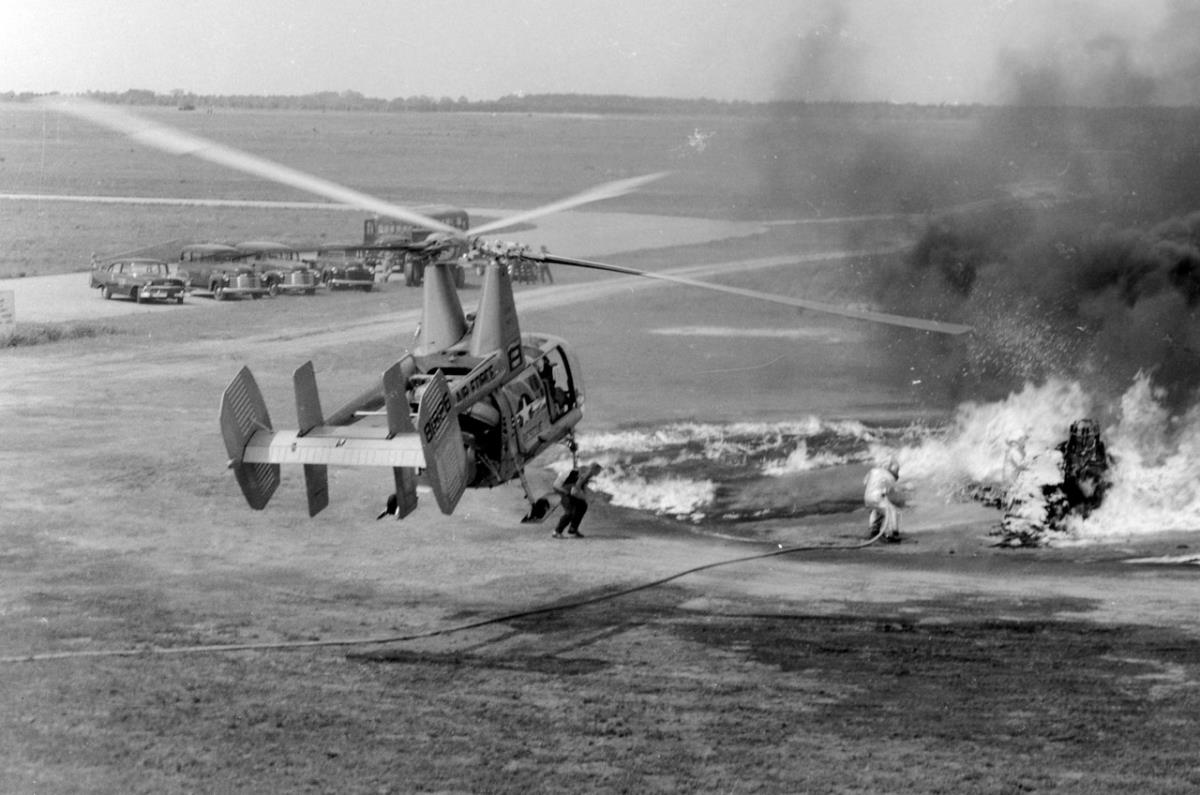 H-43A 58-1826 3550th PTW Moody AFB, GA 1959-1960 collection N.E. Taylor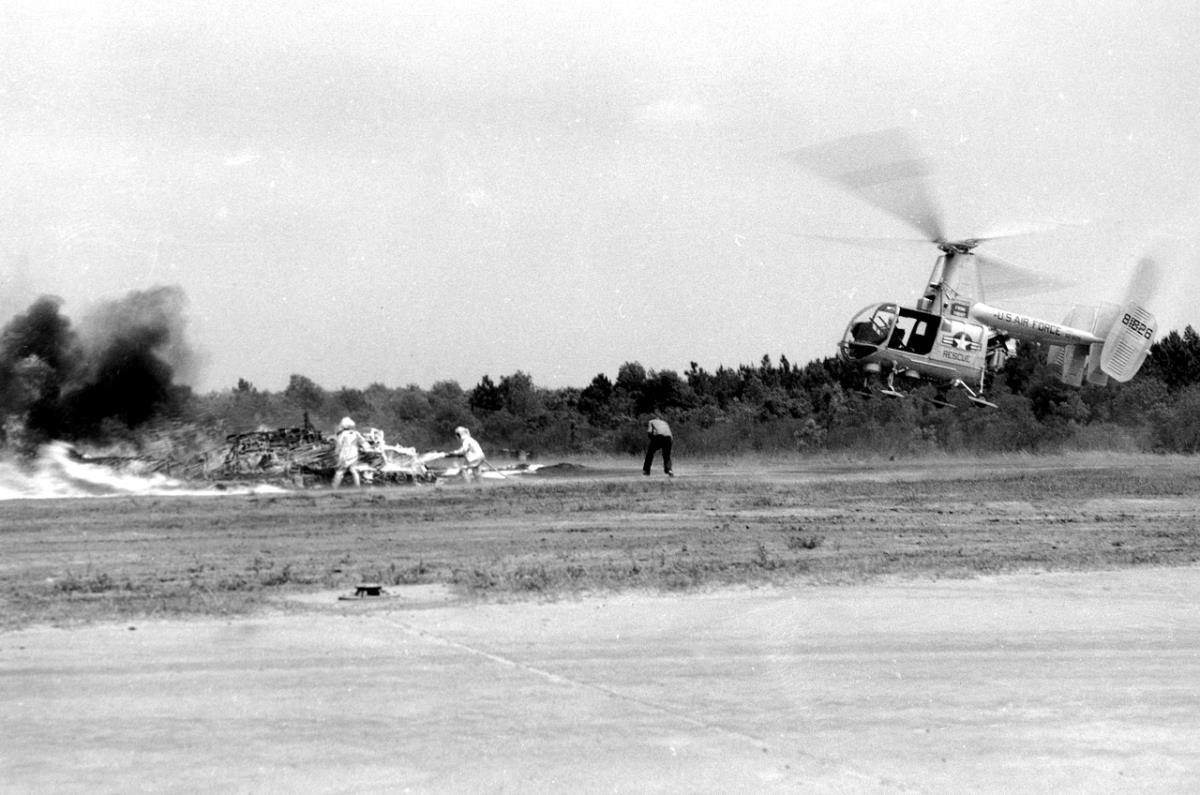 H-43A 58-1826 3550th PTW Moody AFB, GA 1959-1960 collection N.E. Taylor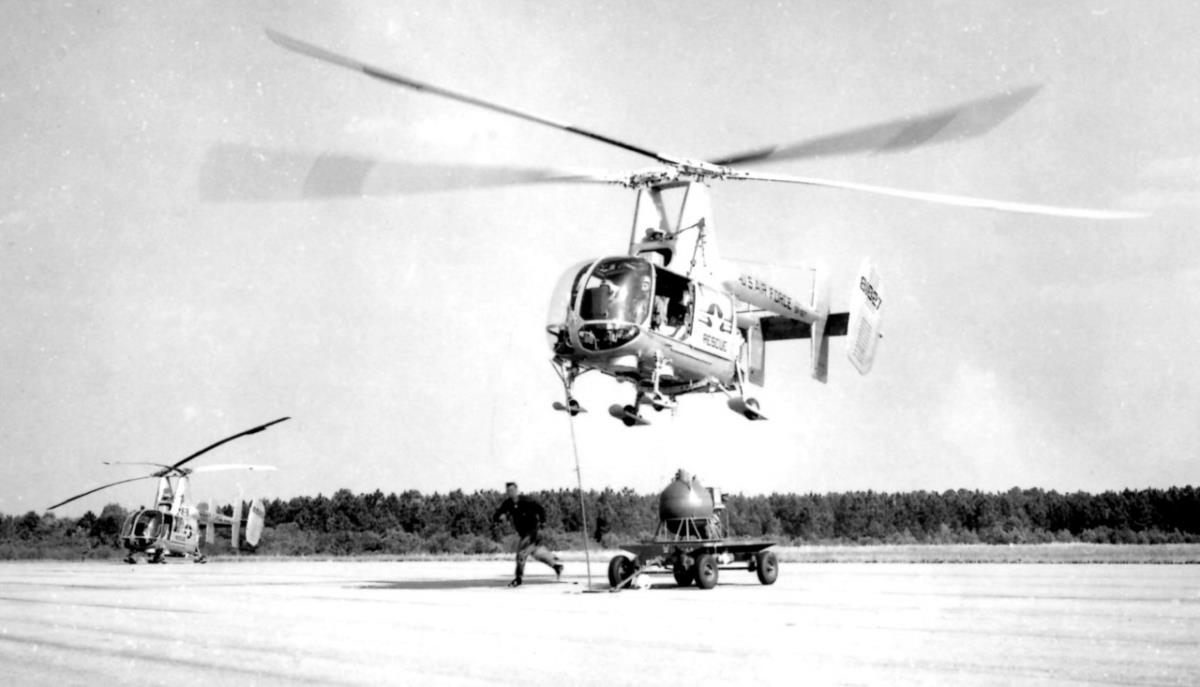 H-43A 58-1826 and 58-1827 3550th PTW Moody AFB, GA 1959-1960 collection N.E. Taylor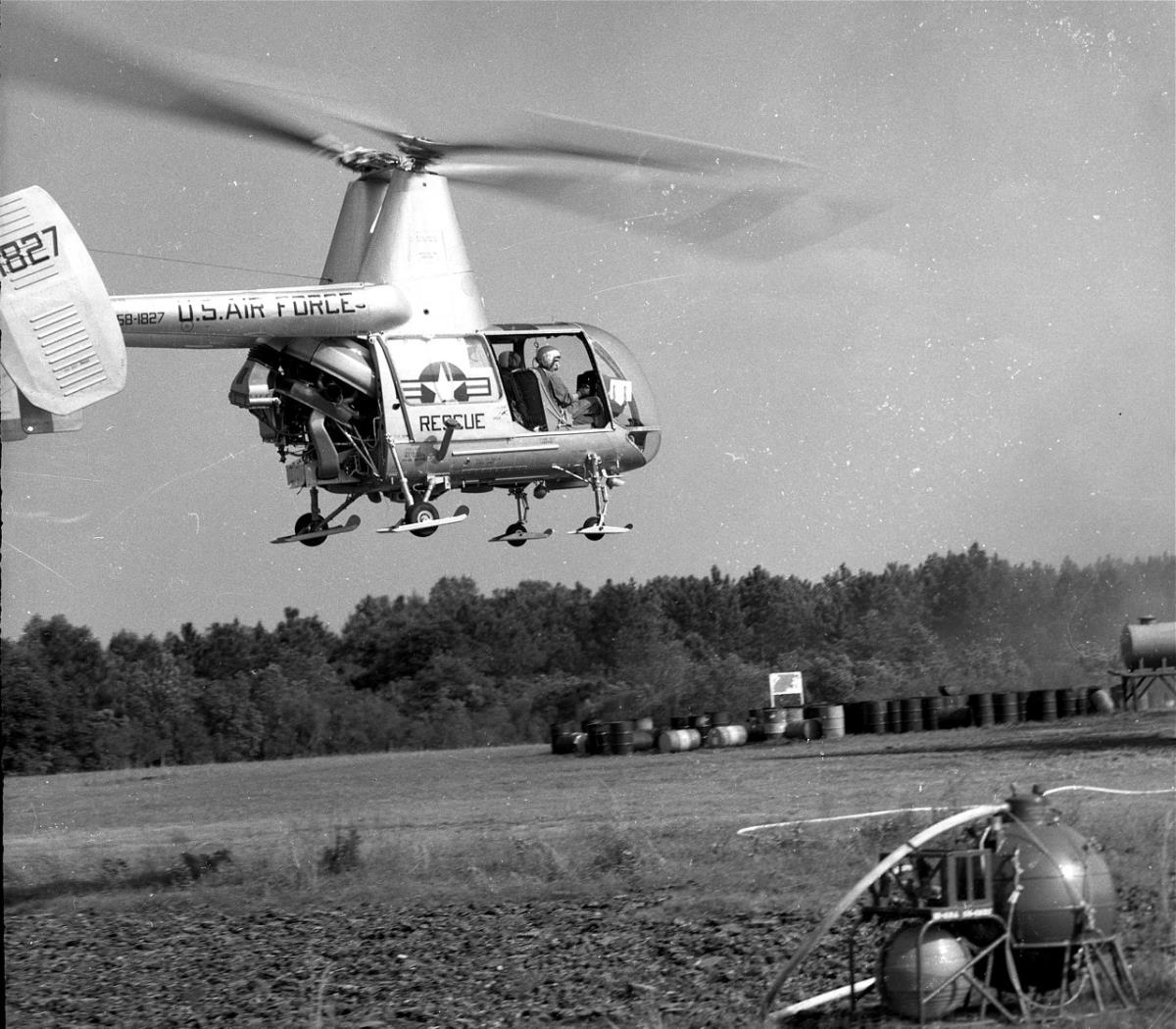 58-1827 3550th PTW Moody AFB, GA 1959-1960 coll. N.E. Taylor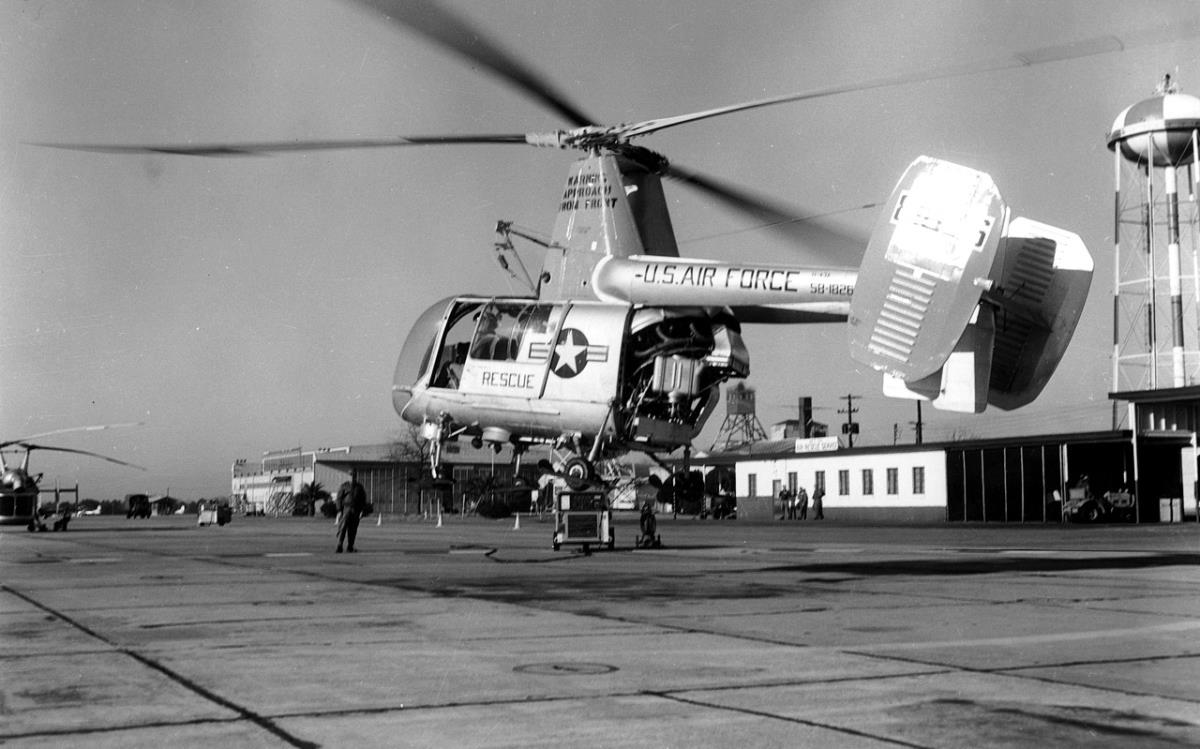 H-43A 58-1826 (meaning of square sheet over tail unknown) DET 54, EARC Moody AFB, GA ca.Oct 1961 - the H-43B already had arrived (see background at left) - collection N.E. Taylor
3.2.4 Retirement H-43A
Both H-43A 58-1826 and 58-1827 were delivered to MASDC, Davis-Monthan AFB, AZ on 20 Feb 1962.
3.2.5 New Aircraft
Two H-43B aircraft were both delivered to DET.54, EARC from assignment at Robins AFB, GA on 01 Oct 1961 : 59-1568 and 59-1570
last update 27/02/2019