HTK Drones
HTK DRONE PROGRAM
From "Kaman Our Early Years" , by Charles H. Kaman (p120, p121) :
The particular idea of a dipping sonar with drones was soon supplemented by a broader view of drone helicopter capabilities and potentials. Early contract work was directed mainly at the technical feasibility of creating such a flying vehicle.
Fairly early on, it became obvious that the HTK static test frame would make an excellent test bed for such experimental work. A further advantage was the various flight components, including landing gear confiscated from the HTK program itself, which could be added on at a very low cost. This aircraft was modified with electronics cut into the control systems.
In August 1952 Kaman launched the first of many drone programs, using a helicopter painted with yellow primer and dubbed the "Yellow Peril".
This static test airframe was then registered as BuNo. 138602 and the first flight of "Yellow Peril" took place in May 1953, still with an open frame construction and the tail part of a Kaman Model K-225. In February 1955 it had flown more than 100 hrs.
From "Flight" magazine, 1956, page 640 :
The project was initiated when the U.S. Navy placed a contract with Kaman (Aug 1952) for the development of a remotely controlled helicopter using a combination of the automatic stabilization equipment then being developed by the Navy Bureau of Aeronautics and a guidance system originating in the Office of Naval Research (ONR). A radio-control system and electro-mechanical controls were developed, based on those of conventional target drones, but adapted for the helicopter's peculiar flight conditions.
In September 1953 the "Yellow Peril" was demonstrated to the U.S. Navy.
At that time the machine was flown with a helicopter pilot at the ground control point, but subsequent work produced a control system by which, in April 1956, a Kaman employee who had never before flown in any kind of aircraft made the robot helicopter take off, manoeuvre and land successfully. Since then all robot flights have been made by men who are not pilots, although a check pilot is required to sit at the helicopter's normal controls for safety reasons.
In June 1955, the U.S. Navy and Army placed a joint contract for three remotely-controlled Kaman helicopters for evaluation. At the same time Radio Corporation of America became interested in the possibilities of mounting in the machine the back-pack television camera and transmitter which they had developed for the U.S. Army Signal Corps.
The potentialities of this line of development are manifold and significant. The helicopter can be guided from a control station on the ground or in another aircraft, or by what is described as a "memory" system, presumably a programmed control. These three systems can also be used in combination, control being handed over from one to another as required. Special applications which have already been tested include simulated battlefield surveillance, using the television camera and transmitter; the laying of telephone cable; and the transporting and automatic unloading of cargo in inaccessible areas. Still and cine cameras can also be installed to make permanent records of battle situations. These tactical applications are obviously extremely attractive, but still further developments are possible. The robot helicopter could be used in conjunction with television to seek out target areas and drop smoke-bombs as visual markers for artillery fire. The machines could be made to lay smoke-screens to obscure troop movements, or lay and detonate lines of explosives through mine fields, thus clearing a path for troops and vehicles; and yet another adaptation, the company claims, might be the use of robot helicopters for hunting and destroying enemy tanks and vehicles.
Initially the drone was flown with a standby pilot aboard for several hundred hours, but in July 1957 it was flown as a pure drone.
The HTK-1K thus became the world's first pilotless flying helicopter, being directed by radio signals from a small, lightweight transportable ground station.
The Drone helicopter programs, as they had developed in time
Aug 1952

In August 1952 Kaman launched the first of many drone programs, using a helicopter painted with yellow primer and dubbed the "Yellow Peril"

May 1953

This static test airframe was then registered as BuNo. 138602 and the first flight of "Yellow Peril" took place in May 1953, still with an open frame construction and the tail part of a Kaman Model K-225

Sep 1953

In September 1953 the "Yellow Peril" was demonstrated to the U.S. Navy

Mar 1954

Kaman Report dated 12 Mar 1954 : Conclusion of Phase 1 of development of remotely controlled helicopter, Contract Nonr 905 (00). Attachment, Figure 1 : photo of 138602 in flight, photo date 15 Feb 1954, at Bradley AP, CT. A system that permits pilotless take-off and landings plus maneuvering at distances up to 400 yards has been under flight test for several months

Feb 1955

In February 1955 BuNo. 138602 had flown more than 100 hrs. At that time the machine was flown with a helicopter pilot at the ground control point (Ragay : photo of 138602 controlled by a pilot sitting on the roof of the Flight Test hangar)

Jun 1955

Report dated 30 Jun 1955 : The Kaman Aircraft Corporation for the Office of Naval Research under Contract Nonr 905(00) has completed experimental development of a remote control system for helicopters. Remote controlled flights of the helicopter were demonstrated to military personnel of the US Navy, US Marines Corps, and the US Army. The system developed permits take-off from a twelve foot square, forward climb to 1000 feet or more, level flight out to distances of several miles, turns to a desired heading at any time, return, descend and land in the twelve foot square. This helicopter remote control research program was accomplished by a first phase, reported in Kaman Report dated 12 Mar 1954

Jun 1955

In June 1955, the U.S. Navy and Army placed a joint contract for three remotely-controlled Kaman helicopters for evaluation. At the same time Radio Corporation of America became interested in the possibilities of mounting in the machine the back-pack television camera and transmitter which they had developed for the U.S. Army Signal Corps

Aug 1955

Kaman Memo 08 Dec 1955 : Flight Program for Elevated Surveying Target

Kaman Aircraft has contracted with the Corps of Engineers to equip helicopter 138602 so that it may be hovered in a light beam at 1000-2000 feet. Satisfactory hovering at these altitudes was to have been performed for the Corps of Engineers representatives during the month of November 1955. Obviously, we can not meet this schedule. Every effort should be made to conduct this demonstration as soon as possible. The helicopter has been instrumented with equipment to permit this hovering since last August

Nov 1955

Memo 08 Dec 1955 : Flight Program for Elevated Surveying Target

The summer and early autumn temperatures prevented conducting of tests through September and October

Although the equipment is installed in the helicopter and engineered to the best of our abilities there are certain adjustments to the equipment that can only be made by flight test experimentation. The technique for obtaining these adjustments will consist of several flights in sequence where flights of different settings are made by ground personnel between each hop.

Beginning about January 1956, the drone HTK program will require some equipment now installed in 138602. Removal of this equipment will make the Elevated Surveying Target helicopter inoperative. In addition, 138602 is due for a 240 hour inspection. A flight program of ten hours for the Elevated Surveying Target, which should bring the first phase of this program to a satisfactory conclusion. It is highly desirable that this program be completed during the first week of January 1956

Jan 1956

Memo 08 Dec 1955 : In addition, 138602 is due for a 240 hour inspection

Apr 1956

At that time (Feb 1955) the machine was flown with a helicopter pilot at the ground control point , but subsequent work produced a control system by which, in April 1956, a Kaman employee who had never before flown in any kind of aircraft made the robot helicopter take off, manoeuvre and land successfully. Since then all robot flights have been made by men who are not pilots, although a check pilot is required to sit at the helicopter's normal controls for safety reasons

May 1956

Kaman Memo 16 May 1956 : Completion of the Elevated Surveying Target Project

On Fryday evening, May 11, 1956, the Kaman Aircraft Corporation achieved a record in aviation history by precisely hovering a helicopter at 1000 feet altitude for long periods of time.

Under the Corps of Engineers Contract, Kaman Aircraft has installed photocell circuitry in conjuction with the automatic stabilization equipment in HTK 137835 so that the helicopter may be flown into the light beam at prescribed altitudes and automatically remain in the beam without any control from the safety pilot. For design and development purposes in this early stage, most of the work has been concentrated on altitudes of 1000 feet. At 1000 feet altitude a pilot manually flying a helicopter has difficulty holding the helicopter within 300 feet of a fixed point over the ground.

On May 10, the helicopter was hovered in the light beam at 1000 feet for a period of two minutes at which time the Corps of Engineers were able to obtain two readings on accuracy of the position of the helicopter. On May 11, one flight in which the helicopter was held in the beam automatically for twenty minutes, was made and half an hour later, another flight of ten minutes automatically holding the helicopter in the light beam, was made

Jul 1956

Kaman Photo 1156-13 , 18 July 1956 , aircraft 137835 :

Robot helicopter developed by The Kaman Aircraft Corp., Bloomfield, Conn., during its demonstration to U.S. Department of Defense officials at Fort Belvoir, Virginia. Center man on the ground is flying the robot. Since demonstrator robot is one-of-a-kind, safety pilot accompanies robot but does not fly it.

Kaman Aircraft built three robot's for evaluation by Navy-Army. These will be flown without a pilot aboard. Ground controller is not a pilot, ease of controlling robot makes it capable of being flown by anyone. Equipment shown includes, in addition to ground control station, TV receiver which receives TV broadcast from small transmitter and camera in robot, and public address system amplifier used by commentator (right).

Robot simulate battlefield surveillance with TV, broadcast, lays communication wire and takes aerial photos at command of controller, flies memory courses fed into ground control system, flies on commands from airborne control station located in another helicopter.

The Kaman Robot helicopter was a brain child of the Office of Naval Research (ONR)

Feb 1957

Kaman Photo No 2105 , 15 February 1957

Operating ease of the "halter" control of the Kaman robot helicopter is dernonstrated by Miss Connie Angelica, a secretary at Kaman Aircraft. Miss Angelica took the robot off the ground, "walked" it backward, forward, and sideward, hovered it and made the landing after only brief instructions as to how the halter control operates. Safety pilot Jack Goodwin, hands aloft, kept his hands off the cockpit controls all during the demonstration

May 1957

Operating from the USS Mitscher (DL-2) on 23 May 1957, a droned HTK , carrying a safety pilot, successfully operated from the ship in the area of Narragansett Bay, Massachusetts. Landing on the Fantail (Mitscher would not receive a landing platform until 1960) of the ship, numerous takeoffs and landings were performed from the controllers on-board Mitscher. These tests validated the concept that a drone helicopter could operate from a destroyer-sized vessel and led to the development of the "Drone Anti-Submarine Helicopter" (DASH)

July 1957

World's first pilotless drone helicopter flight took place on 30 July 1957 at Bloomfield, CT (129314 "A Joint Army Navy Program")

The DASH "Drone Assisted Torpedo" tests were conducted off the coast of Key West, Florida in July 1957 from the deck of a destroyer USS Mitscher.

Initially the drone was flown with a standby pilot aboard for several hundred hours, but in July 1957 it was flown as a pure drone. It thus became the world's first pilotless flying helicopter, being directed by radio signals from a small, lightweight transportable ground station

Aug 58

In August 1958 HTK 137835 became test-bed for worlds-first electrically powered helicopter.

The piston-engine was replaced by a Task Corporation lightweight high-voltage A.C. electric motor, supplied by cable from a 250kw turbine-driven generator on the ground

1959-1960

"Kaman Rotor Tips" , Aug 1960 , page12-13

During the past year, 129314 has had some interesting moments, dropping homing torpedos on submarines and planting practice depth charges so close to one sub that the Commanding Officer cried "uncle" on the underwater telephone. This helicopter has landed on the Hazelwood in a sea state of "5", a 35-knot wind, and with the deck rolling 25° port and starboard. The HTK-1 has made 446 shipboard landings, of which 57 were droned. It came trough the latest series of test with 100 per cent availability (six weeks of flying). This included a trip to Key West, FL and back.

June 1960

"Kaman Rotor Tips" , Aug 1960 , page12-13

"Robot Rescue" ; Ralph Lee , Project Test Pilot , HTK drone program

This HTK-1, 129314, used in remote-control test flights, was used as a piloted helicopter, in a rescue flight on 16 June 1960 from the USS Hazelwood, 10 miles at sea off Newport, RI.

An injured seaman had to be transported to a hospital. The flight was made through the heavy fog bank laying between the ship and the shore line. Since the HTK only had rudimentary instruments (being used as a drone), reliance had to be placed on the Automatic Stabilization Equipment integral with the drone gear. After take off control was turned over to Lt. Jim Julian, operations officer on the Hazelwood and controler in drone test program. The HTK was flown through the fog by remote controle. The pilot kept in contact with the ship by radio communication.

The helicopter has been the Navy's primary vehicle for testing the DASH concept, with the majority of the tests being conducted aboard the Hazelwood.

Aug 1961

Free drone in flight at White Sands, NM Aug61 (conducted by the Army Ordnance Missile Command), seen on photo with Kaman logo on tail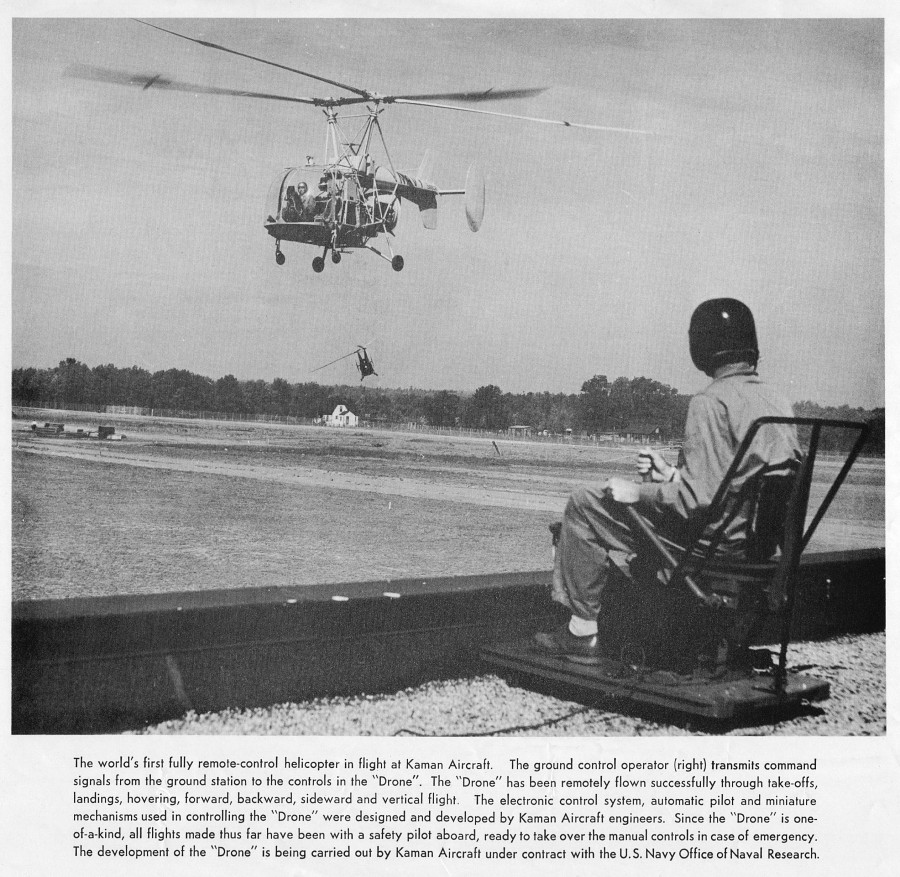 last update 25/08/2022