The Kaman HOK-1 in U.S. Marine Corps service
According to a 1955 NATC Report , the HOK-1 is :
" .... a four-place helicopter with twin intermeshing, counter-rotating rotors controlled by servo flaps for both cyclic and collective pitch change.
Two tail booms attached to the aft section of the fuselage body, support the empennage which consists of a center vertical fin secured to the fixed horizontal stabilizer and two outboard vertical fins rigidly attached to a floating elevator. The floating elevator is controlled by a movable tab, mechanically linked to the collective stick.
The left half of the plexiglass nose bubble can be swung open to permit the loading of two litters. The co-pilot's seat and cyclic and collective control levers are removed to accomodate these litters.
The aircraft is powered by a Pratt and Whitney Model R-1340-48 radial, air-cooled aircraft engine, mounted at an angle aft of the cabin.
The engine drives the rotors by means of a nose transmission, hydro-mechanical clutch, intermediate drive shaft, free-wheeling unit and main transmission which synchronizes the two rotors. The engine-rotor speed ratio is 9.357 to 1.
Each rotor blade is equipped with an aerodynamic servo flap.
Both cyclic and collective pitch changes of each rotor blade are controlled by the flaps, which provide pitching moments to twist the blade about its spanwise axis.
The floating tail surface provides additional longitudinal control in forward high-speed flight.
The aircraft is equipped with quadricycle-type alighting gear. "
Wooden Rotor blades
From Kaman Report R-164, dated 1 December 1956 :
The HOK-1 rotor blade is of laminated wood construction, employing the highest quality spruce and maple woods, birch plywood and stainless steel leading edge. The laminated spruce main spar block forms the basic structure of the rotor blade from the butt end to the tip. Laminated maple blocks with fiberglas cheek plates are used at the butt end to form the foundation for attaching the blade grip. Spruce ribs secured to the aft face of the main spar with spruce corner blocks form the airfoil contour of the blade. Laminated maple and birch plywood form the trailing edge. Birch plywood skin is used to form the upper and lower blade surface contours.
The rotor blade has undergone intensive development and service test. In fact, a major portion of the accelerated service test programs that have been conducted by Kaman Aircraft for the U.S. Navy have been designated to test the durability of rotor blades under varying environments of temperature, sand and dust conditions and salt-water operating conditions. As a result of these tests plus actual operating experience of HOK-1 helicopters in squadron service, the durable nature of the K-600 rotor system has been unquestionably proven.
At the start of HOK 's development , Bradley Field, CT :
26 June 1950
First contract signed to build 4 HOK aircraft (125528 thru 125531)
20 Nov 1952
125528 - Assembly completed and aircraft weighed
27 Nov 1952
125528 - First flight or first hover probably before 27Nov or at last early Dec52
Mar 1953

125528 - Kaman Report dated 03 Mar53 : the two 36 inch chord elliptical shaped fins were increased

in size to 46 inches

28 April 1953
125528 - First accepted for service (at Bradley Fld, CT)

Further development aspects - see here below ; for a detailed review of development , please visit this page
From "Aviation Week", 27 April 1953 : Kaman Aircraft Corp., Bradley Field, Windsor Locks, CT, has leased 20,000 sq.ft. of factory space in Suffield, CT, to handle expanded copter production, including the new twin-boom HOK. Some 100 men will be employed at the plant, scheduled for occupancy this month.
From "Aviation Week" , 11 May 1953 : A spectacular helicopter air show at Kaman Aircraft Corp. plant, Bradley Field, Windsor Locks, Conn., last week (most probably the week of 27Apr-3May) featured Navy's new observation/ambulance HOK-I and marked delivery of the first production model of the copter. Rear Adm. John B. Moss, Navy Bureau of Aeronautics Assistant Chief for Materials and Services, accepted the twin-intermeshing-rotor machine from Charles Kaman, head of the manufacturing company. Then they and the Kaman employes watched various Kaman helicopters fly an aerial review.
The Aircraft History Card of BuNo 125528 indicates that this day was 28 April 1953, when BAR-FA accepted the aircraft. The following photograph is dated 28 April 1953 :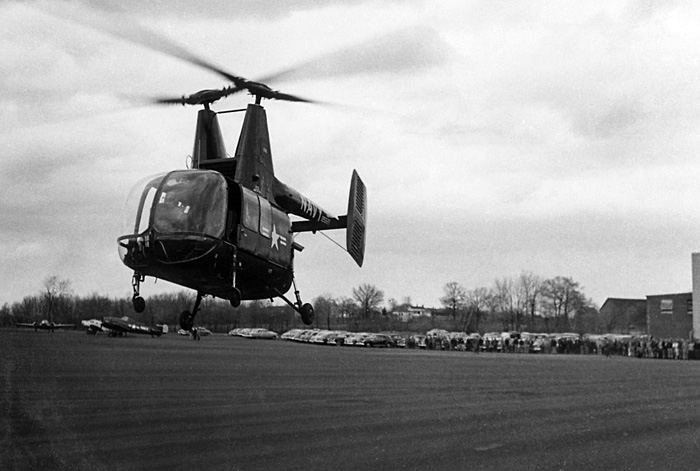 From "Naval Aviation News", March 1955 , page 31 : "Kaman Gets New Hangar"
The Kaman Helicopter Corporation's new half-milliondollar flight test hangar at their Bloomfield, CT plant was built by the Navy. The hangar was formally dedicated by Capt W.E. Kenna, BuAer representative. Covering 28,000 square feet space, the hangar will be used for the test and development of helicopters. Experimental shops and research laboratories will occupy 14,500 square feet , while the remaining 13,500 square feet will house the test helicopters.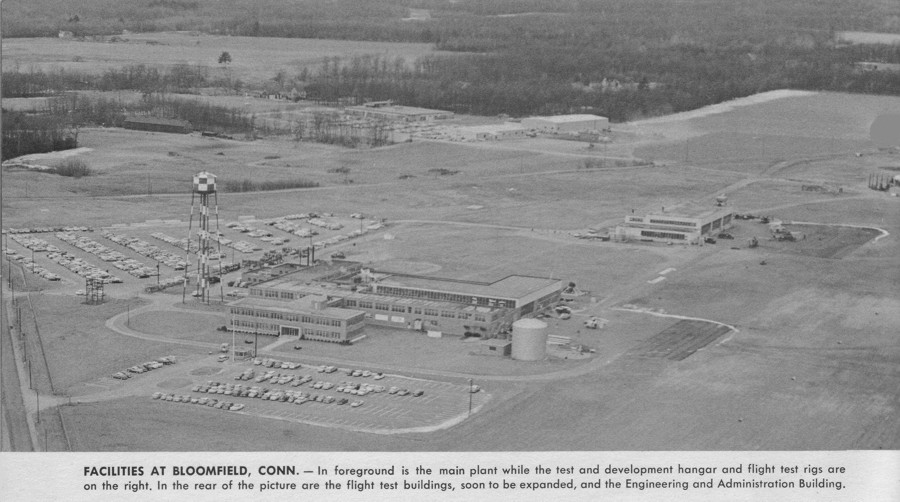 Photo copied from Kaman Rotor Tips, Vol.1, Issue no.1, April 1960 , page 4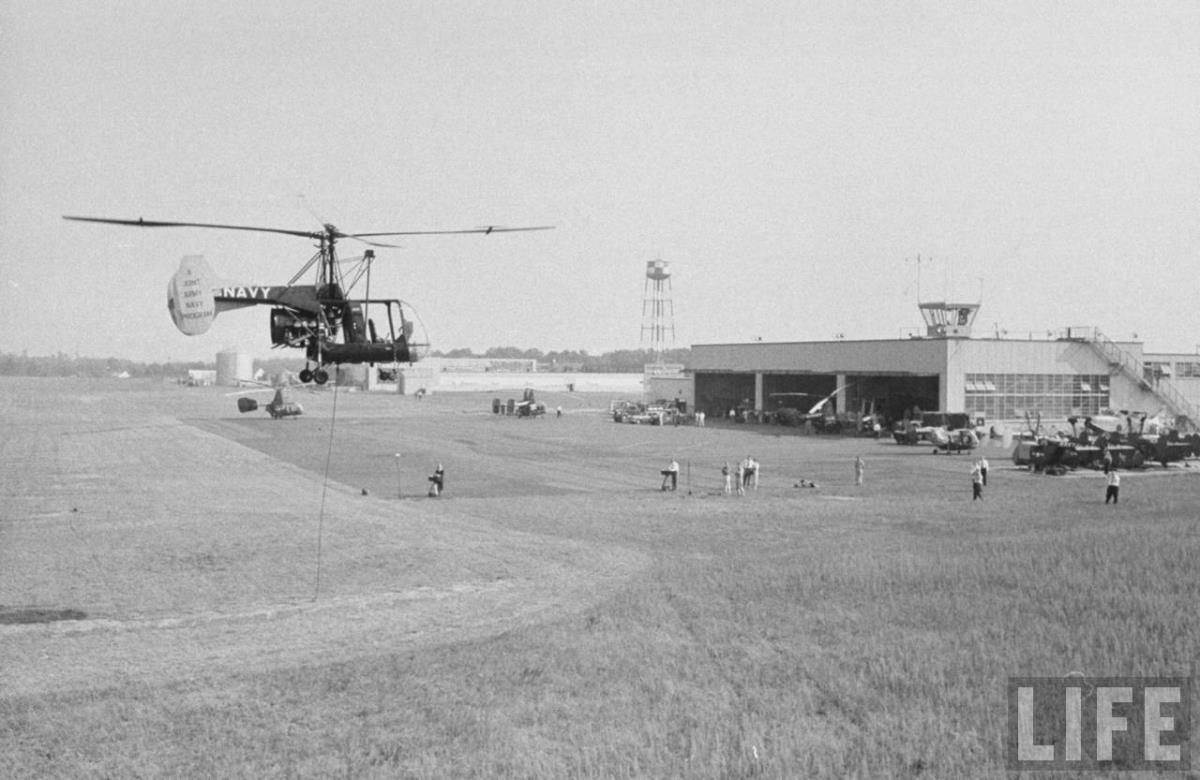 Bloomfield Flight Test Hangar, pilotless HTK 129314 during demonstration to the press, copyright of photo by Robert W. Kelley for "LIFE" (Time-Life Inc) - photo date supposed to be 01 Sep 1958
Further development of the HOK , Bloomfield, CT :
Dec 1953

P&W R-1340 engine installed in stead of Continental R-975 (Bu.No. 125530)

Sep 1954

Increased length of the tail booms and introduction of a third tail fin , all three 21.3 sq.ft (Bu.No. 125531)

Dec 1954 - Jun 1955

NATC BIS Tests starting in Dec 1954. Suspended 16 Jan 1955. Resumed on the 23 June 1955 (details)

Feb 1956 - Mar 1956

FIP (Field Indoctrination Program) by HMX-1 from mid February to late March 1956 (details)

Apr 1956
First assignment of a HOK to a Marine Squadron ,VMO-1, on 12 April 1956
Apr - May 1956
For the Carrier Evaluation (May-Jul56) two aircraft (129806 and 823) were modified to incorporate wide doors, cabin platforms, cargo slings and personnel hoists. Shortly thereafter a Kaman Engineering Change Proposal (ECP), No. KACT-HOK1-69, titled "Removal of

Cabin Door Sill Gusset

", dated 27 Aug 1956 was approved for both a block change for subsequent HOK-1 orders( a/c s/n series 139xxx and above) and it's addition to the list of ECP's and changes approved for Model HOK-1 helicopter as part of the detail specification for the HUK helicopter.
May-July 1956
HOK Carrier Evaluation Program on board the U.S.S.Siboney (CVE-112) during the period 25 May to 6 July 1956. HOK-1 129806 and 129823 (both with HMX-1 pilots and crew) (details).

For a detailed review of development , please visit this page
The very first RESCUE executed by a Kaman HOK was undertaken by aircraft 129813, a Huskie at that time used by Kaman Aircraft Corp. for various trials.

Chief test pilot Al Newton, KAC rescued 13 persons from different locations in Unionville, CT. during a disasterous flood in the Farmington River Valley, CT. on 19 Aug 1955.

The aircraft had no hoist or cargo hook. The rescues were made with the aid of a 75' length of 5/8" manila rope with a loop in the end.

A second HOK, with KAC test pilot Pete Russell and Herley Tower, KAC employee, picked up a doctor from his flooded backyard. Both HOKs helped to transport food and medical supplies. ("Kaman RotorTips" - July 1960 - page 3 and 13)
Organization of helicopter units within the Marine Corps
Source for the below information : (#2)
Helicopters were assigned to
-- Aircraft, Fleet Marine Force, Pacific (AirFMFPac), and
-- Atlantic Fleet Marine Force (FMFLant)
AirFMFPac
Marine Aircraft Group (MAG) 16 was based at the Marine Corps Air Facility (MCAF) Futema, Okinawa. This base was opened in 1960. MAG-16 was the smallest of all helicopter groups, it had only three tactical squadrons. Marine Observation Squadron (VMO-) 2 had a mixture of HOK helicopters and small fixed wing aircraft (Cessna OE-1 Bird Dog). There were also two light transport squadrons (HMRL-261 and -362).
MAG-36 was based on the west coast of the United States, about 25 miles south of Los Angeles, CA at Marine Corps Air Station (MCAS) Santa Ana . MAG-36 had four light transport squadrons (HMRL-163, -361, -363 and -364), and one medium transport squadron, HMRM-462. Fourty miles further south at MCAF Camp Pendleton, VMO-6 had HOK helicopters and a complement of OE-1 (Cessna Bird Dog) observation aircraft.
The only helicopter squadron in AirFMFPac not part of a helicopter group was HMRL-161 at Kaneohe, HI. It was attached to MAG-13.
FMFLant
Fleet Marine Force, Atlantic had concentrated all its helicopter capability at MCAF New River, NC, at the edge of the sprawling Camp Lejeune complex. Under MAG-26 were assigned VMO-1 with HOK helicopters , HMRL-162, 262, -263, -264 and HMRM-461.
Other
Not a part of the Fleet Marine Force was Marine Helicopter Squadron (HMX-) 1 at MCAS Quantico, VA. It's mission was development of helicopter tactics, techniques and equipment for the landing force operation.
One squadron in each MAG had assigned an aircraft complement of 12 HOK 's and 12 HRS 's .
The first assignment of a HOK to a Marine Squadron was to VMO-1 on 12 April 1956 ; and the last HOK retired was from VMO-2 on 31 May 1965.
The following units or organizations had HOK aircraft assigned :

NATC

Dec54 – May58

HMX-1

Jan56 - Jul63

US Army

Oct56 – Jun57

VMO-1

Apr56 - Jul64

VMO-2

May56 – Apr65

VMO-6

May56 – Apr65

HMR(L)-161

May56 - Aug58

HMR(C)-263

Jun58 - Feb60

HMR(C)-363

May58 - Mar60

H & MS-36

Jan58 - Jul59

Marine Station Operations

MCAS Cherry Point

MCAS El Toro

NAAS 11 , El Centro

MCAAS Mojave

MCAAS Yuma

NAF Oppama, Japan

Dec58 - Jan60

Dec58 -Jan60

Feb57 - Feb60

Jan57 – 31Dec58

01Jan59 – Jul59

Mar59 - Jan60
Also HMM-361 (MCAF Santa Ana, CA) had two OH-43D aircraft assigned for a short period of time, during the Cuban Missile Crisis in Oct 1962 , see VMO-6 History for Oct62.
In a few instances, aircraft technically possessed are not included in the squadron statistics. Such as HOK's loaned to other services and aircraft on bailment (lease) to the manufacturers for special tests or modifications. Aircraft assigned to a unit could have been undergoing overhaul and repair (O&R) or were away for progressive aircraft rework (PAR).

OVERHAUL and REPAIR (O & R)
The Navy's Overhaul and Repair Facility was based at Naval Air Station, Jacksonville, FL. (1959-1963) ("Kaman RotorTips" April 1962-p.7)
In the Far East the UH-43C/OH-43D (HUK-1, HOK-1) overhaul and repair work was facilitated at
MARS 17, Iwakuni, Japan (June 1959 - June 1960)
NAF Oppama, Honshu, Japan (March 1959 - February 1961)
FAWPRA Atsugi, Japan (February 1961 - September 1963)
("Kaman RotorTips" Apr-May64-p.9) : The Far East contractor was the Shin Meiwa Industry Co.'s, Itami, Osaka, Japan. The O&R work was completed recently with delivery of the 39th helicopter. During a ceremony, held by the Osaka Detachment of Fleet Air Western Pacific, U.S. Navy, to mark the event, flowers were presented to Capt Francis E. Martin, USMC pilot. With captain, were Cdr Edward O. Crosby, USN, facility management officer; and Lt D. D. Conquest, USN, contract administrator.
ARMED HOK 's
The idea of an armed helicopter gained new impetus during the French war in Algeria in 1957. By July 1957 a lengthy report was available. By March 1959 tests had been made on mounting a French-designed, SS–11 wire-guided, air-to-surface missile on an HOK (#2)
HOK-1 125530 with SS11 rockets during early flight tests at Bloomfield, CT in 1958 (129813 took over later on)- Kaman Photo 2611, via AD Rita
NOTES :
#1 : "A History of Marine Observation Squadron Six", History and Museum Division, HQ US Marine Corps, Washington, DC. , 1982
#2 : "Marines and Helicopters 1946 – 1962", History and Museum Division, HQ US Marine Corps, Washington, DC. , 1976 ; and "Marines and Helicopters 1962 – 1973" , published in 1978.
#3 : "A HISTORY OF MARINE MEDIUM HELICOPTER SQUADRON 161", History and Museum Division, HQ US Marine Corps, Washington, DC. , 1978
last update 03/01/2017