April-May 1965-page 3-4-5-6
"Southeast Asia"
Due to space limitations and other factors, only the activities of a few Southeast Asia units are reported on in this issue of Rotor Tips. The names of those who served in Provisional Detachments First, Second and Fourth are carried at the end of this article. KRT will be pleased to hear from other units wishing to have the names of Southeast Asia veterans listed in subsequent issues.
Disregarding ground fire, an HH-43F hovers over the tangled jungle and plucks a fighter pilot from the midst of the encircling Viet Cong …. A Huskie crew flies at night over mountainous and unfamiliar territory to evacuate a seriously ill soldier … ARS volunteers make long helicopter trips to remote villages to bring medical assistance to the inhabitants – In this part of the world the Air Rescue Service is not only rescueing military personnel under combat conditions, but it is also carrying on its tradition for rendering humanitarian service whenever the need arises.
The number of U.S. and South Vietnamese pilots rescued from Red-infested jungles in Vietnam and Laos or from off-shore waters is classified but it is estimated that as many as 15 have been picked up. The rescuers have an enviable batting average – out of 10 pilots shot down during a recent series of raids against North Vietnam, seven were saved. The rescue operations often involve Air Force helicopters from Thailand, as well as South Vietnam, Army helicopters and ARS HU-16 Albatrosses.
During one such mission, while flying over the Gulf of Tonkin in search of a USAF fighter pilot who had bailed out, a HUSKIE crew spotted the smoke signal fired by a Vietnamese officer who had ditched his flaming Skyraider. The HH-43F, flying out of Da Nang, dropped to within three feet of the pitching wave crests, plucked the wounded pilot from the water, and started homeward. On the way it joined another HH-43F and an escort of American fighters that had picked up yet another urgent distress call from a U.S. captain whose Thunderchief jet was shot down over the tangled jungle near Quangkhe. Sighting a signal fire, one HUSKIE descended to 100 feet and hoisted the downed pilot to safety.
Soon afterward, in a night operation, another HH-43F crew located and rescued a U.S. pilot from jungle territory inside North Vietnam.
Recently, several groups of ARS personnel who served in Southeast Asia and shared in missions similar to these, returned home and began picking up the threads of their "Stateside" lives. Those attached to Det Provisional First , PARC, commanded by Capt Robert D. McDougal, were drawn principally from Det 4, WARC (MATS), Paine Field, Wash. They were on duty at Bien Hoa, Vietnam and Takhli, Thailand.
While in Vietnam, the First flew 142 combat support missions during approximately 75 days. Personnel received six Purple Hearts and 63 Air Medals with Clusters. They were also recommended for six Airmen's Medals and 25 Commendation Medals. Those receiving Purple Hearts were : Capt Robert T. Rosvold, Det.8, Selfridge AFB, Mich. ; SSgt Franklin D. Cooper, Det.4 ; A1c Kenneth Scheer, Det.9, Portland IAP, Ore. ; A1c Ronald Snook and A2c James Walsh, Det.1, Glasgow AFB, Mont.; A1c Franklin Riggins, Det.12, George AFB, Calif.
Airman Riggins is also slated to receive the Distinguished Flying Cross for action while serving in an armed Army helicopter which engaged a company of Viet Cong and aided in the rescue of a captured American adviser. The airman received a painful shrapnel wound in the knee but relentlessly kept firing his M-60 at the Viet Cong position, forcing the enemy to withdraw.
Most of the personnel from Det Provisional Second , commanded by Capt Alva G. Graham, came from Det.2, CARC, Minot AFB, ND. They were on duty in northern Vietnam and Thailand and flew approximately 232 combat sorties in support of USAF operations. Captain Graham is scheduled to receive the Bronze Star and Capt Joseph V. Leech, a Purple Heart.
Approximately 12 men are to be recommended for the Air Medal and three for the Commendation Medal.
Det Provisional Four , commanded by Capt Philip S. Prince and comprised primarily of personnel from Det.10, EARC (MATS), Maxwell AFB, Ala. , was stationed at Korat RSI, Thailand. Their primary responsibility was support of USAF tactical fighter bombers assigned to the base.
DET PROV. SECOND MISSION REPORT
Here is one rescue reported by Det Provisional Second : "After the HH-43B had completed an orbit mission, the RCC was advised an HU-1B was down just south of Da Nang. Speed was of the essence as the last radio call reported the Viet Cong were very close and the crew had only a few rounds of ammo left. A search was begun but made easy as the VC made their position known by firing at, and hitting, the HUSKIE. Suppressive small arms fire was returned by the HH-43B crew while assistance was called for. Ground fire was too heavy to effect a rescue at that time but the enemy was held away because of the fire from the helicopter which, in all probability, saved the downed crew. While the H-43 continued to suppress the ground fire, an un­armed Army helicopter went in and picked up the crew. Upon landing, it was discovered the HUSKIE had been hit nine times, including a complete hole in a rotor blade. In spite of this, the aircraft flew well, returning its crew to base."
Later, in sharp contrast to their combat duty, detachment crews flew an HH-43B mercy mission each week to remote villages in Thailand. They carried an Air Force flight surgeon, a pararescueman and an interpretor to furnish sorely needed medical treatment for the villagers. An average of 100 people were treated on each trip and the flight surgeon estimated that 70 percent of the treatments resulted in immediate and lasting improvement. The men of this Pacific Air Rescue Center detachment performed these missions of mercy on their off-duty days- a logical extension of their traditional humanitarian role.
DET.5 , PARC RESCUES 8
In a Vietnam mission flown by two HH-43F's from Det 5, PARC (MATS), commanded by Maj Ronald L. Ingraham, eight crew members of an Army CV-2B were rescued after their aircraft was disabled by power failure some 56 miles west of Da Nang.
(add by Ragay : on an unknown date in 1965 CV-2B with serial 62-4148 crashed after engine failure in the Shau Valley, Vietnam)
The crash-landed Caribou had been resupplying a Special Forces camp in the I Corps area. Rescue operations were further complicated by a solid overcast over the crash area and the Da Nang airfield.
The two USAF helicopters were guided into the area by short radio counts from the pilot of the light plane. There were no other navigational aids. When the two rescue helicopters arrived at the crash area, there was a hole in the thick overcast which allowed the aircraft to drop straight down and pick up the stranded Caribou crew.
Returning to Da Nang over the 6,000-foot cloud layer, the two HUSKIES and their passengers came down again through a single break in the clouds south of the base and landed safely.
The primary rescue helicopter was piloted by Capt Bruce M. Purvine and Floyd R. Lockhart with SSgt Dewey A. Kilpatrick, crew chief and A2c Randolph Smith, pararescue. In the second chopper were Capts James V. Berryhill and Jim F. Hartley, MSgt Lenote M. Vigare, paramedic and Alc Richard H. Syverson, crew chief.
Ironically, a report received at the rescue operation center two hours after the Caribou crew was rescued, told about the scene of the Caribou crash receiving heavy insurgent mortar fire.
Along with missions such as this, the men of the Air Rescue Service continue their mercy flights for "people in trouble"-whether military or civilian. In one mission, an HH-43B piloted by Capt Clyde W. Lemke flew through rain showers to evacuate one of the personnel working on a radar site in a mountainous area. He had received serious head injuries in a fall and was suffering from shock and loss of blood. The helicopter crew administered first aid on the way back to Da Nang Hospital. With Captain Lemke were 1stLt Joseph P. Phelan, copilot; TSgt John G. Regan, Jr., and Alc Jon H. Young, crewmen.
DET.10 , EARC RESCUES
While on their tour of duty in Thailand, members of Det 10, EARC, Maxwell AFB, (Det Provisional Fourth) engaged in several missions of mercy including the hazardous evacuation of a critically injured U. S. soldier from a remote country village 90 miles east of Bangkok. The attending Army physician had requested helicopter evacuation because, he said, the patient would die unless an emergency operation was performed and once operated on, he would not be able to withstand the shock of extended ground transportation. The roads are, in many cases, cow paths at best and, at worst, virtually impassable save by tracked, not wheeled, vehicles.
Manning the HUSKIE were 1stLt Theron J. May, RCC; 1stLt Zigmund W. Zalewski, copilot; and A2c Bill W. Sanders, crewman. Taking off despite extremely high winds and turbulence, they made their way over high peaks and jungle. Possible landing sites along the route were often impossible to find because of the extensive rice paddies punctuated by tall trees where the villages are sited. One of the biggest concerns of the crew was that they might not be able to pinpoint the location of the injured soldier because of the tremendous number of "look-alike" villages in the area. However, in spite of the fact that the last part of the flight was made at night and over unfamiliar territory, the right village was located. Selecting a landing spot was difficult and several approaches were made before the ultimate landing spot was chosen and a landing accomplished.
The patient had been operated on and now needed large quantities of AB negative blood, a commodity not available. Airman Sanders quickly prepared the helicopter to on-load the patient. The patient was now in desperate need of blood and no time could be wasted. Patient secure, the doctor briefed and in place and crew ready, Lieutenant May took off on the last leg of the hazardous journey.
When Bangkok International Airport became visible, fuel was well below minimums and when the HH­43B was later refueled, 184 gallons of JP-4 were required. The patient was evacuated the rest of the distance in an Army fixed-wing aircraft where 40 minutes later he was being given the blood he so urgently needed. He is alive today and on his way to recovery.
In another Thailand mission, an HH-43B crew from Det 10 evacuated two U.S. State Department officials critically injured in an automobile crash. They were taken from Sara Buri to Muang Air Base at Bangkok for medical treatment. The fast action by the ARS detachment was credited with saving the lives of the officials. Crew of the HUSKIE consisted of Capt Philip S. Prince, pilot; Lieutenant May, copilot; Capt Gerald J. Broock, U. S. Army flight surgeon; and SSgt William H. Sands, crew chief.
An HH-43B from the detachment was also deployed to Nakhon Nayok, the scene of a drowning accident. The victim, a U.S. Army soldier, was missing at the base of a water­fall deep in the mountains of Southern Thailand. The HUSKIE, piloted by Lieutenant May, located the site and two pararescuemen, SSgt James W. Watson and A2c Leroy W. Kelsay (48th Air Rescue Squadron), were dispatched. They recovered the body within fifteen minutes. The fast recovery was due to the fact that Sergeant Watson relaxed in the water and let the currents take him away and under the surface. This resulted in his ending up right beside the deceased soldier. The remainder of the crew consisted of Capt Robert J. Suhrheinrich, co­pilot, and Alc Frank M. Chesonis, crew chief.
The crew of a Det 10 HUSKIE scrambled after a "Mayday" call was received from a Royal Thai Air Force T-6 trainer near Korat, Thailand. Moments later the aircraft crashed. Within eight minutes the crash scene was located and as the HH-43B hovered with one gear touching a small dry mound of earth, the crewmen exited and aided the downed pilots in returning to the helicopter. Neither was injured. Captain Suhrheinrich was HH-43B pilot; Airman Chesonis, crew chief; Sergeant Sands, hookup man; SSgt Allan N. Bantle and SSgt Erving W. Cox, rescuemen.
DET.4 , 36th ARSq RESCUES 5
Five tanker crewmen who bailed out of their crippled aircraft 12 miles from Takhli Airfield, Thailand, during an early morning flight were hoisted to safety soon afterward by two HH-43B crews from Det 4, 36th ARSq (MATS). Manning one helicopter were 1stLt Larry N. Young, pilot; 1stLt John M. Parks, copilot; Alc Joseph E. Ivansco, crew chief; A2c Lonnie W. Bunting and Alc Leroy Bruner, firefighters. In the other HUSKIE were 1stLt Kenneth C. Franzel, pilot; Capt Kenneth W. Dotson, copilot; Capt Karl J. Stumpf, flight surgeon; SSgt Bobby G. Call and Alc Donald E. Farris, firefighters.
(add by Ragay : Mr Jim Burns comment on 22 June 2007 : "This is most likely the 14 Oct. 1964 loss of a KB-50J tanker that went down shortly after takeoff from Takhli RTAFB, Thailand. Lt. Franzel was one of the pilots in the original group with me at NKP Jun-Nov 64 and I seem to remember him leaving for Takhli about a month before I departed NKP." ; "I used the book "Vietnam Air Losses" by Chris Hobson to look up the 'possible matches' ")
The pickups were made despite the semi-darkness and a heavy ground fog which obscured the bailout area. Lieutenant Young landed the HUSKIE to pick up one survivor and the second was hoisted from the thick jungle. Meanwhile the standby helicopter arrived and the crew spotted a pengun type flare in the ground fog. The survivor was almost directly below so Lieutenant Franzel made a near vertical let-down to keep him in sight. A vertical takeoff was made to avoid trees hidden in the fog. Another flare was seen soon afterward and a similar pickup was made. Meanwhile, the first HH-43B, which had delivered the first survivors to the airfield, returned and hoisted the fifth survivor to safety.
PAINE FIELD ARRIVAL
Typical of the returning suntanned Southeast Asia veterans were the six arriving at Paine Field, Ore. The group, along with two HH-43B's formerly attached to Det 4 at Paine, departed from the Pacific Northwest base last August for temporary duty in Vietnam as members of Det Provisional First.
They are: Capt Ronald L. Bachman, 29 and TSgt James E. Johnson, 34 of Det 4, WARC, Paine Field, Wash., TSgt John F. Glenn, 33, and SSgt Howard M. Lord, 29, of Det 5, WARC, McChord AFB, Wash., TSgt Roger C. Reardon, 28, and Alc Kenneth R. Scheer, 21, of Det 9, WARC, Portland International Airport, Ore. Airman Scheer, the only single man in the group, was awarded the Purple Heart for wounds suffered while in Vietnam. All were awarded at least one Air Medal and others received as many as three, according to the number of missions flown. All received the Campaign Medal and other awards are also pending for some of the men.
When asked about the Viet Cong mortar attack that devasted Bien Hoa air base, destroyed several B-57 bombers and temporarily rendered the Air Rescue detachment non-operational, Captain Bachman said, "The attack occurred shortly after midnight (add by Ragay : 01 November 1964) and covered the whole area we were in. The B-57 targets of the Viet Cong were just 200 yards away from our housing area and the mortars went right through our alert facilities, wounding five of six men on duty. " Airman Scheer was wounded during this attack.
The crewmen said that they were not hit by ground fire but often observed it from the air. Most of it, they said, was small arms fire, but often as large as 50-caliber machine guns were used. "We never asked for trouble," Glenn said, "we went up to a 4,500-foot altitude when flying over known hostile areas. This was one of the reasons for not getting hit by ground fire."
Sergeant Johnson said that the rescue men had good equipment with which to work and praised the HH­43 HUSKIE as one of the most modern rescue craft. "I believe we did a lot of good over there, " Johnson said. "The 'F' model of the H-43 we used is beefed up with a larger engine and a longer hoist cable so the crews can get down among the trees, and they also have armor­plating which at least gives you confidence when you are up there."
The group's impressions of the five-month tour were summed up by Sergeant Lord when he said, "Vietnam gives a man a true sense of values."
Southeast Asia Veterans
Det Provisional First
Capt Robert D. McDougal, Capt Ronald L. Bachman, Capt Robert T. Rosvold, Capt Billy J. Johnson, 1stLt William F. Austin, 1stLt Kenneth T. Fujishige, SMSgt Ernest E. Creach, TSgt James E. Johnson, TSgt John Glenn, TSgt Roger Reardon, SSgt Howard M. Lord, SSgt James Hines, SSgt O'Niel Vinson, SSgt Benjamin J. Hyder, SSgt Franklin D. Cooper, SSgt Grady L. Jordan, Alc Franklin Riggins, Ale Kenneth Scheer, Alc James Brennan, Ale Dale P. Jensen, Alc Ronald Snook, Alc Loney A. Martin, A2c James Walsh, and A2c Robert Donlevy.
Det Provisional Second
Capt Alva G. Graham, Capt Thomas R. Kelley, Capt Joseph V. Leech, 1stLt John W. Christianson, 1stLt James E. Sovell, 1stLt Robert J. Osik, MSgt Robert W. Bradfield, MSgt Eldrid Lusk, SSgt Charles L. Husby, SSgt Robert L. Julian, SSgt James R. Tabor, Alc Roman H. Jennissen, A2c Larry W. Smith, A2c John Zielinsky, SSgt Robert J. Bennett, A2c Andre Raymond, A2c Albert C. Dobson, A2c Richard L. Graham, Alc George K. Fink, SSgt Arthur R. Saintheart, Alc Jerry W. Wolford, Alc Edward S. Bevens, and SSgt William P. Dickerson.
Det Provisional Four
Capt Philip S. Prince, Capt Gayle D. Bernhardt, Capt Robert J. Suhrheinrich, 1stLt Theron J. May, 1stLt Zigmund W. Zalewski, MSgt Henry L. Williams, TSgt James R. Wilson, SSgt William H. Sands, SSgt Allan N. Bantle, SSgt Clyde R. Patterson, SSgt Erving W. Cox, SSgt Bobby G. Williams, SSgt Joseph D. Grubbs, Alc Frank M. Chesonis, A2c Billy W. Sanders, A2c Don M. Havens, A3c Wallace B. McCombs, A3c Daniel E. Albright, 1stLt Ronald G. Fitch, SSgt William O. Corn, Alc Gerald R. Dunham, and A3c Arthur A. Ros.
HOMECOMING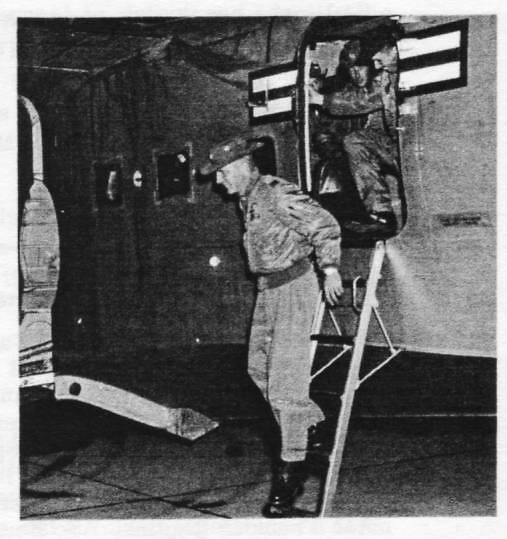 Capt Ronald L. Bachman, HUSKIE pilot from Det 4, arrives at Paine Field after Southeast Asia duty
In left photo, TSgt James E. Johnson, HH-43B crew chief from Det 4 shows delight at being reunited with his family. SSgt Howard M. Lord of Det 5, McChord AFB, Wash., is greeted by his wife and children. (USAF photos)
last update : 11/04/2017